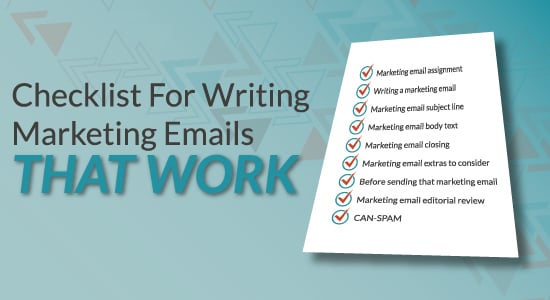 Email is one the most-used marketing channels today, and with an ROI of up to 4400 percent (44 times as much return as investment), it is easy to see why.
Writing an email can seem easy—after all, most of us shoot off dozens of emails every day. Marketing emails are short and to the point, so it shouldn't take long to write them, right? Don't be fooled. When you have just moments to catch the recipient's interest as they scroll through the inbox, every word counts. Which is why I spent more than 2 hours today crafting a single 250-word email. It isn't as easy as it may seem.
The importance of getting each and every word right in marketing emails is one reason we took the time to create this checklist to guide our writers as they create marketing emails for clients. You can put it to use yourself, or share with your content creation team, to ensure your own marketing emails check all the boxes and generate the results you are aiming for.
---
Read more about how email works as an essential component of an integrated marketing and PR strategy, statistics on which email tactics are working for your peers, and how to plan email marketing for 2021 and beyond: Your 2020 Email Marketing Strategy Guide & The State of Content Marketing.
---
Before writing a marketing email
Every email writing assignment should begin with outlining the essential information needed by the writer. If you're running a one-person marketing department, you may not need to specifically document each element before writing, but if you are handing the assignment off to someone else, the more information they have up-front, the more likely the final product will be to match expectations.
Marketing email assignment checklist:
Overview of assignment topic and purpose of the email (information, product promotion, re-engaging cold leads, shopping cart abandonment, etc.).
Audience (targeted

buyer persona(s) and location in the buying cycle

, such as marketing-qualified lead or existing customer).
Resources to promote in the email (whitepaper, blog post, demonstrations, video, etc.).
The main message to communicate in the email.
Word count (suggested best practice is for 200-450 words total, including subject line, body text, and any post-script).
Deadlines (first draft, final draft, and send date).
Writing a marketing email
With the essential information outlined from the checklist above, once the writer has reviewed and researched the message, resources and additional information to be used, it's time to start writing.
Marketing email subject line checklist:
The subject line may be the only thing recipients see if it isn't engaging enough to draw them in. And the wrong subject line could send the email straight to the spam folder, where it won't be seen at all.
Be sure your marketing email subject line is:
Deliverable—Keep your marketing emails out of the junk file by using a

subject line tester tool

. Check this list of

more than 200 words to avoid

or at least limit.
Actionable—Let readers know from the beginning what you will want them to do.
Personalized—Using the recipient's name, their company name for B2B marketing emails, or other pertinent details such as location can increase open rates.
Clear—

MailChimp

says that using specific, descriptive subject lines often garners better results than seasonal slogans such as "Fall into savings".
Concise—Keep it to no more than 9 words and 60 characters to ensure the main message can be seen in email applications' previews.
Aligned—The subject line should accurately reflect the email copy.
Marketing email body text checklist
While Litmus says the average time a recipient spends reading an email is increasing (up 21 percent between 2016 and 2018), it is still very short: an average of just 13.4 seconds. That means you don't have much time to get your message across and inspire action.
Check off the boxes of the writing rules below to maximize engagement with your email text.
Break body text into easy-to-scan paragraphs or text blocks of no more than 2-4 sentences.
Keep body text (including subject line and any post-script after the signature) to no more than 450 words.
State the value proposition in the first paragraph of the email. The value proposition should clearly highlight the value the reader will get from reading the rest of the email or by taking an action, such as downloading a resource, watching a demo video or buying a product.
Use language that makes the email about the reader, not the company.
Discuss the benefits of the product or offer more than the features.
Keep all of the text in the email focused on one specific message.
Include 1-4 text links within the body copy of the email to additional information related to the emails message. These links ideal direct readers to the company website, a landing page or marketing resource.
Include a primary

call-to-action

in the email body that compels the reader to take action, including using urgent language such as "now" or "today" in the text CTA and a button CTA.
Marketing email closing checklist
How you end an email can be as important as how you begin it. Especially when sending B2B marketing communications, emails should be sent from a specific person, not a generic or "no-reply" email address. The closing or signature of an email should include:
Sender's full name and title.
Sender's phone and email address.
Links to the sender's blog, social media or other applicable content.
Marketing email extras to consider
For some emails, you may also want to consider additional elements to provide more opportunities for engagement by your recipients. One would be a list of "additional reading" resources. This could be blog posts or other marketing resources in your brand's content library that are pertinent to the overall message of the email. List them with a descriptive 15-word or shorter blurb and link to provide additional value to readers.
Another "extra" opportunity to spur engagement is by including a one or two sentence post-script after the signature with a secondary offer or call-to-action. This could be to a resource that is relevant to the main message, or could be a CTA to contact the email sender.
Before sending that marketing email
It may seem like you've already spent a lot of time on writing the email, but take a few minutes more to do some final reviews, edits and checks before scheduling or hitting "send".
Marketing email editorial review checklist
Either the writer or another team member or supervisor should do a final review of the email to ensure that:
The text is written following the proper style (e.g. AP Stylebook, Chicago Manual of Style, internal styleguides).
There are no grammatical or spelling errors.
A consistent verb tense is used throughout the email.
The copy is written in a tone that is professional and conversational (or matches the desired voice of the brand).
The text meets the word count requirement.
All links in the email have been tested and work properly.
CAN-SPAM checklist
It is also essential, before the final email is sent, to ensure that the email text and/or template include the requirements called for in the CAN-SPAM Act. Each commercial email must include:
An unsubscribe link.
A CAN-SPAM compliance statement.
A physical postal address.
The best practices included in these checklists can be applied to any type of marketing email, for any business. If you are a CMO or marketing manager, you may want to create further guidelines that define parameters specific to your company and your branding. Perhaps you always use a specific greeting in emails, or you want to incorporate templates with specific formatting for each type of marketing email you create. Having expectations spelled out makes it simpler to hand out assignments, work with multiple writers, or transition between in-house and agency work without losing continuity or having to spend extra time reiterating expectations.
If you look back through our blog library over the last few months, you'll see we've shared other checklists that can be used to improve the quality and consistency of your marketing content:
You'll find additional resources for content creation in our Inbound Marketing Learning Library, including this quick reminder of additional best practices for using email as part of an inbound marketing lead nurturing program: Email For Inbound: Do This, Not That.
If content creation is stretching your in-house capabilities to the max, and you are looking for a partner to provide the kind of quality content these checklists ensure, let's talk about how JONES can bring experienced writers and marketing strategists onto your team. You can schedule a no-obligation consultation on my calendar at a time that is convenient for you.