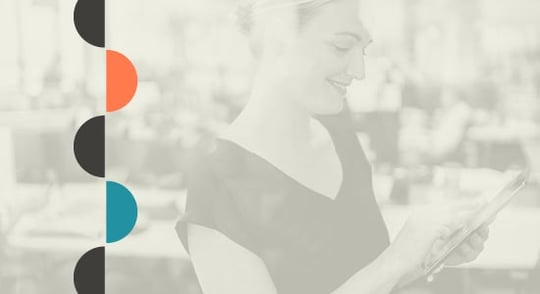 When Avanti Systems, which had been working with JONES for a more than a year already, became a part of international printing hardware and software corporation Ricoh, it was time to rethink the company's existing website.
The company's previous website—originally developed over the course of eight years using four different developers as the company grew—lacked consistency and not all of the parts worked together well. JONES turned its existing strong relationship with Avanti, including an in-depth understanding the product and target audience, toward designing and building a new website.
Avanti was already using HubSpot's content management and marketing automation capabilities to host its blog and lead generation content offers, so JONES created a site that combines the flexibility of WordPress with the automation and data collection built into HubSpot. (Visit our Avanti customer profile page to download a content package with an example of a full-service campaign.)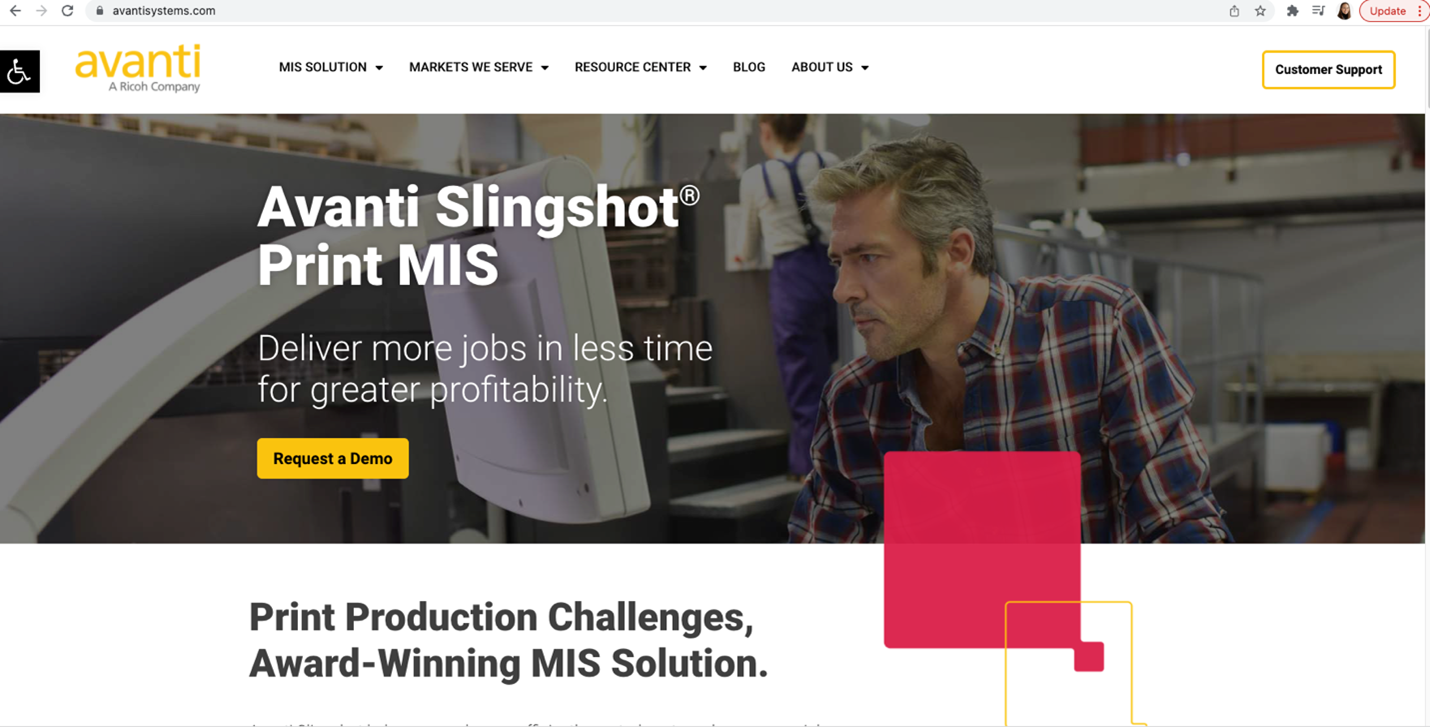 The process of creating the new site, which went live late in 2021, involved a number of steps:
Rewriting the text to optimize for SEO and user experience

Developing a design library with Avanti's new branding as a Ricoh company

Creating wireframes and page template designs

Coding pages using a WordPress builder that provides insights into how the site is viewed on different screens to ensure compatibility

Developing new templates for the existing HubSpot-hosted content to reflect the new branding

Ensuring that the end result is flexible and scalable for editing and maintenance by Avanti's internal team
---
"The JONES team put all of their skills, and their knowledge of Avanti, together into a website that met our needs: updated branding, accessible and compatible, and user-friendly for both our customers and our marketing team. We appreciate the steps they took to ensure it will render beautifully on all devices and that it will be able to scale with us as we continue using content marketing to grow our business."
—Kevin Shaw, Deputy General Manager, Avanti, a Ricoh company
---
Accessibility
In addition to the rebranding and new images needed, a major driver of Avanti's website redesign was a need to meet changing regulations and requirements for accessibility.
While neither the United States nor Canada, where Avanti is headquartered, have as yet mandated specific website accessibility standards for businesses, international guidelines have been established that call for websites to be perceivable, operable, understandable and robust. JONES worked with Avanti to provide a website that would meet those objectives.
Included in the steps taken in the design process were details down to the consideration of colors and color combinations to ensure content was discernable for those who are color blind.
User experience
The overall visual appeal of the site was also considered with a move away from the previous text-heavy version to a more open and intuitive site that still included necessary information, this time presented with graphic roll-overs and other devices that keep the pages from being overwhelmed.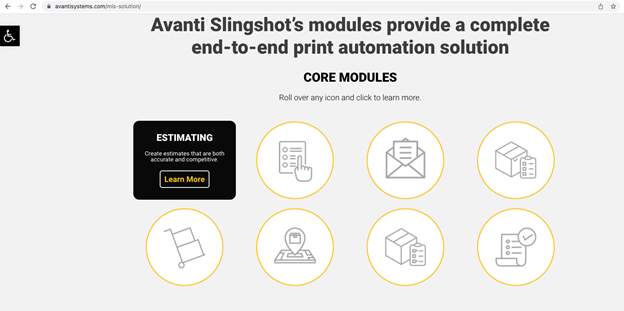 Another key part of the user experience improvement was ensuring that the resources page, which Avanti had built up with a large amount of content over time, is sortable, searchable and easy for users to understand and use.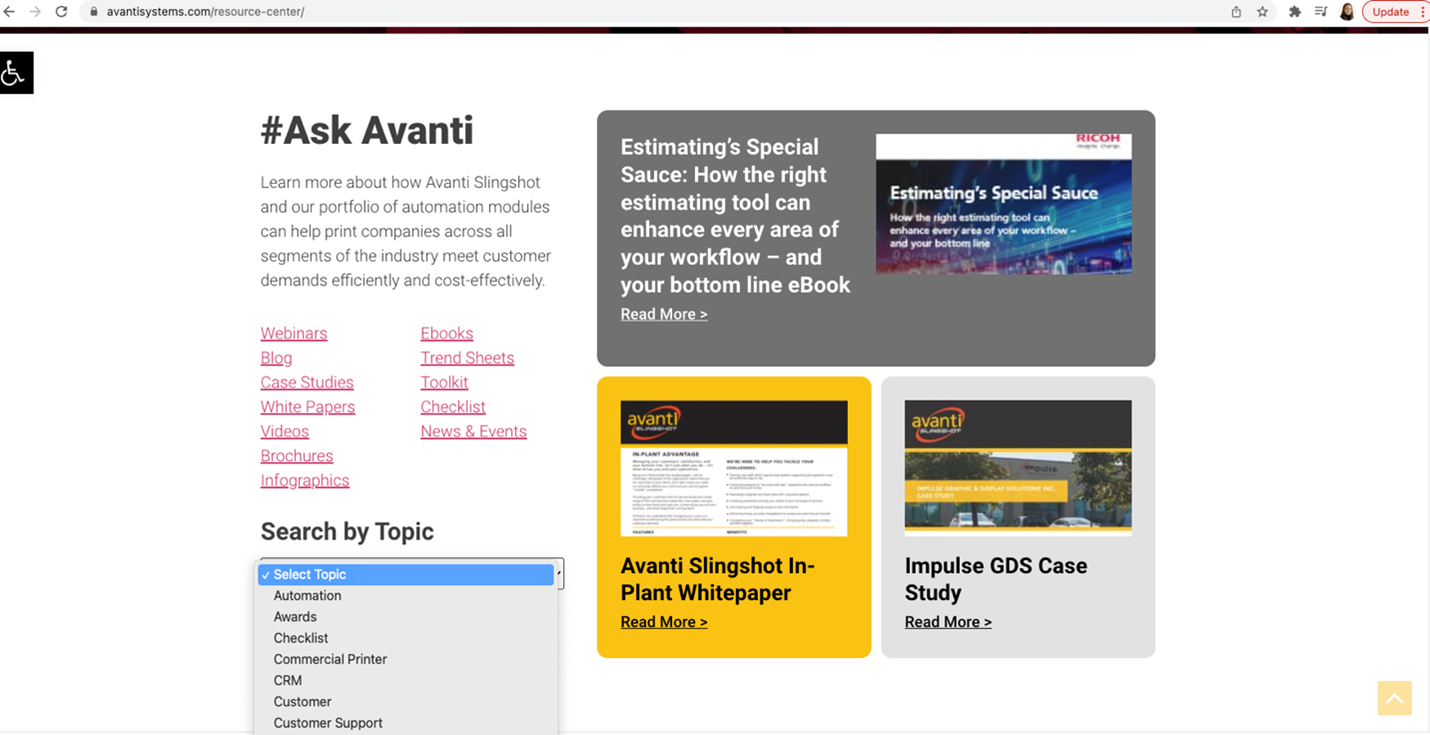 Turnkey website
Building a website from scratch that utilizes the best of both WordPress and HubSpot is not for the novice, which is why Avanti turned to our experienced team for the needed combination of writing, design and web building experience. But maintaining that site should be something that most clients can perform in-house.
The end goal of every website we do is to have something that an internal marketing person, even with no HTML skills, can edit or add sections to pages to meet changing needs and information. We focused on making Avanti's site usable for their internal team so they don't have to rely on a developer for every change or addition.
What made it work
While we are glad to do website work as a stand-alone project, having an established relationship with Avanti—we had been creating a variety of marketing content and thought leadership content for them for more than a year before beginning the website overhaul—made the project move more smoothly for everyone.
Our team was already comfortably familiar with the Avanti Slingshot product, target market and team. Understanding what their brand is and who they are as a customer made everything come together more smoothly.
The end result was a website that better matched Avanti's needs moving forward: reflecting the new brand image, user-friendly and accessible for visitors, making the most of the company's existing content and resource center, and built on a platform that can scale and flex with Avanti's continued growth.
Want to know more about the JONES approach to website development? Schedule a time to talk with us—click here for the calendar of Kristin Jones, JONES founder, to chat. Or download these resources to get a head start on your website project: