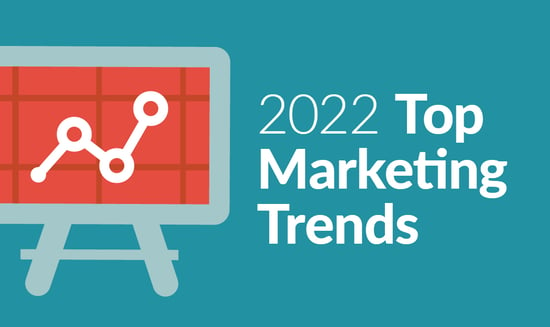 According to surveys from the Content Marketing Institute, as many as 2/3 of marketers are expecting to see their content marketing budget increase in 2022. Are you one of them?
How do you plan to use that increased budget? One strategy could be to simply do more of what is working, and there is nothing wrong with that. We know that with some content marketing tactics, such as blogging, volume and growth over time really do make a difference.
But you may also want to make some changes or try something new. Search Engine Journal's infographic below outlines 10 trends to consider for 2022 as you craft your content marketing strategy, which include both ways of ramping up time-tested tactics and new ways of reaching and engaging with audiences that you may not have tried.

If your primary strategy is to do more of what is already working, make sure that what you are already doing meets the initial criteria outlined in the first two trends identified: instantaneous results and an understanding of intent.
Patience seems to be a thing of the past, and your audience demands rapid response that meets their expectations. That means that any website upgrades should focus on keeping load times fast—Semrush recommends no more than two seconds. And what they find on your site should quickly provide relevant, trustworthy answers. Make certain that any new website copy continues to support your site's E-A-T score: expertise, authority and trustworthiness.
Secondly, as you create additional content, remember to consider not only the keywords, phrases or questions your audience uses to search, but also WHY they are searching for the information in the first place. When you understand why they are seeking content, you can create content that meets their needs.
Of course, you still want to optimize how your web pages appear when they show up on SERPs. That means understanding Google's guidelines and thinking about how to use schema and meta data to ensure your pages provide the vital information that can help them appear at the top of the listings.
Ready to branch out and make some changes or introduce new ways of reaching your target audience?
It could be as simple as thinking about different ways of presenting the same content you already have:
Turn an infographic into a short video for social media.

Transcribe and abridge a radio interview or podcast as a Q&A blog post.

Embed short clips from your latest webinar as videos within a blog post or on a landing page for a related offer.
Or you could go even farther by introducing augmented reality or virtual reality into your content to allow your audience to interact on an even more powerful level.
Which of the 10 content marketing trends identified in the infographic will you blend into your 2022 strategy? What additional resources do you need to realize the potential of your increased budget?
If you have more ideas than hours, maybe it's time to bring on a partner to turn your 2022 marketing strategy into a reality. JONES is here to help.
Find tips for choosing the right agency, making the most of your partnership, and, if needed, selling the idea of a partner agency up the chain, in these resources:
Ready to talk? So am I—schedule a time on my calendar if you want to talk about how our full-service digital firm can help you turn 2022's content marketing trends into your marketing success.