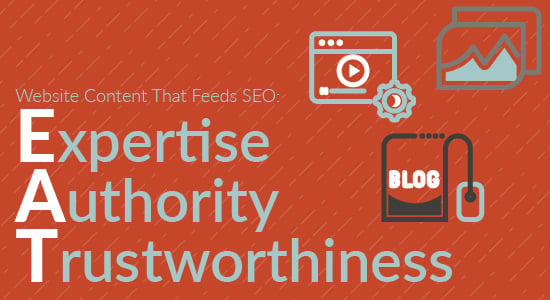 The power of the internet for communications is that it is easily accessible by nearly anyone—both as a content creator and as a content consumer. The downfall of the internet is that nearly anyone can publish anything at any time … and as a consumer, it can be challenging to know what content is actually worth the time it takes to read, listen or watch.
Search engines like Google attempt to help users sort it out by including in its algorithms a three-part test, known by the initials E-A-T: expertise, authoritativeness and trustworthiness. As a consumer, it can be helpful to have an algorithm sort out results, at least in part, by the validity of the information involved—especially in the case of commonly searched topics such as medical conditions.
The E-A-T approach to search algorithms can also be valuable to you as a content creator and digital marketer if you approach your website and marketing content with the right perspective.
Why content matters to your E-A-T and SEO?
The content on your website, including blog posts, videos, product pages, home pages and more, is one of the key ways search engines determine how your site should rank for E-A-T and therefore, how it will be prioritized in search engine results pages. This is especially true for websites that have content dealing with what Google calls "YMYL": Your Money or Your Life.
If your business website has content focused on what the search engines consider to be the most impactful topics, where misinformation can have dramatically negative effects on readers, you need to be especially mindful of maintaining a strong focus on E-A-T. Those topic areas include:
News and current events.

Civics, government and law.

Shopping/ecommerce.

Groups of people (examples: ethnicity, race, disability, gender identity, veteran status).
If your webpage content could influence a life-altering decision, it is likely to fall into the YMYL category and be subject to even greater scrutiny than those that might involve entertainment or other less-critical topics.
So how can you ensure that your content checks the boxes for expertise, authoritativeness and trustworthiness?
Read on.
Creating content that shows expertise
The expertise factor is based on who is creating the content—is that person an expert in the topic? Your website can establish the expertise of your content creators and authors by including their credentials. This could be done with a short biography paragraph at the end of a blog post or on a "Meet Us" webpage. Spell out the experience and qualifications of each person who authors the content on your website.
Don't overlook the opportunity to bring in expert input as well. Guest blog posts by others in your field, business analysts or industry thought leaders can improve your E-A-T while also providing additional reach if they, in turn, share the videos, articles or interviews from your website with their own audiences.
Creating content that shows authoritativeness
In order for your website content to convey a sense of authority, you have to ensure that everything on your site meets the criteria for high-quality content. It should provide valuable information that readers can use to solve their problems.
Characteristics of content that meets these criteria include:
Content that helps and informs more than it sells.

Content based on data and research.

All claims are substantiated, including citing the source of information with links to other trusted websites.

Content that earns backlinks and shares, especially from other authoritative sites.
Creating content that shows trustworthiness
Several basic steps can help visitors view your website as trustworthy, which not only improves your E-A-T, but makes it more likely that they will return, share your content or consider your business when seeking a vendor.
One of the most basic is to include contact information—let visitors know how to find you and reach you, including providing a physical address for a brick-and-mortar location if you have one, email address, phone number or a contact form that visitors can complete for more information.
Reviews from customers can also show trust, especially when you take the time to respond to them and address any concerns.
And, finally, keep your website content accurate and up to date. This includes not only updating such information as changes to business hours or a staff page, but also periodically reviewing existing content such as blog posts to ensure the information and links included are accurate and still relevant. If older posts contain outdated data, consider whether you should rewrite the post with current stats or delete it from your site.
Remember that your strategy for improving E-A-T should include an audit of existing content as well as a plan for creating new content.
The good news, if you have already been diligent about focusing on high quality content for your inbound marketing strategy, is that your website may already have a high E-A-T score because of that content. If it is time to update your business website, take time first for an audit of your existing site and its content to pinpoint the opportunities for improvement in E-A-T, SEO, UX and lead generation potential. Download our Website Audit Template for a guideline to examine your existing site and plan your updates.
Or schedule a time to talk about how quality content is the key to building a strong E-A-T for your website to maximize search potential. You can choose a time on my calendar here.