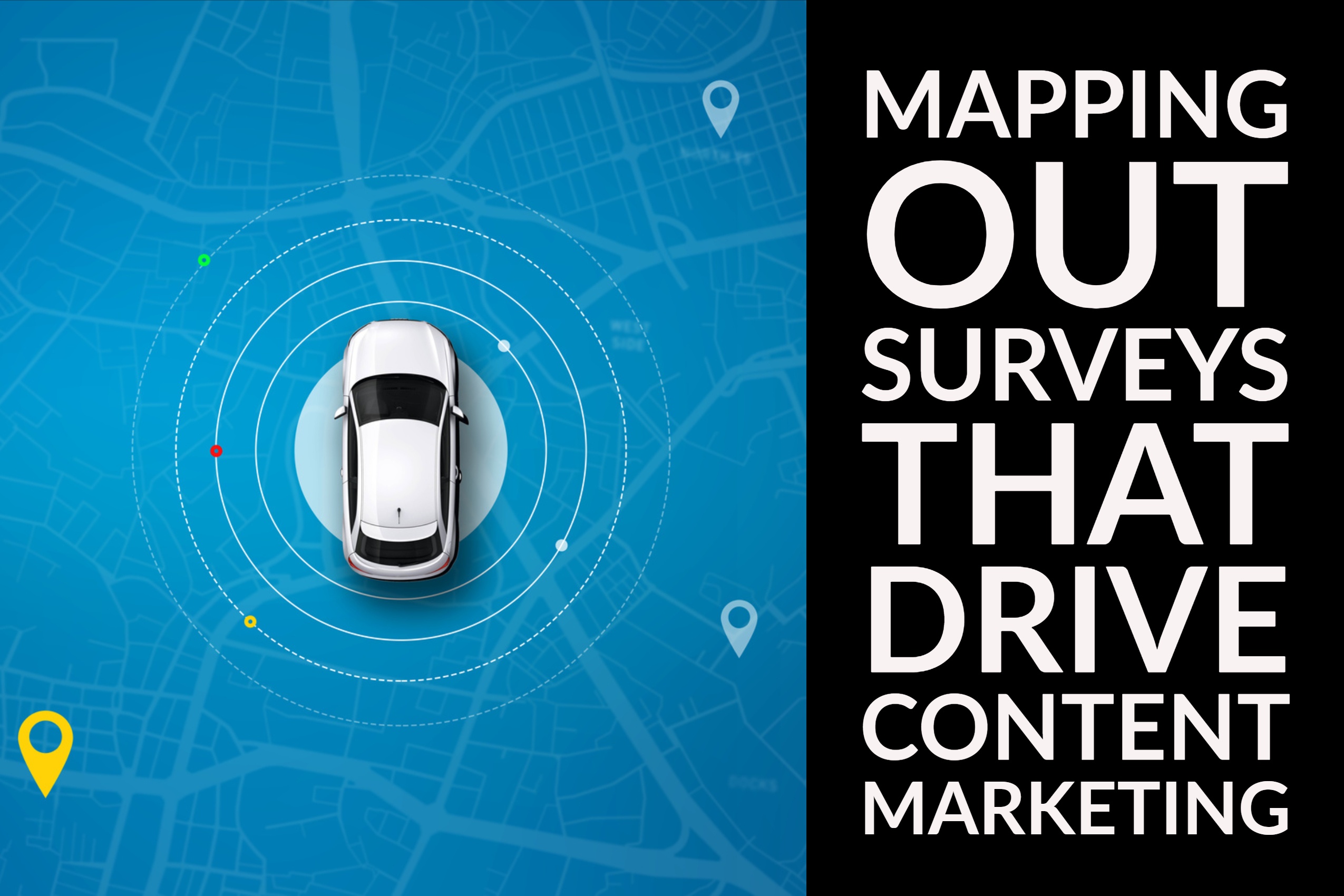 It's summer, and that means road trips! Taking a drive across the state or across the country is a great way to generate stories you can tell for years to come.
What if I said that planning and using marketing surveys is a little like road-tripping — there are stories to be found out there, some you expect and others you don't, and the end result can keep you talking for weeks.
Ready to hit the road and plan your survey trip? Or would you rather read about another brand's survey trip first? Check out this client Q&A: How West Leveraged Research Into Compelling Content.
Inspired? Let's go.
Pack the car: Choose your companions and grab your gear.
Any great road trip starts with great companions — people you can rely on to do what needs to be done, whether that's choosing a great playlist to sing to as you drive or changing a tire on a lonely stretch of highway.
For your survey trip, you'll want to recruit people with a variety of talents, but who all share the same vision of coming home with stories to tell. Your team of partners should include representatives from marketing and public relations who will be using the survey results to create content, team members or contractors with experience creating surveys, and at least one person with a knack for crunching the numbers to complete data analysis to aid in content creation. (How To Choose A Survey Partner)
Which vehicle will you use for your survey trip? That's another decision to make. Will you contract with a dedicated research firm that employs their own proprietary software, or use a commercially-available platform such as SurveyMonkey to conduct your research? Big van, sports car or classic convertible – the choice depends on your team and your destination.
Choose a route: Highway or scenic drive?
Road trips can take many forms. Some people just hit the gas and throw away the map (or GPS) to see where the road will take them. Unfortunately, that won't work for your survey trip. Instead, you'll need to plan a route, but even in that there are options. Does your survey have a tight timeline and need to cover only one key topic? Sounds like an interstate trip — stay focused, keep moving and get there as quickly as possible. These surveys may be short for everyone, both the team administering the survey and the respondents. This is the kind of route you'll plan when the story you want to tell is a simple one.
But if you want your survey to provide stories to last through several campaigns of content development, plan a trip with a lot to see and talk about along the way.
A comprehensive survey that fuels several storylines will require more planning to ensure you've covered all of the questions needed, so plan a little more time into your schedule for this one, also.
Maximize your mileage.
It's the little details that make the difference when you are trying to maximize your fuel efficiency on a road trip: not driving too fast or braking too hard, avoiding construction, and making sure your vehicle is tuned up before you leave.
Details that help you get the most information out of your market surveys include carefully choosing your target audience and survey sample, writing questions that provide deeper insight by using a variety of question types, and ensuring you have a large enough sample to have faith in the data you generate.
Minimize confusion.
There is a reason most great road trip movies focus on scenes from the open road and empty highways — it's a much more romantic view of a driving vacation than cars stacked up at a busy 4-way stop sign by the biggest tourist traps or a series of roundabouts that leave drivers and passengers dizzy.
No one enjoys being confused about whose turn is next or worrying that they don't understand the road signs.
Minimize confusion in your surveys by proofreading every question multiple times to ensure they are clear and understandable. You don't want to ask something like this:
Do you prefer chicken or beef? Yes/No.
You will also prevent possible misunderstandings and misinterpretations of data by including key demographic and qualifying questions as part of the survey to ensure you are hearing from your target audience.
Destination reached: Let the storytelling begin!
If your survey trip has hit all of the topics and tourist stops along the way and asked clear questions, crunching the data should result in the stories you need to drive entire content marketing campaigns. We're not talking about the scrapbooks your mom made after every family vacation. Well, at least not ONLY a scrapbook.
A comprehensive survey covering several topics should provide the stories you need to create more than 100 different pieces of marketing content. (Don't believe me? Here's the secret formula: Maximizing Market Surveys: 100+ Pieces of Marketing Content.)
Don't let the data just sit on a shelf. Turn it into contributed bylined articles, blog posts, downloadable reports, infographics, videos, and social media nuggets that get attention and get shared.
Like any good road trip, I predict you'll finish your first comprehensive market survey feeling a little tired, a lot energized, and wondering when you can do the next one, because there is still more out there to learn, see and share with friends and customers. If you are a planning person like me, though, you'll want more than this rough outline to get you started. Download our Consumer Market Survey Process Template to create a more detailed itinerary, complete with timeline and task assignments.