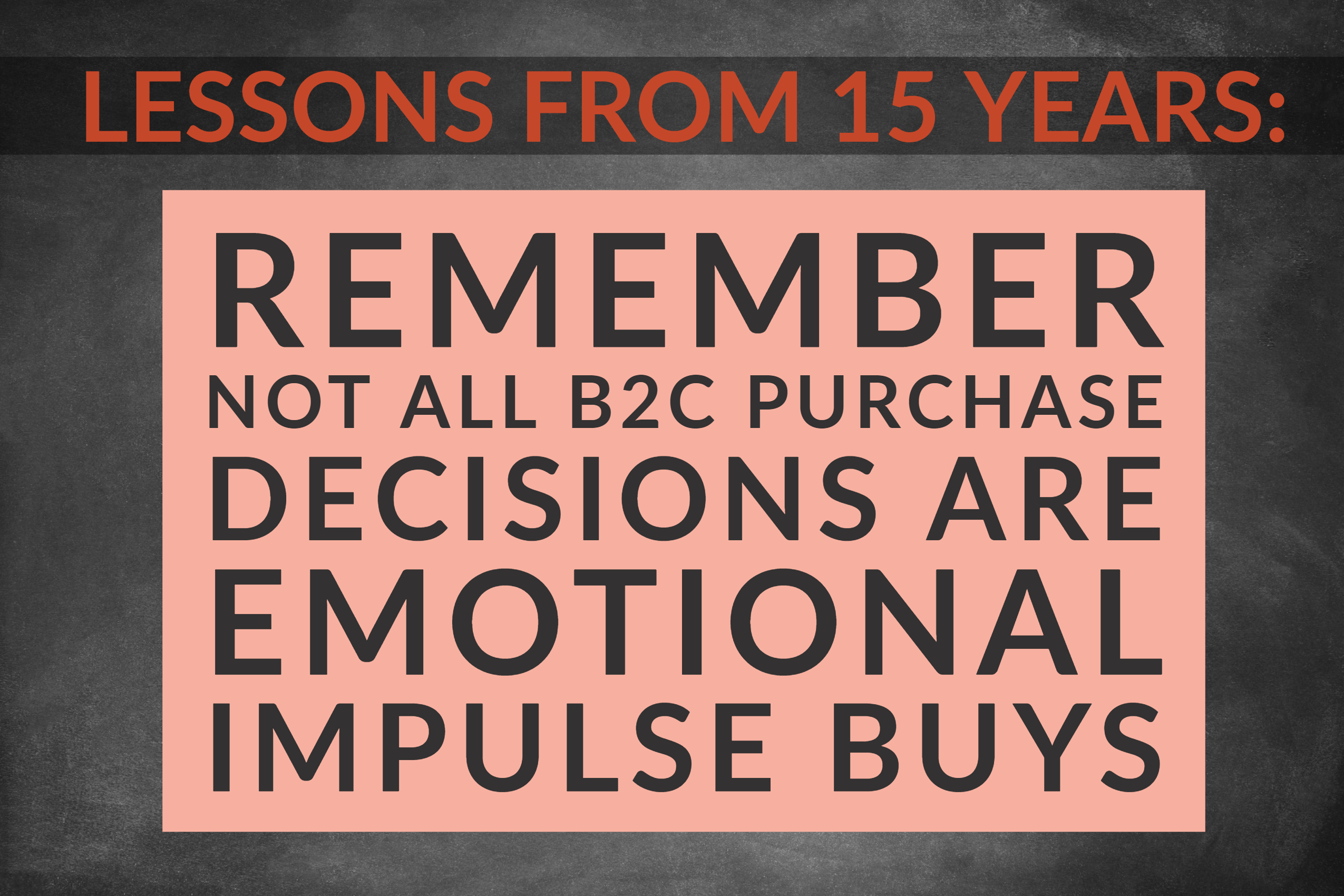 It can be tempting to think of all B2C marketing as being the type of impulse decision to which you can appeal with an emotion-driven campaign showing happy, strong, cool people. Not everything is as simple as a refreshing soft drink on a hot day or a pair of shoes that totally make the outfit.
At JONES, we have experienced the side of B2C marketing that requires engaging consumers with useable and useful information, understanding that larger investments have a longer sales cycle, and that especially now, with the world in our pocket, consumers research a wide range of products before making their final decision. The lessons we've learned through marketing financial services, higher education, personal electronics and even nutritional supplements for endurance athletes can be applied to a wide range of other B2C products and services.
This post is one in a 15-part series looking back at the lessons learned in my 15 years as founder and owner of JONES Marketing & PR. Find the two most recent posts in the series here:
My Marketing Lesson #5 (Industry Highlight): Big ticket B2C marketing requires a focus on engaging consumers with useful information to draw them through a longer sales cycle.
In-depth content is not only useful for B2B marketing, but also plays a vital role in marketing many B2C products and services, especially now that mobile devices have put the ability to research everything from cars to bourbon at consumers' fingertips.
Engage with consumers in ways that go beyond the product or sale.
Financial institutions are good at aspirational marketing — encouraging consumers to think about their dream home, next vacation, or wonderful years of retirement — but their marketing seldom goes beyond the rosy idea of "someday" to provide a concrete way of getting there. Or, they take the complete opposite approach, and simply say, "Here's our new savings account/CD/mortgage." Both approaches lack true engagement of consumers to involve them in planning how to reach those aspirations by using the banks' products.
So that is precisely what FNBO Direct did through a campaign engineered by JONES to launch the Midwest bank's online savings accounts and encourage consumers to pay themselves first.
The Pay Yourself First Challenge, built on the then-fledgling social media phenomenon, centered around a reality television style concept of following contestants through a challenge to turn their financial fortunes around. The public was invited to submit videos to a YouTube channel explaining their financial goals and how they would pay themselves first to achieve those goals, with the potential to win matching funds from the bank.
More than 150 videos were submitted, with more than 10,000 views — a significant number when YouTube was just getting off the ground. Coupled with an extensive PR campaign and partnership with personal finance writer Liz Pulliam Weston, the overall campaign was focused on getting consumers to think about a plan for the future and how they would put that plan in place.
The results were outstanding. FNBO Direct reached its one-year goal for new online savings accounts in less than six weeks through a creative approach that engaged consumers through public relations outreach, consumer-generated content and social media.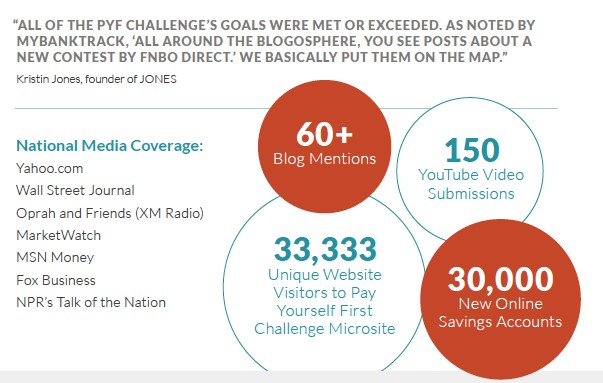 Our recommendation: Think beyond the product or service to engage B2C customers. Engage them in ways that puts your product or service directly in their lives and makes their lives better or easier.
Not all B2C sales are impulse decisions: Don't lose leads by jumping straight to a "Buy Now" CTA.
A $1 candy bar or $4 latte may be an impulse buy you can trigger with a video at the gas pump or an enticing display near the cash register at the department store, but bigger ticket items typically involve research before consumers make a decision. Those big ticket B2C items include everything from consumer electronics and cars to the decision to go back to college. That means that the first call-to-action a potential customer sees shouldn't be asking for an immediate purchase decision.
Unfortunately, that was the situation we identified on the website of Bellevue University, a long-term JONES's public relations client. The Omaha-based higher education institution is unique in its target market, which is not the traditional high school graduate seeking an on-campus experience. Instead, Bellevue University is designed to meet the needs of non-traditional students, mostly working adults looking for an online program.
JONES identified that these students have different needs and face different obstacles than recent high school grads. In fact, before choosing an institution for their educational needs, they often first need to be convinced that they can succeed as students. The top obstacles we identified and addressed in a branding and inbound marketing strategy for Bellevue were:
Time — These students are often already balancing families and a full-time job. They don't have a lot of flexible time for on-campus classes.

Fear — Many aren't sure they can succeed, have been away from a school environment for years, and may be the first in their families to consider a college education.

Proximity — Bellevue's target market included rural areas and military families, who may not live close to a traditional college campus.

Money — Non-traditional students need to find ways to not only pay tuition, but also continue to pay their other bills.
Traditional higher education marketing is focused on things like campus life, the admissions process, and vague degree tracks, none of which addresses the concerns of the adult learners Bellevue University serves best. Instead, our recommended messaging for Bellevue was "Real Learning for Real Life," with a focus on how Bellevue's programs meet specific needs for their students' career goals and how students can address the obstacles outlined above.
But to truly make the university's website work for those students, JONES recommended adding content that would help them overcome the obstacles they see in their way and show them that they can succeed, beginning at the top of the enrollment funnel with awareness level content, rather than at the bottom, with a call to enroll.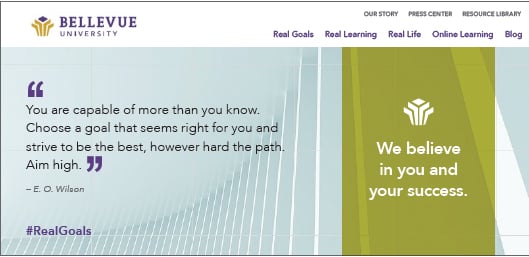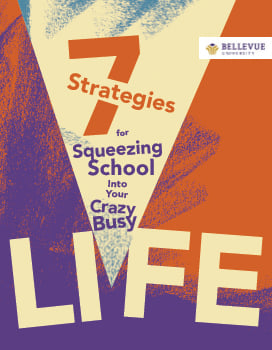 Our proposal included blog posts, ebooks and other resources focused on addressing the challenges while capturing leads from prospects who were still in the early stages of making a decision, rather than scaring off the 80 percent of Bellevue's website visitors who were not yet ready to click on "enroll now."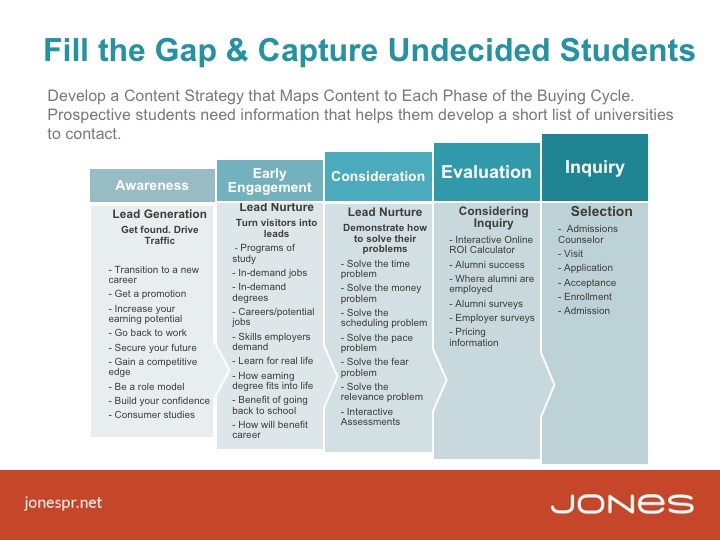 Our recommendation: Don't lose potential customers by moving directly to a "buy now" call-to-action. Nearly 80 percent of Bellevue University's website visitors were bouncing without converting to an inquiry. The JONES strategy focused on capturing the "undecideds" by providing additional information, rather than immediately asking for a decision. This approach can reduce bounce rates, put many more potential students into the pipeline and lead to higher enrollment rates.
Consumers do their research, which means reviews are essential.
When was the last time you looked for an online review before making a purchase? Chances are, it may have been earlier today or at least in the last few days. According to a study by Bazaarvoice, more than 8 in 10 consumers consult their mobile phones before making an in-store purchase, and 45 percent read reviews. (Source)
Those reviews come in two different types:
Formal reviews and product round-ups published by established industry and news media (think Consumer Reports, CNET, or Kelley Blue Book).

Consumer-written online reviews (think the reviews on Amazon, Travel Advisor, Yelp! or Facebook)
Both are important to B2C marketing, but each requires a unique management method in order to maximize the positive impact.
Getting formal reviews by recognized industry media is something consumer brands in industries such as personal electronics, appliances, and automotive spend considerable public relations outreach to achieve, including pitching the product to publications and writers, getting advance versions of the product to reviewers prior to public launch, and managing the return of those products to reach as many different reviewers as possible.
Some products will always get reviews before launch. These "gold standard" products, such as the latest iteration of the iPhone, are ones that everyone wants to review, but brand managers will be choosy in who actually gets to see the advance version in order to ensure a high-quality review. Managing those reviews also means having a spokesperson available to answer questions, and then getting the product back to send on to the next reviewers.
The methodology behind successfully managing product reviews to maximize impact looks like this: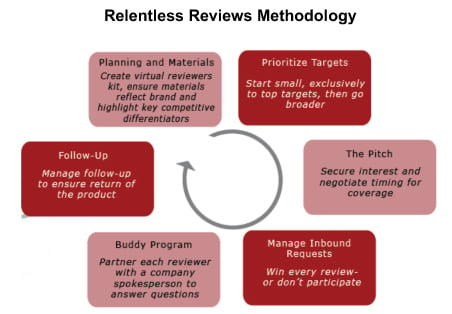 Smaller companies may need to do more legwork just to get reviews, but should be cautious about pushing product out to potential reviewers too soon. Sending the product out before it is ready can be a recipe for disaster. The last thing you want is a bunch of bad reviews — make sure your product is at its peak performance before sending it to reviewers.
Consumer-written reviews are a different beast. PR and marketing teams have less control over who writes them or what is written, but being vigilant about tracking reviews and responding appropriately can go a long way toward positive customer experiences. And these reviews, when positive, can be powerful marketing content to share. (More on managing your online reputation, especially for small or local businesses.)
Our recommendation: Don't underestimate the power of a positive review in a world of online research for products of all types.
Brand activation is key — get your products in the hands of those who matter.
Sometimes first-hand experience trumps online reviews. This is one reason many B2C brands will want to focus on in-person opportunities for brand activation—getting products into the hands of consumers and giving them a taste to see if they like it.
When JONES worked with Pacific Health Labs to reach a target market of endurance athletes (both professional and recreational), that "taste" was literal. Pacific Health Labs produces drinks, gels and bars designed for use before, during and after athletic events. We helped Pacific reach that market by setting up booths to sample the products at triathlons and cycling events across the country. This kind of brand activation starts at the grass roots, getting consumers to try and like the product, and then ask their local retailers to carry it (or order it direct from the company).
Other products focused on reaching a similar niche market utilize brand ambassadors — individuals who use and promote the products within their circles of influence, both in person and on social media. They help create a buzz without the purchase of paid advertising and leverage the power of a personal recommendation from someone others in the group know and trust.
Another time-honored way of harnessing the power of influencers (even long before today's generation of social media influencers) is celebrity seeding: Getting recognizable consumer products into the hands of celebrities who will be seen/photographed using them. This might be done by putting new release products into the swag bags given to attendees at events such as the Oscars or Emmys, or by sending the product directly to the celebrity or his/her agent.
One example from my experience working in the personal electronics field with PR firm Porter Novelli involved a Plantronics wireless headset. Our firm gave one of the new devices to Reese Witherspoon who was pictured using the technology. And PR pros at Porter Novelli got the photo published in People Magazine – instant brand exposure from an influencer.
Sometimes, though, brand activation and exposure is about putting a face and recognizable image on a less tangible brand. That was the case for one of my first experiences in national branding and PR with Mutual of Omaha. For decades, Mutual of Omaha, an insurance company, was indelibly linked with wildlife through a syndicated television show and public appearances by wildlife experts and their animals. Throughout the Midwest, Marlin Perkins and then Jim Fowler and Peter Gros, who I worked with for many years, were the faces, along with their animal friends, of the insurance company. Instantly recognizable, whether at local schools or appearing on late night TV with David Letterman, they made Mutual of Omaha a household name.
Our recommendation: Find ways to make your brand notable and recognizable, either by getting it directly into the hands of those most likely to use it, or to those whose influence matters, or by giving it an image that no one can forget.
Social media drives consumer sales.
We can't talk B2C marketing in 2019 without talking social media. With traditional media losing readership and consumers media habits increasingly diluted across many platforms, one of the most common ways consumers gather information, learn about products and communicate with businesses and each other is through social media.
As many as 3.2 billion people globally use social media, with 2.38 billion Facebook users who are active at least monthly on the platform. While specific industries may be more likely to leverage the professional and B2B vibe of LinkedIn or the visual nature of Instagram, Facebook is used by more than 2 billion businesses for advertising)
But marketing on Facebook and other social media platforms goes far beyond paid ads, and should also include a healthy flow of organic content that engages, educates and entertains as much as it sells. (Facebook Decisions: Ads vs. Promoted Posts vs. Organic Content)
I've seen the impacts that a strong social media presence can have on small businesses, even without an investment in paid advertising. When JONES helped Serenity Medical Spa invigorate its Facebook page with an average of three posts a day, within the first month, total Facebook page impressions increased 12-fold, with 10 times as many users reached as before. The approach also increased post engagement, contacts made through Facebook to book appointments, and new customer sales.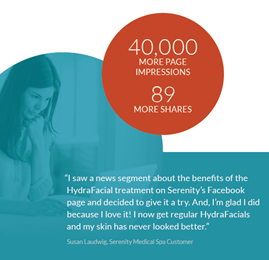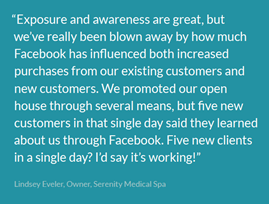 Our recommendation: Build a strong social media presence with high quality organic content as the base of your social media marketing. Then use advertising and promoted posts to meet specific needs, while letting your organic content and the benefits of engaged followers work in your favor.
While B2C marketing is different from the B2B environment in some ways, especially when marketing specialty items or those requiring significant investments, it still comes back to telling compelling stories and providing consumers with the content that leads them to a purchase decision.
I've guided B2C public relations and marketing efforts for products and services ranging from consumer electronics such as digital cameras and wireless headsets, to online printing services, online savings accounts, beauty and fitness products and services, and private education at all levels. Through it all, I have seen that, as with any marketing, quality content, targeted to the needs of a specific audience, and deployed in ways that encourage engagement through inbound marketing and social media interaction are the keys to success.
This is just part of what I have learned in 15 years of agency ownership (plus my time working in corporate and agency in-house teams). The next article in my Lessons Learned series is focused on how to build the right team of people to make your marketing department or agency work well.
If you don't want to miss it, subscribe to the Inbound Accelerator, and we'll be sure you know about each new post as it is published.