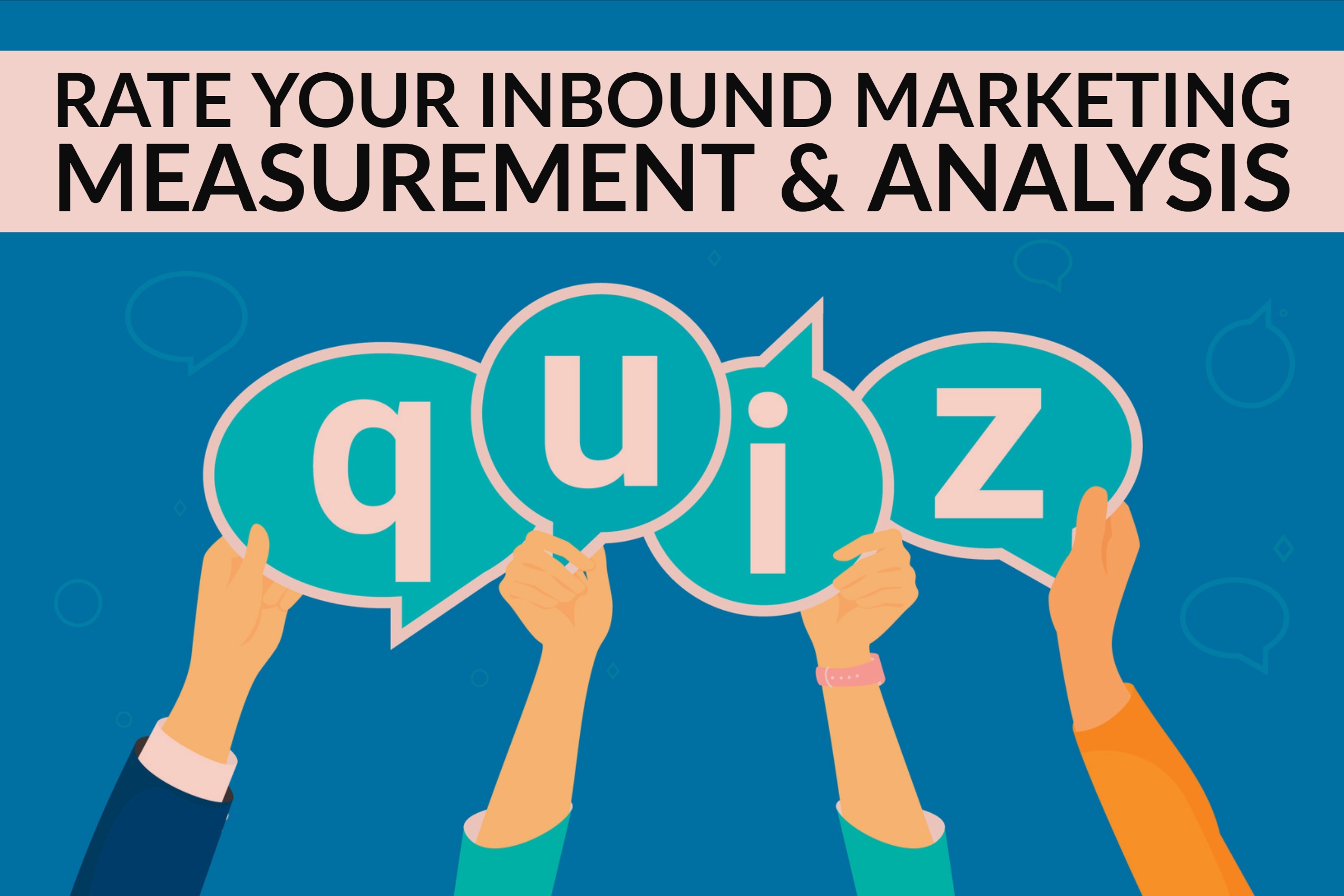 When was the last time you reviewed your blog analytics, or checked on the conversion rates of your top-performing landing pages? How do your numbers match up against your documented goals?
Hopefully, you can report that you are on top of your current metrics, your goals, and how both influence corporate objectives and sales targets. If not, it may be time to step back and create a plan for measuring and monitoring your inbound marketing strategy.
If you aren't sure whether you are doing marketing measurement effectively, start by reviewing the five criteria outlined in the quiz below.
Let's get started!
Read the following statements and consider how well they match your current inbound marketing measurement and analysis processes. Give yourself a score for each one, on a scale of 1 to 5 (strongly disagree to strongly agree), then total up your points for suggestions on what comes next.
We have specific goals in place to measure against to gauge progress and success.
We consistently track and review content-specific metrics such as website traffic, blog hits, social media interaction and search engine ranking for key terms.
We consistently track and review performance-based metrics such as email click-through rates, landing page conversion rates, and lead-to-customer conversion rates.
We consistently track and review revenue-based metrics, such as cost of customer acquisition and customer lifetime value.
We use these metrics to determine the ROI of marketing efforts in order to secure needed budget and buy-in from the executive level.
So, how did you do? Remember that this quiz is more about finding opportunities to increase the effectiveness of your inbound marketing measurement and analysis than it is about finding fault. Let's see what your next step should be.
10 or fewer points: It's time to take a hard look at what you are doing, because it sounds like you really haven't made time to do that yet. If you haven't done much of any tracking, and don't have any goals, start by just getting a baseline of all of your current metrics. Then you can use that baseline, along with working backward from the corporate targets you are supporting, to determine goals for individual content and performance metrics. Finally, determine a process for periodically analyzing results to recalibrate your efforts. It will take time, but the improved performance and increased efficiency of your marketing strategy will pay off. The resources linked below will help you address each of the five marketing measurement and analysis segments in the quiz.
11-15 points: Did any one question throw your score way off? Sometimes we find that marketers have a good handle on some aspects of measurement and analysis but are missing one vital ingredient which has the ability to open up new opportunities for improvement. Check below for a list of resources to address any specific area of weakness uncovered in taking our quiz. If, instead, you find that your score is low because you are occasionally doing all of the things outlined, but can't in good faith say that you are consistent, it may be time to document a plan for reviewing metrics regularly and adjusting your strategy accordingly.
16-20 points: You are doing well, but may need help identifying those final few possibilities open to further improvement. Sometimes an outside perspective is needed to see clearly where the strengths, weaknesses, opportunities and threats lie in your inbound marketing strategy and implementation. A one-time in-depth marketing or media audit could help make sense of the metrics you are collecting and combine it with additional industry research to find opportunities to grow your business. Learn more about what you can expect if you decide to engage in a marketing program audit and how it can improve your entire strategy: Media, Messaging and Marketing Audits Checklist.
21 or more points: Congratulations! You have obviously made both goal-setting and measurement important steps in your marketing process. By knowing precisely what your marketing needs to achieve in order for your business to meet sales and revenue targets, you can more precisely pinpoint effective tactics, as well as advocate for necessary budget to achieve your goals. And you have likely conquered one of the most vexing challenges for inbound marketers (according the 2017 State of Inbound Report): proving the ROI of your marketing efforts. What advice would you give to other marketers hoping to also find that elusive proof to support their department efforts? Are there other areas of your inbound marketing that you want to address? (Take these other quizzes to see if there are opportunities for an impact: Rate Your Business Blog Strategy and Grade Your Marketing Agency's Content Creation Performance.)
Check out these blog posts and downloadable resources to learn more about improving your marketing measurement and analysis:
Analyzing all of your data and metrics should give you a better picture of how your inbound marketing strategy and elements are performing. While a complete audit is best, you can get an initial impression of whether you are doing the right things by taking the expanded version of the quiz in this blog post. Download our Rate Your Inbound Marketing Scorecard for a 30-question self-critique of your entire inbound program, start to finish.