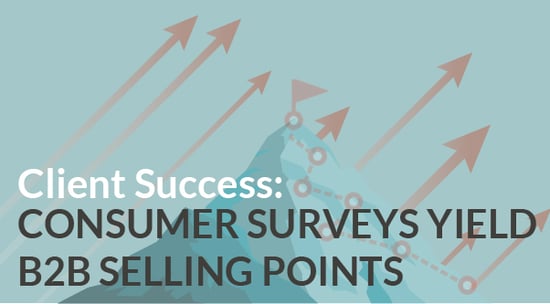 Sometimes, the best approach to take in B2B marketing is to think about your customer's customer.
Through a series of consumer and business surveys that fed into thought leadership articles and media opportunities, JONES helped ACI Worldwide focus on how its customers could help and appeal to the end user of their products—payment processing services—to set the stage for a $100 million equity partnership with IBM and the strongest sales year in the company's history.
In all, JONES worked with ACI for 8 years, including the use of surveys to tie the behind-the-scenes processing to its impact on how consumers use banking software and interact with businesses. We helped ACI Worldwide earn more than 200 articles and media mentions in a single year, including four cover stories, as well as engineering 57 analyst briefings, which supported ACI in landing a $100m equity partnership with IBM.
Our approach was to think beyond simple technology, and ACI's immediate customers, to the role ACI's software could play in everything from addressing credit card fraud to development of loyalty cards for retail businesses or developing prepaid cards that could be used only at limited retailers in order to showcase the real-life implications. Using surveys, we showed that 50 percent of consumers at the time were more worried about credit card fraud than any other type of fraud, particularly when using their cards online. This mattered to ACI Worldwide's customers — banks — because it presented an opportunity to educate their own customers about the steps taken to protect them against fraud.
By conducting related surveys on a regular basis, we were able to work with ACI to generate year-over-year comparisons and trend lines the firm could share with its customers to address both realities in the financial world and consumer perceptions (for example, though half of all consumers worried about card fraud above all over types of fraud, banking executives identified check fraud as the type increasing most at the time).
The information gathered in those surveys was leveraged into a highly successful ongoing thought leadership and media outreach campaign, targeting industry media including American Banker and Bank Technology News, among others. The results included more than 200 media mentions for ACI in a year's time, twice the coverage of the company's nearest competitor.
Thought leadership articles are not the place for blatant promotion, but they do provide an excellent opportunity for a company to show its level of expertise on the topics of the day and to provide the industry with useful information and insights that help establish a reputation for reliability and trustworthiness.
"JONES (did) a phenomenal job for us at ACI. In the first year of working with JONES, we tripled press coverage, netted four cover stories in trade publications, and were mentioned more than a dozen times in analyst reports. The agency is tireless in pursuing results and shows a terrific combination of energy and expertise," said Jim Maxwell, then manager of corporate marketing for ACI Worldwide.
Along with our approach to developing research-based PR and marketing content that addressed the needs of ACI's customers, JONES helped the firm position itself for an equity partnership by engaging with industry analysts.
As I have mentioned in a blog post about enterprise software marketing, the benefits of developing and maximizing relationships with industry analysts go beyond having access to the analysts' reports.
Developing relationships with analysts also helps position your company in their minds, making it more likely they will recommend your solutions. In the case of ACI, we were able to secure nearly 60 analyst briefings for the company in the first year. That familiarity, and inclusion of ACI Worldwide in more than a dozen analyst reports, played a significant role in the company's success landing an equity partnership with IBM, the first of its kind in the financial services industry.
The combination of survey data, strong thought leadership positioning and analyst relationships was key to ACI's partnership opportunity and to achieving a record $430 million in sales as a result of the work we did for them.
Find more about using surveys to fuel marketing and PR content in these blog posts and downloadable templates:
You can also see more about our experience in the financial field by downloading a case study on our work launching FNBO Direct, one of the earliest online banking options. If you'd like to talk about how JONES can put its experience in the financial field to work for you, schedule a time on my calendar here.