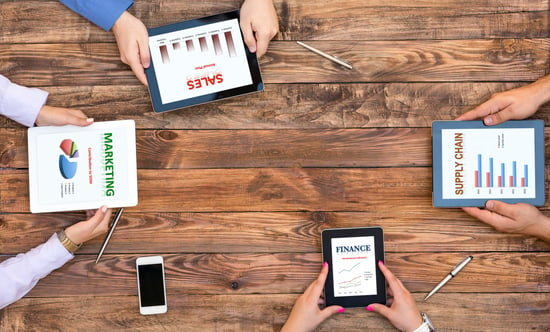 Closed-loop marketing works because it involves tracking information throughout the customer's journey. That means that information needs to be collected and analyzed by not only the marketing department as it converts, nurtures and moves leads toward qualified status, but also by the sales department.
The data your sales team can provide about the final stages in the cycle should be put to work further refining and improving marketing techniques to increase the lead-to-sales closing rate.
Three categories of information that sales should be relaying to the marketing department include:
Contact touches
While the marketing department, as it hands off leads to sales, should be passing on a record of what interaction the lead has already had with your company, that same type of information should be tracked from the hand-off point on as well.
Prior to being considered a sales-qualified lead, marketing may have recorded contact touches with a lead that include an email campaign conversion, downloading an online offer, additional lead nurturing emails with successful conversion on bottom-of-the-funnel offers that signaled readiness for a direct contact from a sales representative.
The sales representative should then document additional emails, phone calls, information provided and objections overcome on the way to a sale.
Depending on who you ask, the total number of contacts likely to be required may only be six to eight touches (according to Salesforce) or as many as 13 (says Online Marketing Institute).
Knowing how many and what types of contacts the sales team needs to move a qualified lead to a closed sale can help the two departments refine what defines a sales qualified lead. Should marketing be making more contacts through automated systems before handing leads off for personal contact? Do certain actions on the part of a lead indicate a need for more nurturing, or a readiness to buy now?
Consistent tracking and review will help both of your departments optimize their time and efforts.
Lead status updates
Since marketing's job is to provide the sales department with a steady, manageable stream of qualified leads, it is important that sales relay back to the marketing department the number of leads they are currently engaged with and the status of those leads.
How many are in progress? Have they been further qualified? How many have been dropped from the system?
This helps the marketing department know if the goal for lead generation needs to be increased, if leads need to meet different criteria before being qualified, or if the quality of leads is changing due to changes in marketing strategies or qualification methods.
Revenue numbers
Your marketing department may have set its goals based on metrics such as conversion rates, new leads generated or qualified leads, but your colleagues in sales are likely being evaluated on a different metric: revenue.
That means that similarly, the marketing department needs to have revenue in mind as a goal. It is, after all, what the executive suite most wants to see. (What numbers does your boss really want to see from your department? Here are six metrics to report.)
Sales and marketing can work together toward those revenue goals more effectively when sales reports its revenue data back to marketing. This should include the revenue associated with each contract, which can then be tracked through your closed loop marketing and CRM systems to link directly to the specific marketing avenues each customer was in contact with.
This is the data that will help the marketing department determine its ROI and see which marketing programs are delivering the best bang for your buck.
Remember also that sharing information is a two-way street: Is Your Marketing Department Withholding Information?
Sharing information between departments, and using documents such as a service level agreement to keep everyone on the same page, is essential to maximizing the results for both departments. Find more ways to work together to benefit the entire organization in our free ebook: The Complete Guide to Unifying Marketing & Sales.