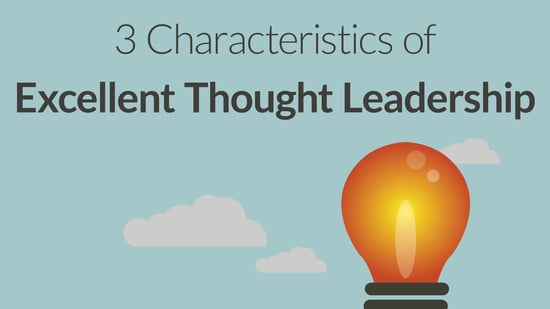 There is an old nursery rhyme that includes the line "when she was good, she was very, very good, but when she was bad, she was horrid."
It may seem to be an odd phrase to connect to thought leadership and B2B marketing, but it was the first thing that came to mind when I read the conclusions drawn by Edelman and LinkedIn as a result of their surveys of 3,275 global business decision-makers on that topic.
In summarizing the results, the report notes that thought leadership content can equally influence B2B decision-makers positively or negatively, depending on the quality of that content. And there's a lot of bad thought leadership content out there.
Let's look at some of the results, and then talk about what it takes to create great thought leadership content, because when it's good, it's very, very good—89 percent of decision-makers say it is effective in enhancing their perceptions of an organization.
Thought leadership's influence by the numbers
The surveys showed that thought leadership content—whitepapers, contributed bylined articles and other unique forms of content—have a significant impact and are valued by B2B decision makers.
Nearly half (48 percent) say they spend an hour or more each week engaging with thought leadership materials. One in six decision-makers spend four hours or more with thought leadership content.
Of those who rely on thought leadership in their decisions regarding business purchases and partnerships, the impact thought leadership has on perceptions of the organization are immense: nearly 90 percent say that it increases:
their respect for the organization,
their perception of the organization's capabilities and
their trust in the organization.
And six in ten decision-makers agree an organization's thought leadership is a more trustworthy basis for assessing its capabilities and competencies than its marketing materials and product sheets.

The impact extends beyond perceptions to actual consideration or purchase decisions. Decision-makers told surveyors that after engaging with a piece of thought leadership:
42 percent have invited an organization to bid on a project (when that organization was not in the original consideration set).
48 percent have awarded business to the organization.
53 percent have increased the amount of business they did with the organization.
54 percent have purchased a new product or service that they had not previously considered buying.
In fact, four in ten of the decision-makers who responded to the survey said they are willing to pay a premium to work with an organization that produces thought leadership versus those that do not.
But …
Here's the kicker: Thought leadership can also influence perceptions negatively if it isn't done well.
Decision-makers say that only 15 percent of the thought leadership they are reading is either "very good" or "excellent" quality. And more than a fourth of what they see is mediocre to very poor.
When they encounter poor quality thought leadership, 38 percent say it has decreased their respect and admiration for an organization, and 27 percent say that poor quality thought leadership has directly led them to NOT award business to an organization.
So how do you create thought leadership content that meets the demanding expectations of B2B decision-makers?
Characteristics of Excellent Thought Leadership Content
What is the difference between the 15 percent of thought leadership that decision-makers say is very good or excellent and the more than 25 percent that is likely to make them decide not to do business with an organization?
The report says that three main characteristics are the hallmarks of high-value thought leadership:
Substantive content that presents new perspectives.
Timely topics that decision-makers are currently working on.
Effective distribution that allows the content to be found easily.
It goes deeper to provide more details on what "substantive content" and "new perspectives" mean.
B2B decision-makers want thought leadership content that explores potential challenges or new opportunities they had not previously considered. They want it to point out things that they had overlooked in their thinking or strategies. And they want it to offer actionable competitive intelligence.
They don't want mere repeats of what everyone else is saying, superficial insights or analysis, or an emphasis on selling rather than educating.
Effective thought leadership material that influences B2B decision-makers should be original, insightful, and focused on solutions. (See examples of how JONES helped West, now Intrado, lead the healthcare technology industry with innovative thought leadership through the use of a decade's worth of consumer and healthcare provider surveys.)
While they want useful, detailed, insightful information, decision-makers also value their time: 75 percent say that thought leadership content that is short and easy to absorb is the most compelling.
That means your team must carefully consider every word and how to present information clearly and concisely, rather than just churning out a long piece of text. Think about the various channels and formats that can be used to reach audiences: video, infographics, webinars and more that extend beyond the traditional reports, whitepapers and bylined articles.
Distribution is the other key to effective thought leadership—it has to reach those decision-makers. More than half of those surveyed (54 percent) said they "discovered" the most recent piece of thought leadership that came to their attention. That includes having searched for a specific topic or come across it in their daily routine, such as in social media or professional network news feeds or on websites that aggregate information about their industry.
Another 26 percent said the last thought leadership material they engaged with was "pushed" to them: either forwarded by a colleague or included in an email they have opted-in to receive. For 18 percent, the thought leadership content was "amplified," meaning they read or heard about it through a major news media outlet, trade publication or an influencer they follow.
Marketers should carefully plan a distribution strategy that provides multiple ways for the audience to encounter thought leadership content. Often, that content can be repurposed or republished to make it visible in multiple locations, such as using social media to share links to successfully placed contributed articles, as well as press releases to targeted media outlets about the data included in reports and whitepapers.
Thought leadership is a long-term strategy
In addition to surveying decision-makers, Edelman and LinkedIn asked B2B marketers about how they approach thought leadership in their marketing plans. One key insight that came from the questions is the need for thought leadership to be a mainstay of the company's culture, not a one-time marketing approach.
Three characteristics that producers of thought leadership view as essential to success are:
Deep thinking and intellectual rigor
Support from leadership across the organization
Promotional follow through and support for distribution
Nearly three-fourths of thought leadership producers credited deep thinking and intellectual rigor with the success of their most recent efforts. This includes thought leadership content that is timed to match an upswing in emerging interest in the topic; content based on rigorous, high-quality research; content that presents something new, substantial and potentially game changing on the topic; and content that lays out a clear set of actions organizations can take in response to the challenges or opportunities discussed in the piece.
Producing that level of content, of course, requires buy-in and budget from above, which leads to the second primary characteristic: support from leadership. With 65 percent of producers crediting leadership support as one of the most important drivers of success, they also looked deeper at what that support entailed.
39 percent said senior executives championed the thought leadership and were highly visible around its release.
32 percent said their organization's best thinkers and top executives were involved in producing the thought leadership.
27 percent said the organization as a whole worked in a coordinated fashion.
21 percent say they thoroughly trained their leadership and business development team in how to understand and effectively communicate the big ideas presented in the piece.
Without this kind of buy-in and involvement, no matter what the marketing department does, the content will fall short of its potential when the message isn't shared and championed uniformly across the organization.
The third characteristic thought leadership producers say was a driver of their most recent success is promotional follow-through, including support from the entire organization in distributing the content. One in three say that an important means of distributing content was to effectively engage employees in its amplification—cited three times as often as paid promotion.
Again, this speaks to making thought leadership a part of the company's culture, so that deep thinking, support for development and shared distribution are ingrained in all departments, not just marketing.
Thought leadership's impact on brand perception and sales
Creating a culture focused around thought leadership excellence pays dividends in both brand perception and in sales.
When the survey asked producers of thought leadership to measure the impact of thought leadership on their brand's perception, the gap between those producing high-quality content and those producing low-quality content was significant.
High-quality thought leadership showed a 17-point advantage in increasing brand recognition, an 18-point advantage in both increasing brand reputation and building trust, and a 13-point advantage in broadening the audience's perception of the company's capabilities.
When asked about the impact on sales-related actions, high quality content was much more likely to generate RFPs, win business, enable cross-selling and make it easier to get the next sale.
Thought leadership isn't just a feel-good PR tactic—it is a lead-generating, sales-closing tool for marketing and sales in the B2B arena.
How is thought leadership being used in your integrated content marketing strategy? JONES has nearly two decades of experience helping brands bring the kinds of deep thinking and intellectual rigor discussed here to B2B decision-makers in a number of fields, from healthcare technology to financial services to life sciences. We believe in living up to the "when she was good, she was very, very good" part of that nursery rhyme I quoted at the beginning. There is no benefit in creating bad (or sloppy or half-hearted) thought leadership content. But there is great benefit in doing it very, very well.
Our basic primer on using contributed articles as one type of thought leadership is available here: How To Get Your CEO Published. But as discussed here, those articles are just one part of creating a thought leadership culture. We're here to help you show executives the power of thought leadership as part of an integrated marketing strategy and develop the buy-in to build campaigns that move the needle on the results your company needs. Schedule time in my calendar for a no-obligation consultation to talk more about how to make thought leadership a pillar in your marketing strategy.