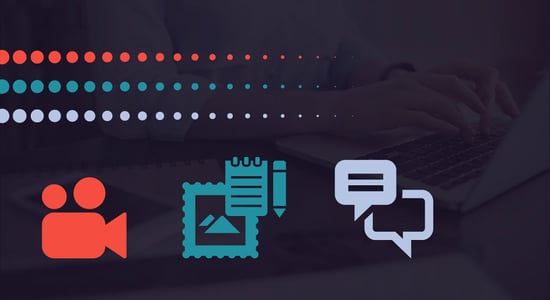 Content marketing is constantly shifting to adapt to new technology, new market conditions, and changing consumer habits. Today, as we move out of the Covid-19 pandemic but remain in a world in flux, with remote work continuing for many and in-person connections still hampered by continued caution or the financial constraints of inflation, content marketing that reaches audiences is more important than ever.
Recent reports from industry experts highlight how content marketing may look a bit different in the coming months and years. The common themes across two reports I recently read were these:
More video

More owned media

More connections
HubSpot's State of Inbound Marketing Trends 2022 and the 13th Annual B2B Content Marketing report from the Content Marketing Institute (CMI), MarketingProfs and ON24 take slightly different approaches to their data but agree on these basics.

Marketers will create more video than ever
Both reports cite survey results that put video at the top of the list for fastest growing content format. While HubSpot says 59 percent of marketers use video in 2022, the CMI/MarketingProfs/ON24 report says 78 percent of the content marketers they surveyed intend to invest in video in 2023. Either way you look at it, video is at the top of the list, with other formats, such as blogs, images, infographics and case studies trailing it in HubSpot's list.
In addition to all video becoming more common among marketers—in order to meet consumer expectations—the fastest growing type of video being used by marketers takes cues from the fastest growing social media platform, TikTok. In fact, 24 percent of the respondents in HubSpot's survey planned to use TikTok for the first time in 2022, though YouTube remained the most popular channel for video content. And more than half intended to increase their investment in short-form video, which is cited as having the best ROI compared to all other media formats.
Marketers will create more owned-media assets
Second only to video in the intended investment category in the CMI/MarketingProfs/ON24 report were owned-media assets.
Nearly 7 in 10 B2B content marketers intend to invest in owned-media assets in 2023, up from 57 percent the year before, while use of paid content distribution channels is expected to decrease. Owned media, which can range from blogs to reports and organic social media content, offers greater control over message, branding and audience than earned media.
HubSpot's report cited nearly 50 percent of respondents saying they utilize a blog, and only slight less who create infographics, other images or case studies.
Marketers will focus on fostering community and engagement
Much of that owned media may be included in strategies surrounding branded online communities, according to the data from CMI/MarketingProfs/ON24. Just over 25 percent of B2B marketers say they are using their own online communities to distribute content. That is still only a fraction of the number who use other platforms: website, blog, email (newsletters or other), events or a microsite/resource center. But it is growing.
Along with fostering their own online communities, marketers seem to be moving away from advertising or PPC-type strategies to ones that are focused more on drawing in audiences and creating engagement and connection. Marketers told HubSpot that the most effective types of content were:
Funny content — 80 percent

Interactive content (games, quizzes, polls, augmented reality) — 77 percent

Authentic or "behind the scenes" content — 68 percent

Relatable content — 67 percent
This shift from promotion to connection can be seen also in how HubSpot's survey respondents are focusing their social media strategies for the next year, with more setting their objectives on building brand awareness, loyalty and customer retention than simply advertising their product or service.
Do these trends reflect the changes you are making in your content marketing approach? Or do you need guidance on how to adjust your current strategy to fit the technology and audience of the future? Let's talk about how your brand can put the latest content formats to work while building the brand awareness and loyalty needed for success. Schedule a time to chat today.