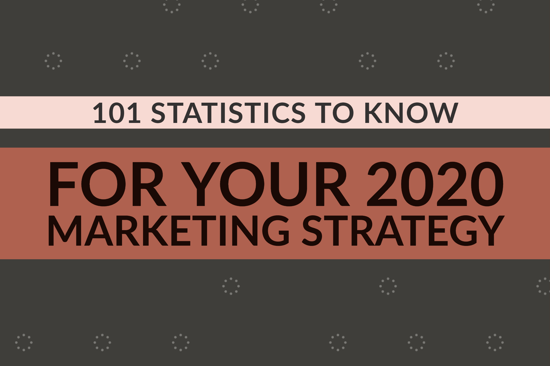 As you enter 2020, with a new marketing strategy and campaigns planned out and ready for creation and implementation, take time to consider these statistics.
Is your brand well aligned with your long term goals? Only 60 percent of marketers say "yes."
Are you pumping out content without focusing on how good it is? According to 76 percent of marketers, quality trumps quantity.
Read on for statistics that will help guide your strategy, from brand development through content creation, lead nurturing, and measurement and analysis, along with links to free resources from our Inbound Marketing Learning Library.
Brand Development Statistics
1. It takes 5 to 7 impressions for people to remember a brand.
2. Color improves brand recognition by up to 80 percent
3. Presenting a brand consistently across all platforms can increase revenue by up to 23 percent.
4. 60 percent of millennial consumers expect a consistent brand across all channels.
5. 53 percent of business rely on content marketing as a branding strategy.
6. 73 percent of consumers love a brand because of helpful customer service.
7. 89% of shoppers stay loyal to brands that share their values.
8. Only 60 percent of marketers think their brand is well aligned with their long term goals.
9. 60 percent of B2B brands say that their visuals or content doesn't conform to brand guidelines.
10. When companies rebrand, it usually costs them 5-10 percent of their yearly marketing budget.
11. 78 percent of consumers trust brands that produce custom content, compared to generic content.
12. Companies with a strong employer brand see the cost of hiring decrease by 43 percent.
Learn more about branding in this blog post — the most read post in our 5 years of publishing the Inbound Accelerator: 8 Elements Every Brand Concept Should Include.
Customer Persona Statistics
13. 63 percent of marketers create content by buyer persona: 38 percent by vertical; 30 percent by geography; 30 percent by account or customer.
14. 71 percent of companies that exceed revenue and lead goals have documented personas.
15. Targeting cold leads with persona-based content is 58 percent more effective than targeting warm leads without using persona-based content.
16. 58 percent of content B2B marketers consider 'audience relevance' the most important factor for determining the effectiveness of content marketing efforts.
17. Marketing Sherpa found using personas increased website traffic by 210 percent; website generated leads by 97 percent; website generated sales by 124 percent; and organic search traffic by 55 percent.
18. Top content marketing performers are more likely to always or frequently craft content based on the stages of the customer journey.
Download a packet of sample personas and a worksheet to help you refine your own: Buyer/Customer Personas.
Content Statistics
19. 37 percent of B2B marketers have a documented content marketing strategy; another 41 percent say they have a strategy, but it is not documented.
20. In 2019, 89 percent of marketers felt their content marketing strategy was linked to all other parts of the business.
21. 19 percent of marketers say content marketing is extremely effective for their brand; another 47 percent say is it very effective.
22. Brands that blog generate 67 percent more leads.
23. 76 percent of marketers prioritize delivering content quality over quantity.
24. 93 percent of B2B marketers distribute content via email; 89 percent use LinkedIn; 77 percent, Twitter; and 76 percent, Facebook.
25. Paid methods used by B2B marketers to promote content include: 84 percent, social promotion; 67 percent, search engine marketing; 58 percent, print or other offline promotion; and 55 percent, traditional online banner ads.
26. When asked what makes content successful, 23 percent of B2B marketers site content that is relevant to the target audience; 21 percent say quality of content; and 19 percent say content that stands out from competitors.
27. Nearly half of B2B content marketers create blog posts.
28. 45 percent of B2B content marketers utilize infographics.
29. Nearly 4 in 10 B2B content marketers create case studies, press releases, newsletters, webinars, or data reports.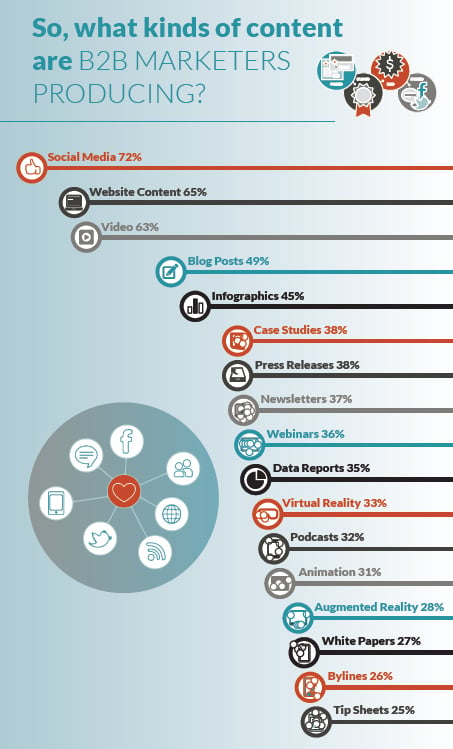 30.Using statistics in blog posts improves consumer trust.
31. Marketers who prioritize blogging efforts are 13x more likely to see positive ROI.
32. 47 percent of buyers viewed 3-5 pieces of content before engaging with a sales rep.
33. 42 percent of marketing/communications professionals say that creating compelling content is among their top three challenges.
What makes creating content so challenging? Here's one problem marketers frequently run up against, and our solution: Content Mistake: Failing to Find & Enable Good Writers.
Social Media Statistics
34. 73 percent of small businesses invest in social media marketing as part of their branding efforts.
35. Nearly 7 in 10 adults in the United States use Facebook.
36. Among young adults ages 18-24, 75 percent use Instagram; 76 percent use Facebook.
37. Only 22 percent of US adults use Twitter.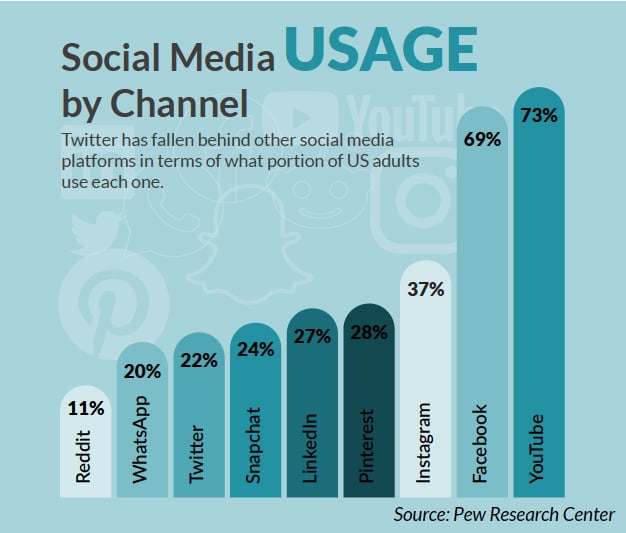 38. 74 percent of people say they use Facebook for professional purposes.
39. Around 43 percent of US adults get news from Facebook.
40. 40 percent of LinkedIn users visit the professional social network each day.
41. 59 percent of Americans believe that customer service through social media has made it easier to get their questions answered and issues resolved.
42. Written articles, videos and images are the three most engaging types of content on social media.
43. 29 percent of internet users with college degrees are on Twitter.
44. 62 percent of people said they were more interested in a product after seeing it in a Facebook Story.
45. 75 percent of millennials watch video on social media daily.
46. 80 percent of B2B social media leads come from LinkedIn.
Video Statistics
47. 54 percent of consumers would like to see more video content from brands they support.
48. 34 percent of small businesses invest in video marketing.
49. 64 percent of consumer purchase a product after watching a branded video on social networks.
50. 7 in 10 B2B content marketers say they think their target audiences will prefer video and multimedia content in the next 12 months.
51. 75 percent of worldwide online videos are watched on mobile devices.
52. B2B marketing videos are watched on desktop or laptop computers 87 percent of the time.
53. The most popular day for B2B marketing video viewing is Thursday, with 22 percent of all views; Saturday and Sunday receive only 7 percent and 6 percent, respectively.
54. Most B2B marketing videos are watched between 8 a.m. and noon Pacific time; 11 a.m. and 2 p.m. Eastern time.
55. Two-thirds of B2B marketing video viewers will watch all of a video that is 60 seconds or shorter, but only 1 in 4 stick around through all of a 20-minute video.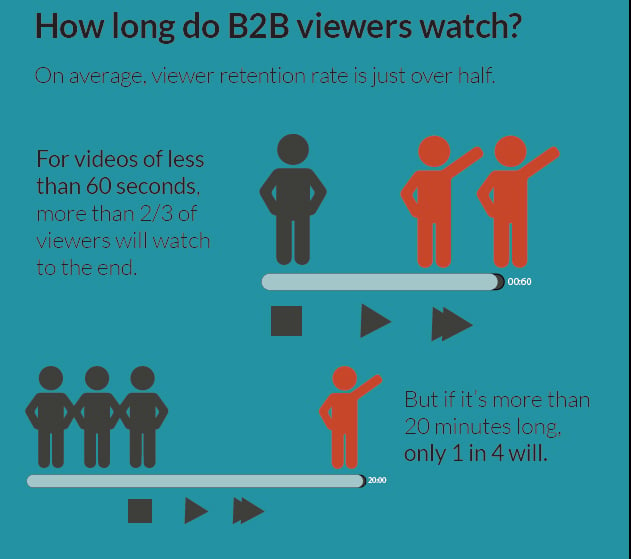 56. 92 percent of marketers make videos with assets they already have.
Ready to jump on the video bandwagon? Download this template for planning and promoting your marketing videos.
Public Relations Statistics
57. On average, buyers examine 5 sources in decision making.
58. 79 percent of communications professionals say storytelling is the most important concept in PR.
59. Audiences view earned media as the most authentic form of marketing.
60. 87 percent of senior communications leaders say comms and marketing work well together.
61. 58 percent of influencers and journalists say displaying knowledge of past work, interests and beats is what drove them to pursue a story.
62. 82 percent of journalists say PR professionals can improve by researching and understanding their media outlet.
63. 72 percent of journalists say PR professionals can improve by tailoring the pitch to suit their beats/coverage.
Integrating PR and marketing just makes sense. The JONES partner in charge of media relations and digital media, Scott Muff, explains how traditional PR tactics such as contributed articles are used to boost lead generation efforts in this Q&A blog post: How JONES & West Use Contributed Articles In Marketing Campaigns.
Lead Generation Statistics
64. 88 percent of B2B marketers use content marketing as a lead generation tactic.
65. Only 44 percent of B2B content marketers gate content.
66. When B2B marketers gate content, 62 percent do so to earn qualified leads; 52 percent aim to add prospects into an automated marketing program.
67. Using videos on landing pages will increase conversions by 86 percent.
68. Only 18 percent of marketers say outbound practices provide the highest quality leads for sales.
69. 53 percent of content marketers use interactive content in lead generation efforts.
70. 33 percent of demand generation professionals say that generation of MQLs is their primary metric for success.
71. 65 percent of businesses consider traffic and lead generation their biggest marketing challenge.
Want ideas for lead generating offers you can use? Check out this post: Real Life Examples of Downloadable Offers For Inbound Marketing.
Lead Nurturing & Email Statistics
72. 91 percent of shoppers want to hear from companies they do business with via email.
73. Recipients are 75 percent more likely to click on emails from segmented campaigns than non-segmented campaigns.
74. 86 percent of professionals prefer to use email when communicating for business purposes.
75. 78 percent of consumers have unsubscribed from emails because a brand was sending too many.
76. 96 percent of website visitors don't come to a website with an intention to buy.
77. 68 percent of B2B businesses will use landing pages for lead nurturing and conversions in the future.
78. 53 percent of businesses say their leads follow a long, complex sales cycle involving many influencers.
79. 57 percent of marketing influencers say that content downloads have the highest lead-to-customer conversion rate of all online forms.
80. The types of content that generate the most lead-to-customer conversions are research reports (46%) and video/motion graphics (44%).
Bonus stats!

SEO Statistics
81. Google drives 96 percent of mobile search traffic.
82. 78 percent of location-based mobile searches result in an offline purchase.
83. More than half of smartphone users have discovered a new company or product while conducting a search on their smartphone.
84. The average Google first page results contains 1,890 words.
85. 61 percent of marketers say improving SEO and growing organic presence is their top inbound marketing priority.
86. Video content is 50 times more likely to drive organic search results than plain text.
87. Including a video in a post increases organic traffic from search results by 157 percent.
88. 70 percent of marketers say SEO is more effective at driving sales than PPC.
89. 91 percent of content gets no organic traffic from Google.
90. 42 percent of SEOs spend equal time on building internal and external links.
91. Pages with a faster loading speed rank higher in Google.
92. 91 percent of marketers optimize their social media profiles for SEO.
93. By 2020, almost 30 percent of all searches will be done without screens.
On-page SEO still matters, too. Download our template (the most popular resource in our Inbound Marketing Learning Library) to review best practices and make the most of your search opportunities: On-Page SEO Planning Template.
Analytics & Measurement Statistics
94. 89 percent of marketers measure the success of content marketing by increased website traffic.
95. 65 percent measure success by improved SEO rankings
96. 51 percent measure success by increased sales.
97. 39 percent of marketers say proving the ROI of their marketing activities is their top marketing challenge.
98. Marketers that calculate ROI are 1.6 times more likely to receive higher budgets.
99. 73% of senior communications leaders deem "aligning metrics to revenue or vital business KPIs" as the most difficult challenge facing communications measurement.
100. Only 43 percent of all B2B marketers say they measure ROI, while 67 percent of the top performers do.
101. Only 65 percent of all B2B marketers have established key performance indicators, but 83 percent of the top performers monitor KPIs.
From regularly tracking blog metrics to conducting in-depth audits to monitor success, analysis should be a part of your marketing strategy from the very beginning. In fact, did you realize that truly useful analysis starts before you even create a campaign? Learn more: Metrics Mistake: Not Having Meaningful Goals To Measure Against.
What will you do with your newly-acquired knowledge of the status of integrated marketing and PR, and the components that are a part of it, in 2020? We're here to answer your questions and help you achieve your goals — just ask!
Sources: