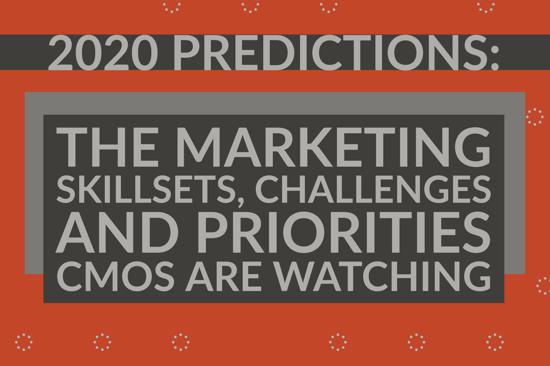 When Pan Communications asked CMO and top marketing experts from around the country and globe what they see as the most important skillsets, challenges, and budget priorities for this year, some pointed to new advancements such as AI and martech, and how to manage all of the data that goes along with those developments, but many others circled back to the very basics: great writing skills, storytelling, and great content that connects with others.
The infographic below includes a ton of great information to think about, but I want to touch on a few of the key skillsets and challenges these top marketing experts are watching for 2020.
Some of them are things I've been talking about all along.
Jason Rose says we need to understand our customer — that's why we place an emphasis on developing complete customer personas. Learn more here: Create A Great Customer Persona.
Michael Brenner says we need to get "the entire business on board with storytelling." That sounds a lot like what I've talked about in some of my 15 Lessons series: If you think creatively, you can make anything interesting, and great content is essential (and always tells a story or has a character to root for).
Elena Filimonova identifies the challenge of convincing internal stakeholders that marketing is everyone's job. That is why I firmly believe in collaboration and in integrating marketing and PR, while also involving sales, and customer service, and R&D, … you get the idea. I have nearly 20 different blog posts about collaboration, alignment, and the need for everyone in the company to be selling the same thing and telling the same story.
Amanda Bohne says that strong writing skills will never go out of style. I couldn't agree more! That's why we hire proven experienced writers and designers and focus on content quality over quantity every time.
Lilach Bullock wants to see more carefully planned strategies. So do I, because documented marketing strategies lead to more success.
Scott Vaughan talks about developing thought leadership initiatives and content, which is key to the integrated public relations and marketing programs we have developed for customers like West.
And several of the marketing experts talked about understanding the customer's story. I believe one fantastic way of doing that is to develop content based on surveys, such as the stories told in the surveys and content we created for Bellevue University.
Do you agree? What other skillsets are you seeking as you hire for your in-house team (or contract agencies to fill needed gaps)? What challenges do see for your marketing and PR programs in the year ahead?
As you can see, I do my best with the Inbound Accelerator to talk about, and offer helpful tips, about the things keeping brand managers, CMOs, and communications directors up at night. Subscribe to our blog to get more insights every week, or schedule a time to chat with me if these challenges are things you're ready to get some help conquering.