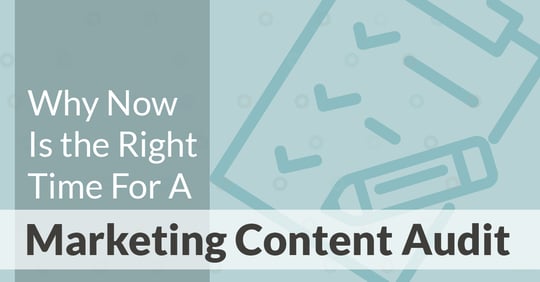 When times are lean—and 2020 and 2021 are turning into lean times for many marketing programs—it is essential to make the most of what you already have.
According to CMS Wire, analysts are predicting a 28 percent drop in marketing spend by the end of 2021. How will you adjust your plans to accommodate that kind of reduction?
If you don't want to cut back on your digital advertising or traditional advertising spending, then the efficiencies will need to come from content development. That means finding new ways to use the content you already have and focusing any new content development on filling specific gaps in your library.
This is where a marketing content audit comes in. A complete audit of your marketing content can pinpoint gaps in your content variety, targeted customer personas or stages of the sales funnel. It can also help you develop an inventory of existing content that can be more easily accessed by marketing and sales for updating and repurposing.
What should a marketing content audit include?
Types of content developed and used
Topics covered
Stages of the sales funnel addressed by the content
Customer personas targeted with specific content
Taking time to audit your existing content before you develop your next strategy and budget can help you best find ways to use what you already have and to focus new content development on filling gaps.
Types of content
As you inventory and audit your marketing content, track the types of content you already have available. This includes everything from social media posts to videos, infographics, blog posts, whitepapers, reports, thought leadership articles and other downloadable assets such as templates and checklists.
Having a variety of content formats, as well as channels used, means you can appeal to leads who prefer to access information in different ways. After all, don't we all know someone who is all about the video, but have another friend who goes for text every time? (Content Variety Is Essential To A Successful Website)
For example, here is what B2B buyers want from marketing content: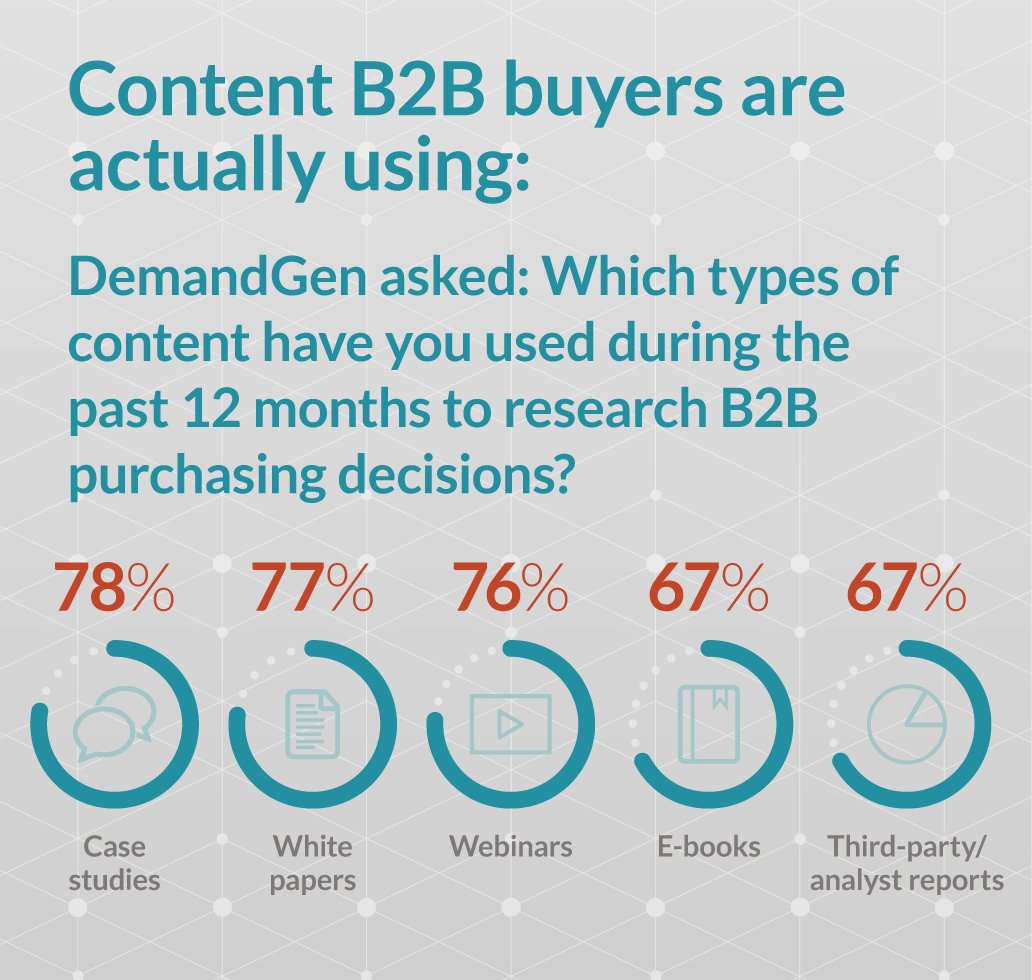 Which of these content types do you already have in your inventory?
Can you repurpose content you already have, such as blog posts, into these formats? Think about turning a how-to blog post into an ebook or refocusing a Facebook video to serve as a webinar.
The reverse is also true—most of these content formats are ripe for repurposing or breaking apart into blog posts, "snack-sized" social media content, or thought leadership articles to submit to industry media.
Don't forget to include traditional PR content in your audit, especially if your PR and marketing teams aren't already sharing content freely. There may be a lot of content ready for a quick rewrite and a new distribution channel, without investing additional time into researching and creating content from scratch.
Find more tips for repurposing content in these blog posts:
Topics covered
Your audit or inventory should also catalog the topics covered by your marketing content.
Keep a list of the topics your leads and customers are interested in and the keywords and phrases they are searching when looking for solutions. How many of those are represented in your content inventory?
List the topics at the top of industry media discussions in your field. Are those covered?
Check out what topics your competition is discussing – are you missing areas you should be addressing?
Use any gaps you find in topics as the first step in planning any new content campaigns for the coming year.
Stages of the sales funnel
As you review and inventory your existing content, keep track of what stage of the sales funnel it is designed to reach—awareness, consideration or decision.
Inbound marketing and content marketing are based on diligent use of the sales funnel. Let's look at how it works:
The top of a funnel is broad, appealing to a wide range of people. Content for the top of the funnel is designed to create awareness of your brand and your solutions, followed by providing usable content to foster engagement with your website or social media accounts.
In the middle of the funnel, content should provide information leads need in the consideration and evaluation stages as they gather information to compare solutions.
As leads enter the bottom of the funnel, provide the content needed to support the hand-off to sales as your representatives close deals, along with the information and content that keeps your customers coming back to aid in customer retention.
Each stage of the funnel demands a different type of content.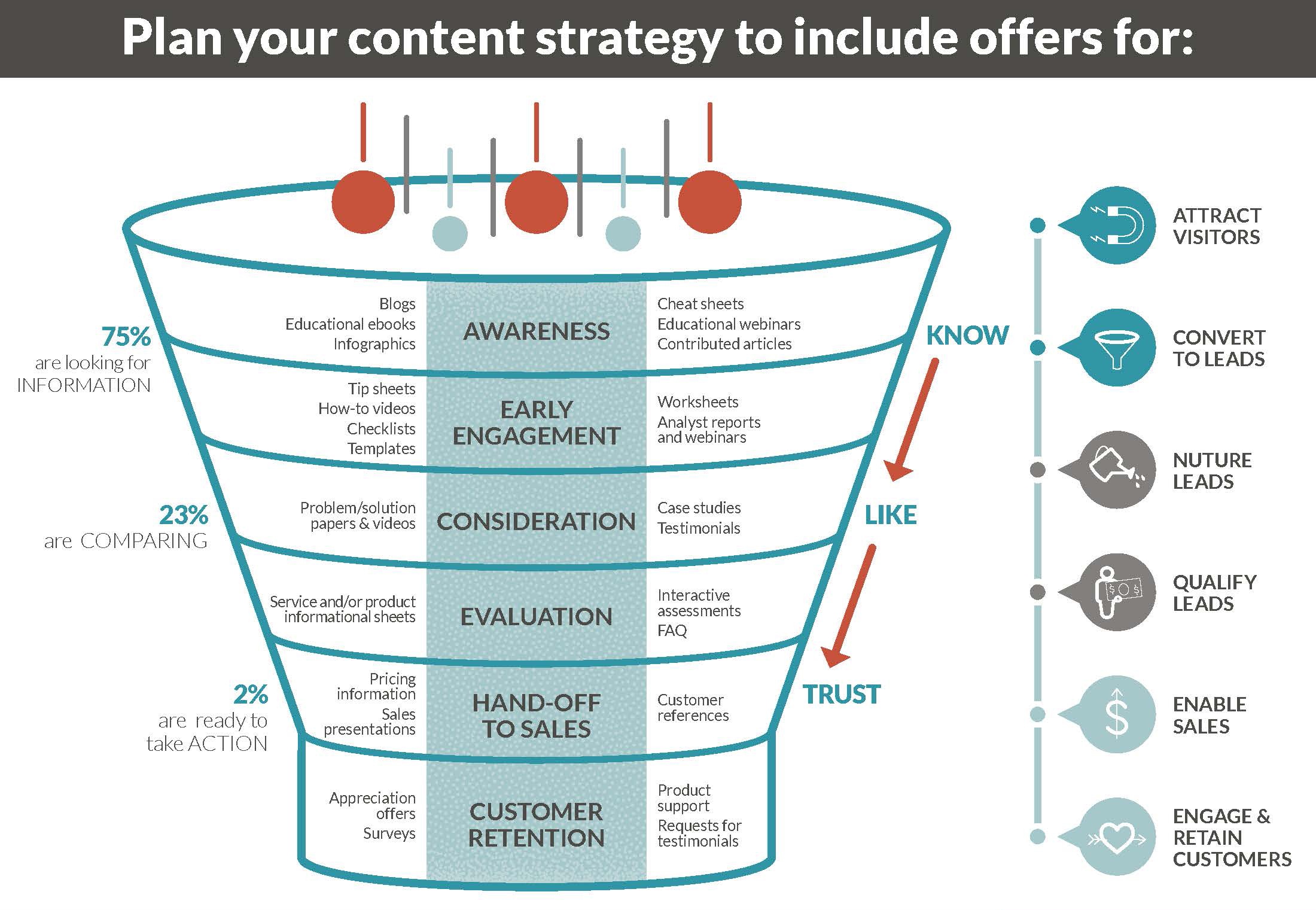 While in many ways, this aspect of the audit may be similar to the content format discussion above, there are some channels and formats that should be used for multiple levels of the sales funnel. For example, your business blog may be primarily awareness level content, as one of the first places leads are likely to land on your website, but it should also include posts that continue to engage leads as they move through the funnel by providing tools and decision-making information. Similarly, you may have awareness level videos that you use on social media to improve engagement, but also use testimonial videos as leads approach the decision stage.
If you find your content inventory is light in any one of the stages listed, prioritize that stage of the funnel as you create new content, while saving time and money by simply reusing and updating content for the other stages as needed.
Need ideas for content for each level of the funnel? Check these posts:
Customer personas
OK, just one more way for you to catalog and categorize your content to identify gaps and focus your content creation efforts: customer personas.
Customer or buyer personas are generalized representations of your ideal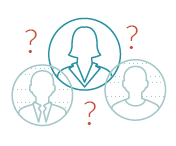 customers that help you understand them better, making it easier for you to tailor content to the specific needs, behaviors and concerns of different groups. Each customer persona represents a different target audience. Depending on your product or service, this could you have several personas representing customers or influencers with a variety of job titles in multiple industries.
If you have already defined your buyer personas, you should have an idea of the topics, formats and pain points to address in content for each of them. Are any of them missing? Is there a new target market you need to add to your list of personas? Have the needs of any of your personas changed since you originally created the content currently in your inventory?
Here are more resources for creating buyer personas and using those personas to guide content creation strategies:
How To Use Your Marketing Content Audit Results
Once you have an inventory of your existing content, you can begin to prioritize your upcoming strategies to focus resources on the areas in which there are gaps in your full-funnel content marketing approach. This means taking the following steps:
Identify what content can be republished as-is either in the same channel or through new content distribution channels without changes.Social media content that is

evergreen

could be shared again a few months after its first publication. Infographics used in your business blog can be shared on social media. A how-to video from a webinar can be shared in a new business blog post.
Identify the content that needs a quick update. Even content that is mostly evergreen can sometimes use a quick freshening up, such as replacing statistics in a blog post with the most current version or adding internal links to content that has been developed since that blog post, ebook or report was first created. A bonus benefit, besides being sure readers and leads get the most current information, is that updated website pages are typically crawled again by search engines, giving your website an

SEO

boost.
Identify content that can be repurposed with a new format and channel. Can you turn an

infographic

into a short animated video? Or expand on each section of the infographic in a blog post, breaking the graphic up into several smaller images? Can you rewrite a thought leadership article as a blog post, adding links and CTAs to your inbound marketing landing pages, or rework a blog post to submit as a contributed article to industry media? When you rework existing content, it takes less time than creating each individual piece of content from scratch.
Identify the areas in which new content should be focused: content formats, topics, stages of the sales funnel and buyer personas targeted. Especially if your budget for the coming year has been limited or cut back by current economic circumstances, prioritizing these areas in your content development plans will allow you to fill gaps with new content, rather than adding to areas that are already adequately served and leaving other potential opportunities untapped.
Think about your campaigns for the next year from the top to the bottom of the funnel and for each buyer persona you need to reach.
How can we help you approach a marketing content audit, or other analysis of your current marketing situation that would help you prioritize efforts as you take on the challenge of potentially reduced budgets (with the same expectations of performance as before)? How will you fill the gaps in your resources if your full-time staffing has been reduced? Schedule a time on my calendar for a no-obligation consultation call.
For more tips and tools as you develop your next year's marketing campaign plans, including both existing and new content, check out these blog posts and free downloads: