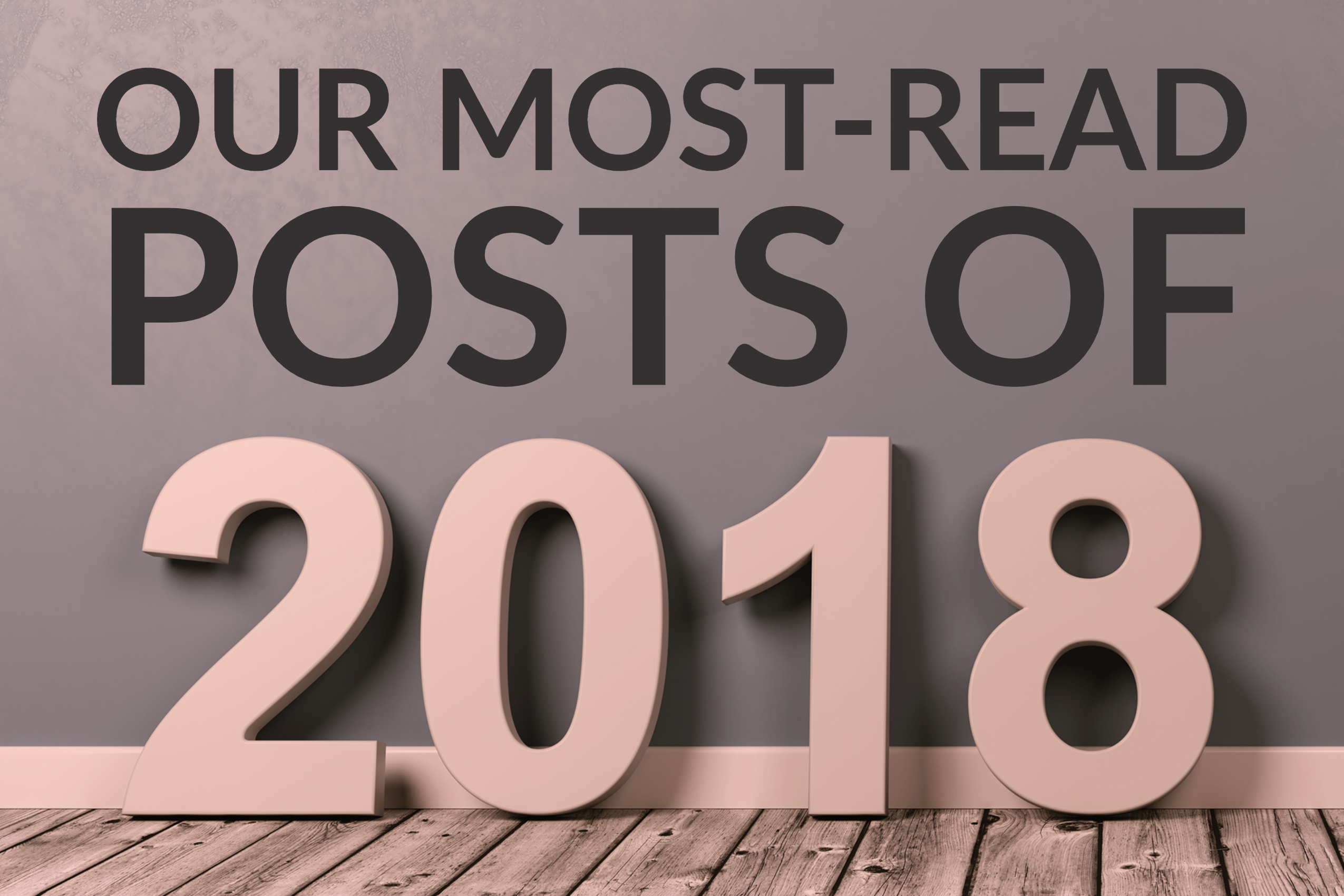 With 2018 winding down and 2019 about to kick into high gear, it's a great time to do a little research, learning and goal setting for the next year. If you are like me, each year you set a resolution to spend more time learning things that I can apply to my life — my health, my family and my job.
But there is only so much time available and there is SO MUCH out there to read, watch and listen to. How to choose?
What about starting with the inbound marketing insights our readers have turned to the most over the last year? Here are the 10 posts from our Inbound Accelerator blog that have been read the most times in 2018.
(And just as a side note, we've talked in the blog about the power of compounding posts — this list is proof that blog posts can have staying power and keep building your website traffic and inbound leads long after their initial publication. All 10 of these posts are at least a year old. Quality content continues to pay dividends long beyond the initial promotional push.)
Top 10 Inbound Marketing Blog Posts
1. 8 Elements Every Brand Concept Should Include
We've said before that a brand is more than a logo, and when you contract with an agency to help you develop a new brand or refresh an existing brand, you deserve more than a couple of taglines.
So exactly what should you expect in a brand concept document and presentation? Your agency partner should provide recommendations for the eight elements, detailed in this popular post, all of which support the development your new brand position.
2. Choosing A Branding Agency: Are You Asking The Right Questions?
Developing a complete brand identity is a task corporate marketing departments typically seek help in executing. It takes a lot of time and expertise, and an outside perspective can be helpful in breaking away from simply doing what you've always done.
But choosing the right partner for the task can be daunting, especially if you don't already have a strong agency relationship. Asking the right questions will help you find an agency that matches your needs.
First, ask yourself this question:
What do I want from this project?
Once you've answered that question for yourself, find three examples of the wrong — and right — questions to ask prospective agencies when you sit down to make a decision about who to partner with for your brand identity development and implementation.
3. 6 Benefits Of Using Marketing Audits To Inform Strategies
Are you ready for your next round of marketing campaigns? What will you do differently in the next year?
Perhaps the more important question, however, is WHY will you do things differently? What information are you basing your changes on?
If you can't give a specific answer to that last question, there is a problem. Strategies, including modifications to existing campaigns, need to be based not on intuition or instinct, but on facts and figures. That is the kind of information you gather through a comprehensive audit.
Marketing audits — whether focused on media presence, the effectiveness of marketing tactics, content inventories, or analyst relations — are an essential part of gathering the information you need to develop your next strategy.
Click the title to read the full post and see the six ways marketing audits can help you create better strategies for the future.
4. Healthcare Marketing 2018 Trend: Personalized Patient Engagement
Healthcare is changing. And that means healthcare marketing needs to change as well.
Healthcare used to follow this formula:
Person gets sick. Person goes to doctor (based on which providers are 'in-network' for their employer's insurance program). Person gets prescription for immediate problem. End of formula.
Today, the trend is to not just treat the immediate problem, but to focus on helping patients get healthier to avoid acute conditions or readmissions for chronic conditions. An example would be managing high blood pressure in order to avoid a heart attack, or managing diabetes to avoid situations that might require hospitalization.
The other change has been in how consumers choose their healthcare provider. Because they often have more upfront costs — in insurance premiums, co-pays, or both — they are taking a more sophisticated approach to choosing a provider.
What this means for healthcare providers and marketers is a need to focus on:
Patient experience and satisfaction

Patient engagement
Are you involved in healthcare marketing? Or in B2B marketing for healthcare technology, biotech or other related fields? The insights in this post will help you understand how to reach the audiences you need to reach.
5. A Dozen Items Every Media Audit Should Include
Media audits are a staple of the public relations world: It's important to know who is saying what about your business, how often, where and when.
That knowledge is just as vital when crafting your marketing strategies, as all communications should be part of a cohesive strategy that works together.
When seeking bids on a media and public relations audit, make sure your vendors are offering you a complete package that goes beyond a handful of data points. It should include details, interpretation and, most importantly, recommendations based on the audit results.
If the post linked in the #3 spot on our list inspired you to seek an audit to guide your strategy, this one is a natural complement, giving you insights into precisely what you should expect from an agency that conducts a media audit for you.
9. Criteria For Choosing The Best Business Name Possible
There are few words you will create in marketing that have greater importance than a name. Whether you are starting an entirely new business, launching a new product or service, or creating a new campaign, the handful of letters or words that make up the name go far beyond a simple label.
Think about the names or campaign themes that have become so familiar even small children can identify them. Wal-Mart. McDonald's. Just Do It. In fewer than 10 letters, each of those names and themes evokes an image that is universally understood.
While that image is created by the overall brand behind the name, in order for a name to be effective it should score high in nine different criteria.
So as your team brainstorms the name for your new business, product or campaign, consider the factors outlined in this post.
7. 3 Ways To Measure Call-To-Action Success
You measure your website traffic. You track your social media presence. You analyze which blog posts are most often read and shared. And all of that analysis is a lot of work.
But it is also an essential step in an overall marketing strategy because it tells you what is working and what isn't. Not to pile more work onto your to-do list, but are you also measuring your calls-to-action?
These three metrics will help you pinpoint which calls-to-action work and which CTAs aren't pulling their weight.
8. Healthcare Marketing: Think Beyond Brand Awareness
Traditionally, healthcare providers — including both hospital systems and private practices in a variety of fields — have focused marketing on one thing: brand awareness.
And traditional marketing has been very good at that approach. Billboards, local print and broadcast advertising, online banner ads and print magazines build recognition with an emphasis in most cases on physical assets: great facilities, convenient locations, expert providers in specialty fields.
But there is something missing that is vital in today's healthcare market, which is becoming more consumer-driven: personalization.
This post builds more information into the same concept discussed in our #4 post, including suggestions for ways healthcare marketers can begin to shift their approach from the tradition focus.
9. Three CTA Metrics You Need To Track
What does your annual performance review have in common with marketing metrics? Both are designed to find areas of strength and build on them, and identify areas in need of improvement for further growth.
And while neither is exactly exciting, they both serve an important purpose.
Let's skip your performance review for the moment, however, and focus on three marketing metrics you should be tracking to find the strengths and opportunities in the performance of your calls-to-action.
What areas of improvement will you find in reviewing the metrics outlined here?
10. 3 Ways to Define The Customer Sales Cycle and Segment Marketing Efforts
Do all of your business contacts receive the same treatment?
It may sound like a trick question in our age of equality, but it really isn't. You should not provide the same offers, the same emails, the same communication to all of your business prospects. Here's why: They aren't all looking for the same thing, and they aren't all on the same timeline.
Even contacts who fit the same buyer persona should receive segmented offers and communication based on where they fall in the customer life cycle (or sales funnel or buyers' journey).
Click through to read about three different ways you can consider your customers' life cycle in order to better personalize lead nurturing and other communications.
Have you read these popular posts already? If so, share them with a colleague who may find the information useful. If not, dig in! Our readers have given them the stamp of approval. If you like what you see, subscribe so that you won't miss our future blog posts, which include infographics, how-to posts, and discussion of all things inbound marketing and public relations. Click here to choose how you want to receive your Inbound Accelerator updates.