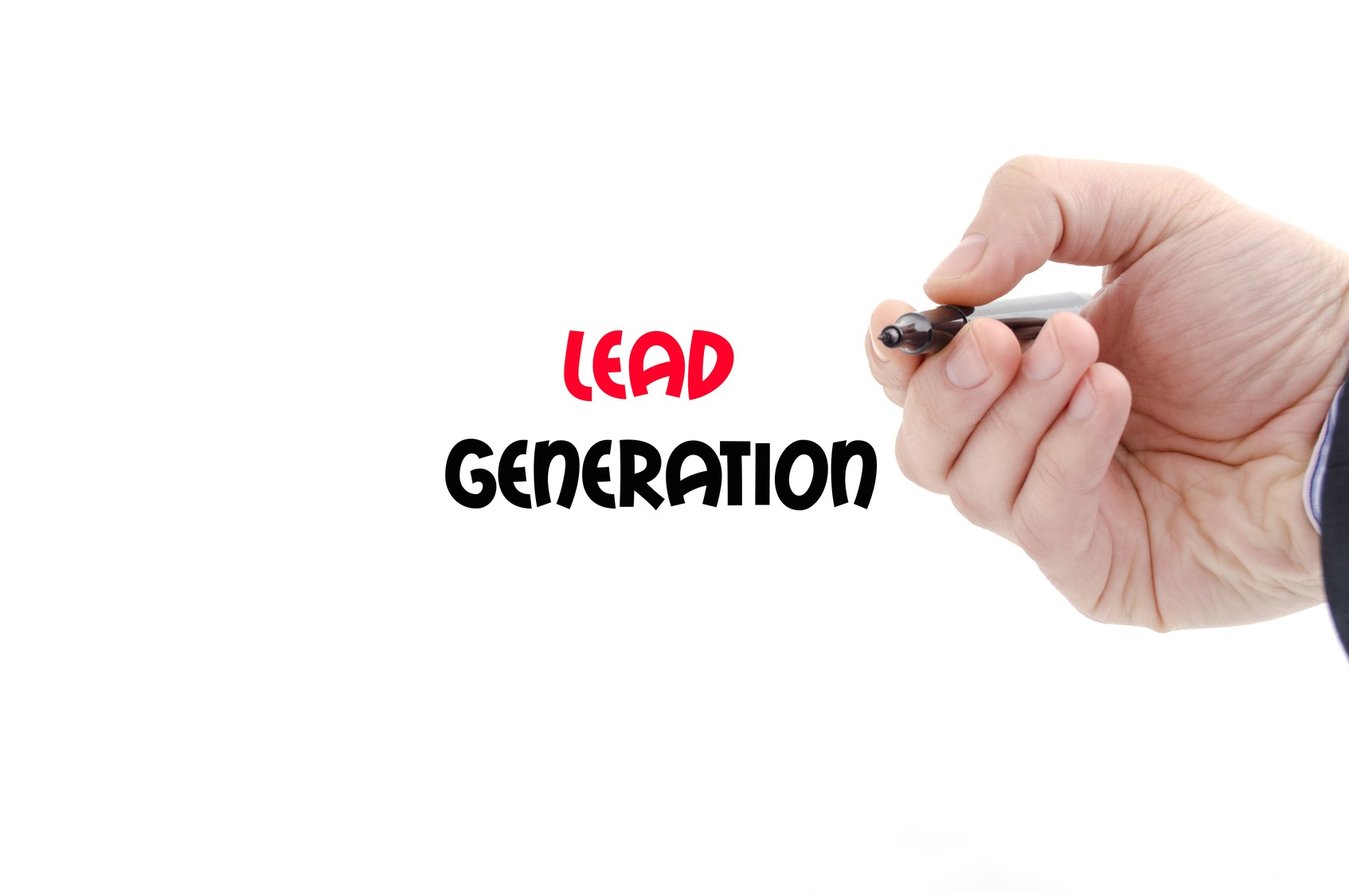 How can a regional healthcare consultation firm, formerly focused on government RFPs and contracts, enter the commercial marketplace on a national level without breaking the bank on aggressive advertising?
Inbound marketing.
For most of its history, Primaris was focused on serving local, state and federal government entities in the state of Missouri. With changes in how healthcare is provided in the United States, Primaris saw opportunities to expand its reach into the nationwide commercial market.
While Primaris had a strong structure to provide services to its clients, due to the nature of working primarily with government contracts, the company was virtually unknown outside that arena and had never developed a true marketing program.
Annual visits to the company's website were fewer than 12,000, and online leads weren't even a consideration. Inbound marketing changed that.
JONES helped Primaris develop and launch an inbound marketing strategy and rebranding, almost as though bringing a new company to the market. That meant:
Positioning the company's brand to reach private healthcare organizations

Developing content that would attract website visitors, capture and nurture leads, and enable sales

Maximizing the efficiencies of inbound marketing solution HubSpot to minimize resources needed.
How JONES and Primaris launched online lead generation
Launching Primaris into a national commercial healthcare market with inbound marketing involved following the steps JONES uses to approach all of its marketing challenges.
POSITIONING THE BRAND
Positioning Primaris for the commercial market required taking a step back and truly defining the company's service offerings and the methodology in which they are offered. JONES facilitated conversations amongst all departments to aid in creating a brand focused around the TIME Improvement Model. That model, along with service offerings grouped into 10 solution categories, would provide the framework for a brand position and strategy that introduced Primaris to the commercial healthcare market. (See also Six Steps to Creating Enviable Brands.)
BUILD A CONTENT STRATEGY
Developing the overall strategy for introducing Primaris to a national commercial market required collaborating with all areas of the company to define services and identify how to organize them in a way that would reinforce what Primaris has to offer to the healthcare community.
By bringing in JONES as a neutral party with expertise in marketing, Primaris was able to bridge gaps between departments and gain buy-in across the board for a new approach. JONES provided backup to the marketing department in presenting the benefits of an inbound marketing approach to the executive suite. Inbound marketing, using a variety of content to establish industry leadership and attract leads through the company's website, was central to the new Primaris approach. (Find more in Introduction to Creating a Companywide Content Strategy.)
CREATE VALUABLE CONTENT
The content strategy and creation include monthly campaigns focused on each of 10 service areas, with content created around those service area themes for each stage of the sales funnel, including white papers, checklists, solution sheets, ROI calculators, and sales questions and call scripts. Blog posts reinforce each month's focus, with a target of at least five blog posts per month covering that service area.
Content creation has been shared between existing in-house staff and JONES staff writers and designers, providing Primaris with the needed writing expertise and allowing resources to be directed toward marketing and sales support focused on managing incoming leads. (Looking for a Content Creation Solution?)
Along with content hosted on the Primaris website, wider exposure for the company was generated by placing monthly thought leadership articles in publications within the healthcare consulting industry.
ATTRACT VISITORS & CONVERT TO LEADS
In order to make full use of the power of content, JONES helped Primaris relaunch its blog with greater frequency and more compelling content, along with tackling a social media calendar to drive traffic to the redesigned website.
All of this was simplified by the use of HubSpot tools, which work seamlessly together to manage content, publish the blog, schedule social media updates and put into place automated lead nurturing once visitors submit a form on the website.
NURTURE LEADS
JONES created automated lead nurturing workflows for Primaris, using HubSpot's system, recognizing that only 25 percent of website visitors are ready to buy. Offers of additional content are automatically sent to leads, guiding them through the buying journey from awareness through consideration and evaluation. By automating the lead nurturing process, Primaris ensures a quick response to inquiries and continued contact with prospects without management-intensive oversight.
See how all of the previous steps work together: How to Turn Your Content Ideas Into Complete Marketing Campaigns
QUALIFY LEADS
Among the first things JONES helped Primaris develop were sales questions to ask in qualifying calls, which would create a complete picture of each lead, including their needs. (Find our Lead Qualification Checklist here.)
ENABLE SALES
That information, gathered in lead qualifying calls, enabled sales representatives to craft specific presentations targeted to each customer, increasing the chances for closing a sale compared to using a standard presentation for all prospects. Other sales-specific materials included sales message training, RFP templates, and a Primaris experience sheet, customized to address each of the 10 identified service areas.
ANALYZE RESULTS
By using the HubSpot content management platform, with dozens of built-in reporting tools, Primaris is able to easily identify which marketing tactics are driving the most web traffic, the most leads, and the highest conversion rates. Those hard numbers are vital for marketing to prove ROI to the chief financial officer and maintain support for ongoing efforts. HubSpot's reporting gives Primaris confidence that the company is moving in the right direction. (See how JONES and HubSpot make data accessible: The Data You Need to Know: JONES & HubSpot Analysis Solutions.)
Inbound Marketing Real World Results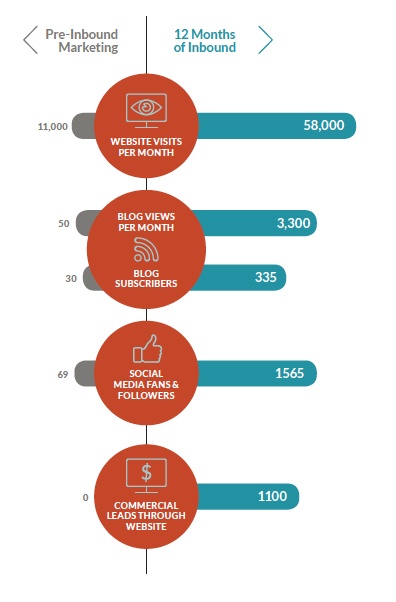 Primaris kicked off its new branding, marketing strategy and content creation, including a re-invigorated blog, on Jan. 1, 2015, and by the end of the year had generated more than 1,000 new leads in the commercial market, where they were previously an unknown entity.
That lead generation was driven by increased website visits and landing page submissions—the forms a visitor fills out to access content, which automatically place them into a lead nurturing system.
In the first month, website visits increased from a pre-campaign average of 3,300 per month to more than 4,800; by the end of the year, the Primaris website was receiving 58,000 visits per month.
Blog readership, which had been fewer than 50 views per month under Primaris's previous approach, totaled more than 40,000 views in 2015, with more than 10 times as many subscribers as before.
In just one year of inbound marketing, Primaris averaged nearly 100 more leads per month, priming their lead nurturing program to move leads through the buying journey. The most important difference in this new traffic? It involved the commercial healthcare market—not just government entities.
Inbound marketing works for Primaris, and can work as well for other healthcare industry players as well. West Corporation's Healthcare Practice is another example of putting content to work to enhance brand identity and audience. See that case study here.