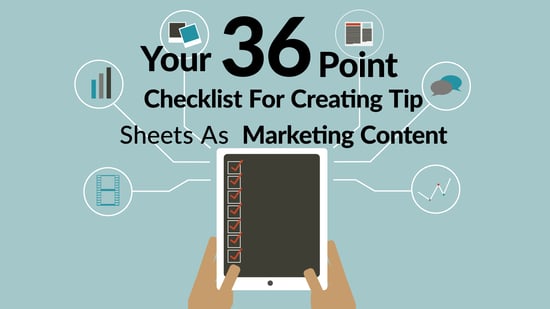 As your marketing team plans complete campaigns and content packages that are designed to reach all levels of the sales funnel, one format to consider is the tip sheet.
While traditionally a tip sheet might be strictly a printed document or PDF resource, the basic format of offering readers a handful of specific tips that can help them tackle a problem or achieve a specific goal can also be used in writing blog posts, thought leadership articles, or even a social media content series to be published over time. (You could even use the same basic content, with some rewriting to target a different channel and buyer persona, in multiple ways—repurpose the content to make the most of the investment of time!)
The checklist that follows will help you and your team ensure that the tip sheets and content you create using this format hit their mark, and that first drafts are turned in nearly ready for publication. By establishing criteria for excellence from the start, your team (in-house, freelance or agency) can save valuable time in revisions and rewrites.
First, know what is expected.
The first steps in the process are the responsibility of the CMO, marketing manager or project lead creating the work assignment. By defining expectations and providing detailed information from the start, managers can set the content creation team up for success.
Creating the tip sheet outline and work assignment
Included in the assignment that is passed on to a writer or creative team (if the writer is working in conjunction with a graphic artist or others who will repurpose this content into additional pieces such as infographics, videos or audio content) should be the following:
Working title (may be rewritten in the process)
Overview of assignment
Key messaging to include
SEO keywords
Targeted

buyer persona

(s)
Targeted phase of the

buying cycle

(awareness, consideration/evaluation, sales ready/close, or existing customer)
Suggested word count (for tip sheets, we recommend no more than 1,100 words; one to three pages)
Resources to leverage during content development (e.g. interviews, survey findings, videos)
Access to in-house documents including best practices guidelines for headline writing, SEO and calls-to-action along with the style guide being used (e.g. AP Stylebook, Chicago Manual of Style, in-house style guide)
Having all of this information up front will reduce time spent in answering questions from the writer and others on the creative team or in revising the first draft because the intent, topic or expectations were not clear.
Next, write with intention.
Writing may be a creative process, but when creating marketing content such as a tip sheet for distribution through a variety of channels (as a website download, as a bylined article, as a blog post, as a printed piece for use at in-person events or meetings), creativity should be coupled with the discipline to ensure specific details are included every time.
Writing compelling headlines
Though this is listed first in our checklist, it may not be the first thing a writer tackles. Sometimes, it is best to leave writing the final headline to last, so that it can better reflect the final copy. Regardless of where headline writing falls in the timeline, it should include these characteristics:
Contains at least one SEO keyword.
Is 8-12 words in length.
Customized to clearly state the topic of the tip sheet.
Grabbing readers with the introduction
While the "meat" of a tip sheet may be in the 5, 7, 10 or 13 tips being offered, the introduction has to draw the reader in. (Why 5, 7, 10 or 13? Because studies have shown that numbers in headlines draw more clicks than headlines without, and odd numbers tend to be seen as more authentic. And "top 10 tips" just rolls. Sources: Mozilla and Social Media Today.) Once that headline grabs them, write an introduction that keeps them.
Keep introductions to 75-100 words.
Set up the topic of the tip sheet.
Make the topic relevant to the target audience.
Writing tips readers can use (and providing even more value through links)
The bulk of a tip sheet will, obviously, be the tips you are providing for readers. These need to help your audience do something more effectively, more quickly or more economically. Give them information they can use.
Develop 4 to 10 tips related to the topic (possibly up to 13, if the tips don't require much explanation).
Introduce each tip with a subhead of 6 or fewer words that follows best practices for headline writing.
Include 75-150 words of copy for each tip, broken down into short paragraphs of 25-75 words each.
In the body of each tip, explain both the "why" and the "how."
Include two to five clickable links within the tips (not in each tip) that take readers to the company website,

blog

or related company marketing materials.
Drawing a conclusion that inspires action
While a tip sheet should be crafted to provide its readers with valuable, ready-to-use information, you are still designing marketing content. That means you should still provide some call-to-action that could lead the reader toward a desired outcome. The one exception might be a tip sheet style article written as thought leadership to be contributed to an industry media outlet, though even then you may be able to use an author bio to include a similar CTA.
Include a 50-100 word conclusion that sums up the problem the tips address and how they solve that problem.
Include a call-to-action in the conclusion as dictated by the level of the

sales funnel/buying cycle

being targeted and the campaign the tip sheet supports. This should be an offer or action that moves to the next level of the buying cycle and is relevant to the topic of the tip sheet.
Adding complementary elements
In some cases, your tip sheet may benefit from additional elements or supporting materials that will be used in promoting the piece or in providing additional information in conjunction with it.
Write

social media content

for all of the brand's channels to promote the content.
Write

landing page copy

if the tip sheet will be gated as a lead generation opportunity.
Write a 65-100 word lead-in blurb that could be used as introductory copy on a web page or in an email linking to the tip sheet.
Include two to three "recommended reading" links, with complete headlines, to resources that are in the same marketing phase or next marketing phase as the tip sheet you are creating.
Finally, review and revise and finalize
Both the content creator—or content creation team, if it includes both a writer and designer—and a manager should do a detailed review of the content and design before the tip sheet is finalized and put into action. Double check that:
The writing addresses and is relevant to the targeted buyer personas and buying cycle phase.
The draft meets format requirements if it is written for submission as a bylined article to industry media.
The text follows the proper style guidelines as indicated in the assignment outline.
The text is free of grammatical or spelling errors.
A consistent verb tense is used throughout the copy.
The tone is professional yet conversational.
The content leverages company expertise, insights and research in the copy.
Information and statistics have been sourced and cited appropriately.
All links work properly.
Any other specifications outlined in the original assignment have been met.
When written with care, tip sheets—as gated downloadable resources, blog posts or thought leadership contributed articles—have the potential to increase SEO, awareness, lead generation and industry authority and trust by providing usable information for readers, prospects and leads. They are one potential component of a complete content campaign strategy.
Creating valuable content is often cited by marketing executives and professionals as one of the greatest challenges they face. Hopefully, these guidelines help you approach that challenge. Find more ways of addressing the content creation problem in our solution sheet or talk with me about how you can add JONES to your content creation team. You can schedule a time in my calendar here for a no-obligation consultation.