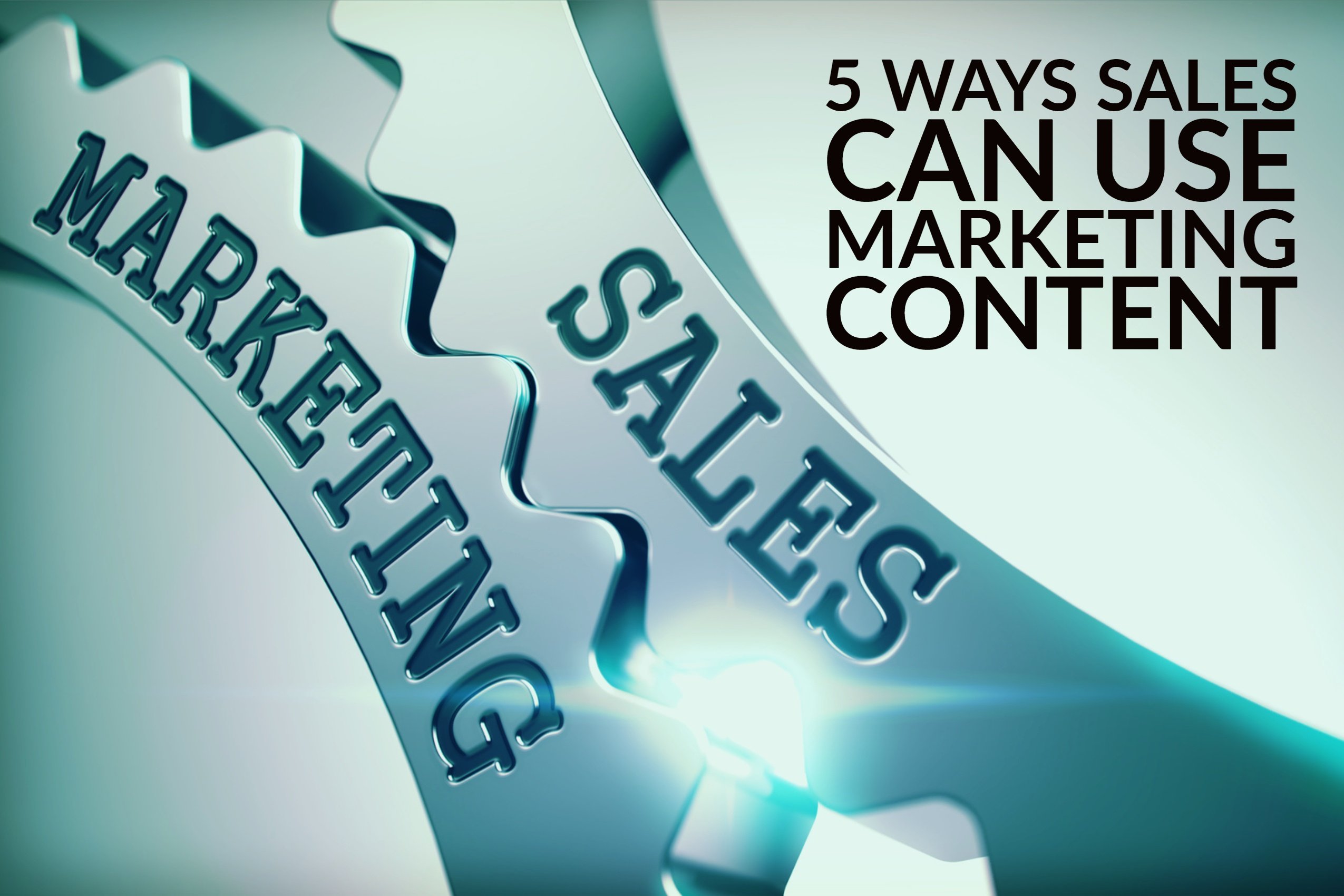 At first glance, the primary purpose of marketing content (or content marketing) is to attract website visitors and convert them into leads. That is why companies are dedicating more and more time and resources from the marketing budget into writing blog posts, creating videos, or developing downloadable materials such as case studies and templates that are designed to bring prospects to their websites.
But that content has the potential to be useful beyond the first touch, and even beyond the automated lead nurturing that helps move leads closer to being marketing qualified and ready to turn over to sales. Once sales takes over with personal contact, marketing content can play an extended role in building a strong relationship, but unfortunately, that doesn't happen as often as it should.
According to HubSpot, only 20 percent of salespeople actually use content to engage prospects and clients.
Where is the disconnect? Likely a lack of alignment and a lack of communication. How is your company faring in regard to keeping marketing and sales aligned to improve overall company goals? (Take this quiz to find out.)
Read on for ways sales can put that marketing content to work beyond the initial lead conversion, and for how sales representatives can help marketing to create content that will help them even more.
How Sales Can Use Marketing Content To Close Deals
1. Stay up to date on what marketing creates.
The first step to using marketing to content to close deal is knowing what is available. This involves a shared responsibility: marketing needs to keep sales in the loop, and sales needs to take the time to determine how the content best fits each lead or customer's needs.
Here are two simple steps each department or individual can take to make sure sales has the content they need at their fingertips:
1. Marketing should develop a regular digest email outlining what new content has been released, with links and potentially even suggestions about how sales reps may want to use that content. This should especially include videos and downloads that may no be immediately seen on the corporate blog. It could be weekly, monthly or quarterly, depending on the volume of marketing content. created.
2. Sales reps should subscribe to the corporate blog, and at least skim posts on a regular basis, possibly keeping a running list of which posts address the specific pain points their current accounts are interested in.
2. Share contributed articles, blog posts, infographics and videos on your own business-oriented social media.
Sales representatives or account managers who use social media such as LinkedIn on a professional level to connect with prospects should be sharing interesting and helpful content from both their own marketing department and from other trusted sources. This should include contributed articles or other media mentions of your company, brand or product, as well as compelling blog posts and other marketing content.
Be judicious, especially if your marketing department is prolific in its production of new content — if you share 10 things every day, you will likely lose followers. But highlight those content pieces that are customer-focused vs. brand-focused, and you'll find that prospects learn to trust your insights.
3. Share relevant blog posts with specific leads and existing customers as they are published.
With each new blog post dropping into your inbox as it is published (because you subscribed, remember), as a sales rep you can funnel them on to specific customers or leads that might be interested in the insights or benefit from the information provided. These emails aren't where you ask for the sale, but are an opportunity to build a relationship by providing reliable information to your contacts.
Remember, a strong relationship is vital beyond the first sale: it costs five times more to acquire a new customer than to keep an existing one.
4. Send useful reports, videos or templates directly to leads or customers so they can be the first to use them (or use them as a follow-up to a conversation).
As with blog posts, as you learn about other content being released by marketing, you'll want to pass it along with a note to specific customers and leads. Your message might be something along these lines:
"Hi, Joe,
I appreciate the time to you took last Thursday to talk through your priorities in choosing a financial software vendor. You mentioned a need for a solution that can be easily managed and shared by staff members in multiple locations.
I wanted to share this video with you that describes how our software connects securely to a shared server, allowing real-time access to each of your locations.
Please let me know if you have any questions after viewing it."
JONES client West, which has built a stellar marketing content strategy around original research (see the case study here), puts that research into the hands of its sales force and account managers to provide them with data about how communication impacts health outcomes. Rather than just trying to sell their clients on their own patient engagement solution, West uses the resulting reports to show how patient engagement impact patient satisfaction, patient outcomes, and healthcare providers' revenue.
5. Incorporate marketing content into your sales presentations.
Sales reps don't have to create all of their own presentation materials from scratch if they know that marketing already has content ready to use. Infographics highlighting important statistics and explainer videos are two types of marketing content that can often slip seamlessly into your in-person presentation when meeting with hot prospects. Why not take advantage of what is already available?
How Sales Can Help Marketing Create Better Content
With a close connection to customers and hot prospects, a brand's sales team is in a great position to help marketing create even better content when the two departments choose to work together. Here are some ways sales can play a positive role in improving the effectiveness of marketing content creation.
1. Provide constructive feedback from the sales team on existing and proposed content.
If the marketing and sales departments have a strong relationship that starts at the top, periodic meetings between the two to discuss both current content offerings and the strategy for upcoming campaigns provide an opportunity for both to work better. Sales reps can review content and provide feedback on whether the information being provided is the same information their prospects and customers are talking about and seeking out. And they can suggest content based on the questions and objections they most frequently receive.
2. Relay feedback from customers about what content they liked and what content they would like to see.
Similarly, sales can be the conduit for gathering feedback directly from customers. When an account manager has a strong relationship with her clients, chances are those clients will be forthcoming in sharing when a video or ebook or template was helpful for them, or in asking "Do you have anything to help us learn more about ______?"
3. Enlist satisfied customers to provide testimonials or case studies for marketing.
Since positive reviews, real life stories in case studies, and customer testimonials can be powerful forms of marketing content, it makes sense for sales to again be a link to help marketing connect to the brand's most successful customers. The connection a salesperson or account manager establishes with customers may be more likely to lead to an agreement by a client to be featured in a blog interview (like this one with healthcare management firm Primaris) or video than what may seem more like a cold call coming from a marketing writer.
4. Record data on what content leads access en route to becoming customer and share that information with marketing.
While closed loop marketing and automated systems can do a great job of capturing information about how website visitors and online-generated leads interact with content, that same information should be gathered and shared about leads that are initiated through referrals or sales efforts.
CRM systems, such as HubSpot's CRM that interfaces with its marketing and content management programs, can provide valuable insights to both sales and marketing when data is compiled to show what types of content leads consume, what actions occur after interacting with content, and what content they interact with directly before converting to a customer.
Creating great content — and maximizing its ability to drive sales — requires two-way communication and effort between the marketing and sales teams. If sales isn't using the content that is available, valuable resources are being ignored. And if marketing isn't listening to feedback from sales, valuable insights will be overlooked.
By following these guidelines, a complete inbound marketing campaign such as the sample shown in Creating A Winning Inbound Marketing Program, can extend beyond lead generation and lead nurturing, to playing an integral role in closing sales and keeping customers happy.