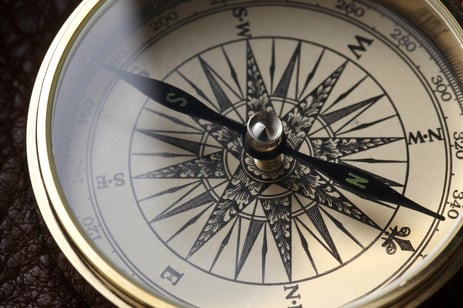 When you've gone to a lot of work to bring visitors to your website, you want them to stick around for a while. At least long enough to become leads, right?
So what is the most important factor in keeping visitors on your site? You might think that graphic beauty or a killer interactive feature is the key. You might be wrong. While first impressions matter, a study by HubSpot of consumers revealed that more than 75 percent said the most important element in website design is that the website makes it easy for visitors to find what they want. (Click to Tweet!)
Let's look at seven ways to make your website "sticky" by making it easy for your visitors to navigate.
1. Keep your primary navigation structure simple and near the top of the page.
A simple row of buttons or drop-down menus at the top of the page is nearly universal, which is part of what makes it easy for visitors. They know what to expect. Keep it accessible with a mobile menu that doesn't take up precious space unless the visitor intentionally accesses it. Just a few options are best—don't make your visitors look through too many listings to find what they are initially looking for. ZenPayroll has it mastered.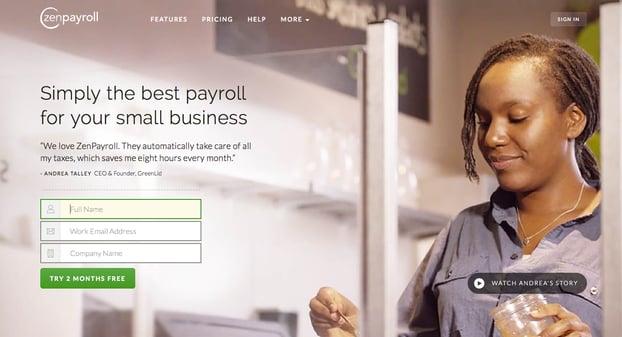 2. Include simple navigation in the footer, also.
If your visitor reads through the entire length of a web page, don't make them scroll all the way back to the top to move to their next destination. Include your main navigation options in a footer, also, along with a link to a site map if your site is especially complex. Continuing on down the ZenPayroll homepage from above, we find a footer with all of the options needed to navigate on through the site without scrolling back to the top.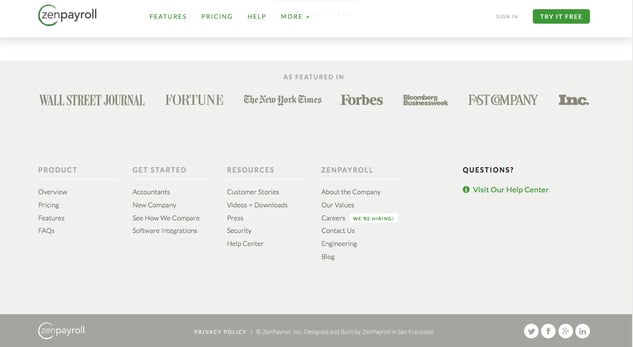 3. Use breadcrumbs to track the user's navigation trail.
It may seem like a little thing, but providing users with a way to track back through your site infrastructure enhances usability of your site and can even aid in search results. If visitors arrive on your site from search engine and begin their visit on an internal page, breadcrumb navigation can help them move back up the workflow to related content.
It's as simple as this ecommerce trail for SwimOutlet.com: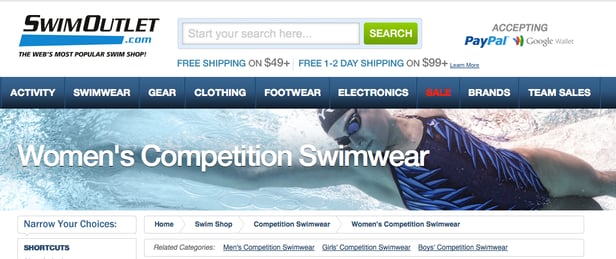 Shari Thurow goes into detail on how to make the most of breadcrumbs in this article for Market Land.
One type of page shouldn't have breadcrumbs, though. We recommend not using breadcrumb — or any navigation links — on your landing pages. This cuts down on distractions that may interfere with a visitor filling out a landing page form to complete an offer and become a lead.
4. Include a search box near the top of your site.
If a visitor is looking for a very specific keyword, why not give them a direct route to it? Being able to quickly find the specific information they need is essential to prevent visitors from leaving your site in frustration.
5. Limit the number of top-level navigation options.
Prioritize which pages are most important for visitors to be able to access quickly. You can then use them to branch out into deeper levels of your website with menus on interior pages. Four to seven options should be enough to cover the essential categories.(Click to Tweet!)
6. Don't bury pages too deeply.
Once your pages are more than three levels deep, the structure will be difficult for visitors to navigate. This is where a prominent and effective search tool will be especially useful.
7. Include links in page copy, related options and calls-to-action.
One way of guiding your visitors to additional related information that may be useful for them, and of moving them toward becoming a lead, is to include links between interior pages. This can be done in a number of ways.
In-text links can be as simple as highlighted words that take visitors to a blog post, landing page, or informational copy about a specific topic.
Using our example from SwimOutlet. Com again, visitors may benefit from being offered links to slightly different, but related materials.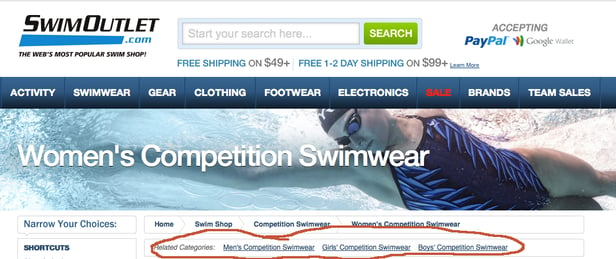 Of course, if web-based inbound marketing is your priority, you will want to be intentional about guiding visitors toward completing landing page forms to bring them into your lead nurturing program. Placing calls-to-action for related offers both helpful navigation for your visitors who are seriously searching for that information and a subtle nudge for those visitors who may not have even realized what you have to offer.
Of course, all seven of these navigation tips are easiest to implement when you begin your website creation with a content strategy and infrastructure already in mind.
User-friendly navigation is just one of 25 website must-haves outlined in this ebook. Check out the other 24, including on-page search engine optimization, blogging, quality content and more.