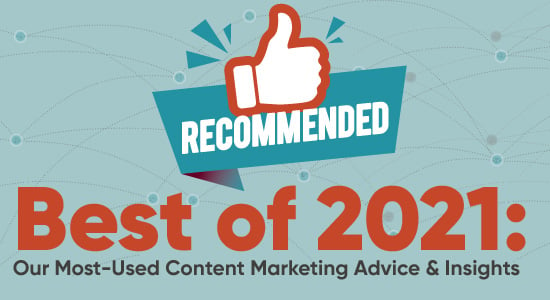 We've survived 2020 and 2021 — congratulations! Chances are your marketing strategies and marketing team may have looked much different over the last two years compared to the days "BC" aka "before Covid." What insights, advice and information helped you adjust and overcome challenges in this last year?
If you've found helpful tips here in the Inbound Accelerator, I'd love to know which ones provided the most value for you. Were they included in this list of our most-read blog posts of 2021?
In case you missed them, here is a quick review of the 2021 blog posts our readers found most valuable, covering everything from social media to website copy, thought leadership and how to put it all together in complete multi-channel content marketing campaigns.
The Top 10+ Inbound Accelerator Posts of 2021
No. 10 (three-way tie!): Blog posts about thought leadership, using content in FinTech marketing and getting the most from your marketing agency
When we looked back to determine the top 10 posts of 2021, we found a three-way tie for 10th place, and I don't want to miss the opportunity to share all three of these, as I believe they are all valuable reads for CMOs, marketing managers and communications managers, especially in B2B markets such as FinTech. So let's start there:
Why Content Marketing Is Perfect For FinTech Brands: In this post, we spell out three major objectives for FinTech brands: build trust, educate prospects and grow brand awareness. Then, we provide a blueprint for how to achieve those objectives through content marketing. This is an industry we've been active in serving for years, as you can see in both our 15 Lessons from 15 Years series.
Thought leadership is a big part of our earned media approach for FinTech, so it makes sense to shift to this post next: How Thought Leadership Builds More Than Brand Awareness. When it's done well, 89 percent of decision makers say it is effective in enhancing their perceptions of an organization and influencing purchase decisions. So what does it take to do thought leadership well? That's what this post will tell you.
Finally, if you are like many marketers with more tasks than time, outsourcing thought leadership (and other content marketing tasks) may make sense. Here are some things you can do to be sure your agency partner provides the best possible results: How To Get The Best Results From Your Content Marketing Agency.
There's a ton of great tips in those three blog posts, and we're still technically only on #10 of our top 10 list! What's next?
Early this year we looked at the marketing mix B2B marketers were targeting with their 2021 budgets. In a year when the pandemic continued to push much of life, work, commerce and entertainment from in-person to online, is it any surprise the list was topped by website development? Check out the infographic in this post to see how your 2021 stacked up against what your peers were planning.
In an infographic that makes it simple to visualize the difference, this post provides a quick look at how lead generation differs between inbound strategies and outbound strategies, including the costs, skills needed and pros and cons of each.
Check out some of the terminology that swirls around the content marketing world, along with important statistics that you need to know as you plan your campaigns for the coming year. It's all here, from audits to Zoom webinars and 24 other facts in between.
And if you want to go a little deeper, check out our Dr. Seuss-inspired take on those 26 topics, check out our two-part blog The ABCs of Integrated Marketing.
It is important to understand how your target market makes buying decisions. And since enterprise software is one of our specialty areas, we thought it was important to share the latest insights in how tech buyers make decisions now, including the eye-opening revelation that what marketers are giving them is not always what they want.
We know that for any business blog, the most popular posts are often those that offer explicit instructions for solving a problem, so it is no surprise that several of our most popular offerings this year are checklist or how-to posts. This one not only walks readers through the steps involved in planning content to meet the specific needs and preferences of each buyer persona in their strategy, but also offers up a free downloadable template that can be used to guide the process and make assigning content creation more organized and transparent.
It is easy to see that websites are top of mind for many marketers this year, as two of our top four blog posts were directly related to creating website content. (Last year's top list was similar, including this how-to and free template for auditing an existing website.) This multi-channel checklist, the first of a two-part series list the channels you need to keep in mind as you develop a comprehensive content marketing strategy, outlines best practices for the various content types that should be included in a business website focused on inbound marketing. If you are creating a new website or updating an existing one, this is a great place to start to plan the best content possible.
Thought leadership is a key element in many of our integrated PR and marketing campaigns for clients, so we wanted to share with readers a checklist that can be used to ensure articles meet reader and publication expectations. Read the article to use the same standards for excellence we expect from our team when creating successful thought leadership campaigns.
Similar to the #3 blog post from 2021, this checklist provides a detailed roadmap to creating the best quality website copy possible, from starting by identifying a target audience, stage of the buying cycle, and keywords or phrases for SEO to a final review before submitting copy to the client. Having a detailed checklist makes it easy for everyone involved in a website creation or upgrade project to understand what is expected. Combine this how-to guide with the content type checklist in our #4 post and you'll be well on your way to developing a website that is optimized for inbound marketing and SEO.
Social media, of course, is at the top of everyone's mind, as it dominates daily communications for so many people and has become one of the most important channels for all marketers, including B2B brands. This post looks at important aspects of social media use among B2B decision makers, including insights into how they consume content on LinkedIn, Facebook and YouTube, among others. One of our top blog posts from 2020 will help you put those statistical insights to work: Your Complete Social Media Guide: What, Where, When and How Often To Post.
What useful blog posts have you turned to in the last year? Which other marketing blogs do you read regularly for insights and advice? What topics would you like to see us weigh in on in 2022? We'd love to know— share in a comment below or reach out to me personally.
If you don't want to miss any of the content and inbound marketing advice we have planned for 2022, subscribe now to receive a weekly digest of our new blog posts and resources.
Wishing you the best and brightest for 2022!