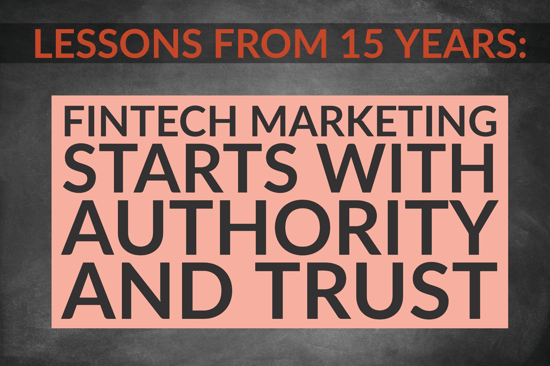 There was a day when a key part of a financial company's branding strategy was based on a physical portrayal of its stability: the building itself. Large, solid, imposing structures, bank buildings have long been emblematic of the way the institutions want their customers to perceive them.
But with the rapid and nearly complete shift of financial services to digital and largely invisible infrastructures in the last 25 years, the need to build a brand identify of stability, authority and trust can no longer be met with a concrete structure. Particularly in the B2B financial technology arena, that brand identity must be built through careful curation of thought leadership, content and analyst relationships.
____________________________________________________________________
This post is one in a 15-part series looking back at the lessons learned in my 15 years as founder and owner of JONES Marketing & PR. Find the two most recent posts in the series here:
____________________________________________________________________
My Marketing Lesson #7 (Industry Highlight): Use quality content, thought leadership and strong analyst relationships to build confidence and trust when marketing B2B FinTech solutions.
In our eight years of working with ACI Worldwide, JONES employed consumer and business surveys, an aggressive contributed articles and media outreach campaign, and close relationships with key industry analysts to position the payment technology company as a leader in both technological advancements and reliability. We focused content on addressing concerns such as card fraud detection and cybersecurity, two issues that remain at the forefront of the financial industry discussion, including the July court ruling ordering Equifax to pay up to $700 million in fines and reimbursement to customers following a 2017 data breach.
Data and research provide a foundation for quality content.
One proven method of both establishing a brand as a reliable source of information, and developing a trustworthy source of content for use in marketing and public relations, is to conduct original research that touches on an industry's current challenges and the solutions to those challenges. ACI Worldwide worked with JONES to execute surveys of a variety of stakeholder groups focused on two of the primary problems being faced by their customers at the time, which included both financial institutions and retail businesses: card fraud and lagging use of customer loyalty programs.
By conducting related surveys on a regular basis, we were able to generate not only a snapshot of the concerns of the time (such as identifying that half of all consumers worried about card fraud above all over types of fraud, though banking executives identified check fraud as the type increasing most at the time), but also year-over-year comparisons to recognize trend lines.
Just as we continue to do with Healthcare IT company West, JONES helped ACI leverage that original research into media coverage, blog posts, content for distribution to prospects and more. The results, in both visibility and credibility, helped ACI book $430 million in sales, the strongest sales year in the company's history.
FinTech is a natural fit for inbound marketing, using quality content in the form of blog posts, social media content, and more detailed downloadable reports and whitepapers to generate leads. More than 80 percent of B2B buyers typically conduct a large portion of their research into a technology solution online before ever talking to a sales person, and more than 3 in 4 told DemandGen recently that they had accessed a case study, whitepaper or webinar in the last 12 months as part of making a purchase decision.
Build thought leadership with contributed articles.
Much of our focus with ACI was on media outreach and contributing bylined articles to industry media including American Banker and Bank Technology News, among others. The results included more than 200 media mentions for ACI in a year's time, twice the coverage of the company's nearest competitor.
While thought leadership articles are not the place for blatant promotion, they do provide an excellent opportunity for a company to show its level of expertise on the topics of the day and to provide the industry with useful information and insights that help establish a reputation for reliability and trustworthiness. They can also be used in conjunction with other public relations and marketing efforts as part of a coordinated campaign.
"JONES (did) a phenomenal job for us at ACI. In the first year of working with JONES, we tripled press coverage, netted four cover stories in trade publications, and were mentioned more than dozen times in analyst reports. The agency is tireless in pursuing results and shows a terrific combination of energy and expertise," said Jim Maxwell, then manager of corporate marketing for ACI Worldwide.
Know which analysts to engage for FinTech.
When I talked about enterprise software marketing in an earlier segment of this series, I emphasized the importance of developing and maximizing relationships with industry analysts. As I mentioned then, the benefits go beyond having access to the analysts' reports.
Developing relationships with analysts also helps position your company in their minds, making it more likely they will recommend your technology solutions to financial organizations. In the case of ACI, we were able to secure nearly 60 analyst briefings for the company in the first year. That familiarity, and inclusion of ACI Worldwide in more than a dozen analyst reports, played a significant role in the company's success landing an equity partnership with IBM, the first of its kind in the financial services industry.
One key, though, is to know which analysts to engage. When we work with enterprise software companies, the analysts to target include firms such as Gartner, Forrester, Frost & Sullivan, The 451 Group and IDC. All of these specialize in the SaaS industry, and as such, are where potential customers (or investors) of those companies are most likely to look for information. In the FinTech world, we might also turn to Aite Group, Mercator Advisory Group and Celent.
Keep an eye on the news and emerging trends.
When JONES worked with ACI, payment options exploded from phone-enabled card readers to the ability to make payments directly within social media platforms such as Facebook.
The conversation also has shifted beyond card fraud and mobile payments to include faster processing of real-time payments, including cross-border and B2B payments. Among the trends recently noted by Accenture are the need for payment companies to focus on user experience in an increasingly competitive market and to continue to keep up with security, as fraudsters innovate as rapidly as the industry does.
Visa identifies the growth of both AI and biometrics as playing significant roles in the future of financial technology and payment processing.
Among those emerging trends, the focus in marketing should be on how to help your business customers solve their own customer problems. For example, helping retailers adapt to the millennial generation, which leans heavily toward paying through their phones, and avoiding credit cards, with no appetite whatsoever for writing checks.
Overall, the brand message that must come through in all that you do in FinTech marketing is trust. After all, you're talking about money. You build trust by being reliable and showing your expertise through thought leadership, customer references, analyst relationships and quality content that provides solutions to your customers' problems (and their customers' problems).
As I move forward in this series, I'll cover the nuances and key things to remember in B2B marketing for other industries. Up next: the life sciences field, including biotech, pharma and contract research organizations. Before the year is up, I'll also cover healthcare IT and the telecommunications industry, as well as why I believe in time tracking, integrating PR and marketing, and investing in research-based content for both.
If you don't want to miss any of these, subscribe to the Inbound Accelerator, and we'll be sure you know about each new post as it is published.