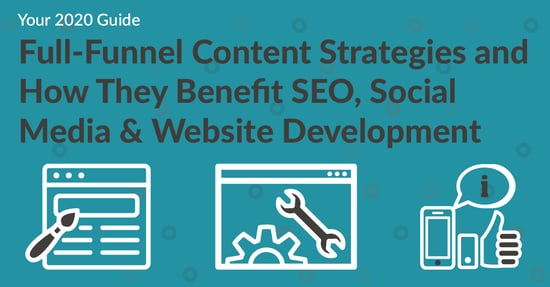 Content dominates today's marketing landscape, though it can take on many different forms depending on the company, brand, and target market.
In a recently-released report, our partners at HubSpot found that 7 in 10 marketers are actively investing in content marketing. And 60 percent cite it as being either very important or extremely important to their overall strategy.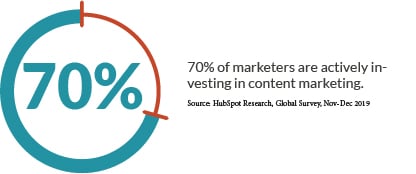 I agree.
In fact, I believe that content is the driving force behind—and the foundation that supports—each of the other topics covered in the survey on which the report was based. Download the first installment from our website here.
And be watching for additional posts in the coming weeks as we dive into other segments of HubSpot's original report, including SEO, web development, email marketing and market research. The common denominator among all of these topics, however, is that they all revolve around creating and using excellent content.
Content Marketing & Full-Funnel Strategies
HubSpot Content Manager Christina Perricone says in the report:
"When your business invests in content marketing, you improve your ability to engage your buyer personas, convert more leads, boost brand awareness, and connect with your audience."
It may sound as though that is asking a lot of your marketing content, but when you use a full-funnel strategy and approach content development and deployment in a holistic manner, it's not too much to expect. Let's look at what it means to develop a full-funnel content marketing strategy, and how that approach benefits your other marketing objectives.
(Check out this blog post for a step-by-step guide to how we develop our integrated content strategies at JONES: Lessons From 15 Years Of Marketing—Integrate Marketing & PR To Maximize Results.)
What is a full-funnel content marketing strategy?
A full-funnel content marketing strategy means always keeping the big picture in mind. While you may be developing content for multiple personas, to be distributed through multiple channels, when you focus on a full-funnel strategy you can ensure that your messaging is consistent and cohesive and that you maximize the return on investment by using that content in as many ways as possible.
A full-funnel strategy considers all of the topics you would address for each buyer persona, and what information and message each persona needs to hear at each stage of the sales funnel from awareness to consideration to decision-making and even after the sale. It employs multiple channels and multiple content formats without placing any one of those channels into a silo away from the rest.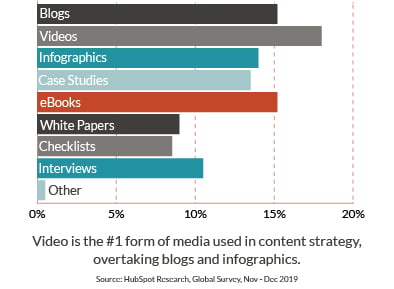 How does a full-funnel content marketing strategy benefit SEO?
In the Search Engine Optimization Strategy portion of the report, HubSpot's expert offers this insight: "(User experience) hinges on providing the information that a person searches for, in a way that search engines can identify. … The content on your website needs to provide a solution to a user's problem, whether it's a long-form article or a one-word answer."
That makes it very clear that content is absolutely essential to SEO. By employing a full-funnel content strategy, with content for all stages of the sales funnel and all of your personas on your website, you provide the answers for your prospects' searches and improve the chances that those searches will bring them to you.
High-quality content is one of the top two signals used by Google to rank your website for search, and more than 50 percent of marketing executives say on-page content development was the most effective SEO tactic in their arsenal. (Source)
The impact of content on SEO is not just a function of keyword placement. It is also largely tied into how it influences user behavior and the signals that behavior sends to search engines. When you provide useful, insightful, complete content on your website—through your blog, your FAQs, product pages, and other pages—you increase readers' time on your site, make it more likely they will visit multiple pages (aka decrease the bounce rate), and increase the likelihood that other websites will link to your content.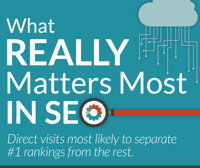 All of these factors, along with simply attracting more visits in total, increase your website's search engine rankings.
For a better look at how content and user signals impact search rankings, check out the infographic here: What Matters Most In Search Rankings.
How does a full-funnel content marketing strategy boost your social media engagement?
When social media first took off, too many brands and marketers treated it as a separate entity with a life of its own. But the best way to maximize the impact of your content development is to fold it into social media, as you use social media to promote your website content, and you use your website content to fuel a steady flow of social media material to keep followers engaged.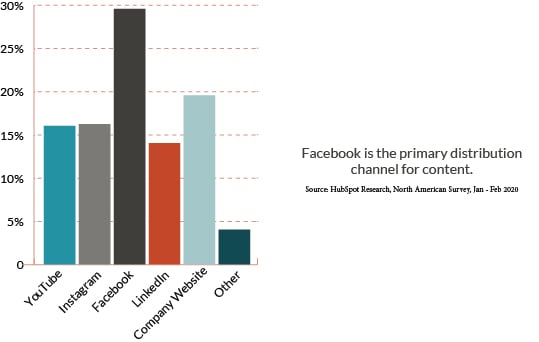 Think of your social media strategy as being a component of your overall content marketing strategy, not a separate strategy to be developed and implemented apart from what you are doing with your business blog, email newsletters and other website content.
All of these components work synergistically. When you write a business blog post, promote it through those social media channels that allow links to your website (Facebook, Twitter and LinkedIn). Use images from the blog post as content on Instagram. Embed YouTube videos in your blog posts. Use email newsletters to encourage prospects and leads on your mailing list to follow your social media accounts, and vice versa—link from your social media to a landing page where interested followers can sign up for emails or access downloadable offers that will enroll them in an inbound marketing lead nurturing workflow.
Consider creating packages of content designed in ways to fuel your social media while giving followers a reason to come to your website for more. Create "snackable" bites of information to share on social media in an engaging format such as a short video or graphic, then link to a more in-depth blog post, which includes landing page links for a related downloadable offer such as a template. You save resources by creating all of the elements at once, and amplify the performance of each.
When you create full-funnel content strategies, you don't have to develop a totally separate social media strategy—it is all there together working to achieve the same objective.
(Want more social media best practices? You'll find them here: Your Complete Social Media Guide: What, Where, When & How Often To Post.
How does a full-funnel content marketing strategy influence your website development and performance?
When you implement a full-funnel content marketing strategy, your website infrastructure plays a key role in whether that strategy will successfully lead to online lead generation and closed deals.
In order to use your website to its fullest potential for lead capture, you need to incorporate the content that will attract visitors to your site and entice them into accessing offers that kick off your lead nurturing workflows. As mentioned above, it begins with content that answers your prospects' questions. That includes useful and insightful blog posts—ranging from step-by-step how-to guides to analysis of industry statistics and trends—along with comprehensive and well-written FAQs, About Us sections, and product information that helps your visitors begin the decision-making process even before they connect with a sales representative. (Did you know that 8 in 10 B2B buyers research online before contacting a vendor? Learn more.)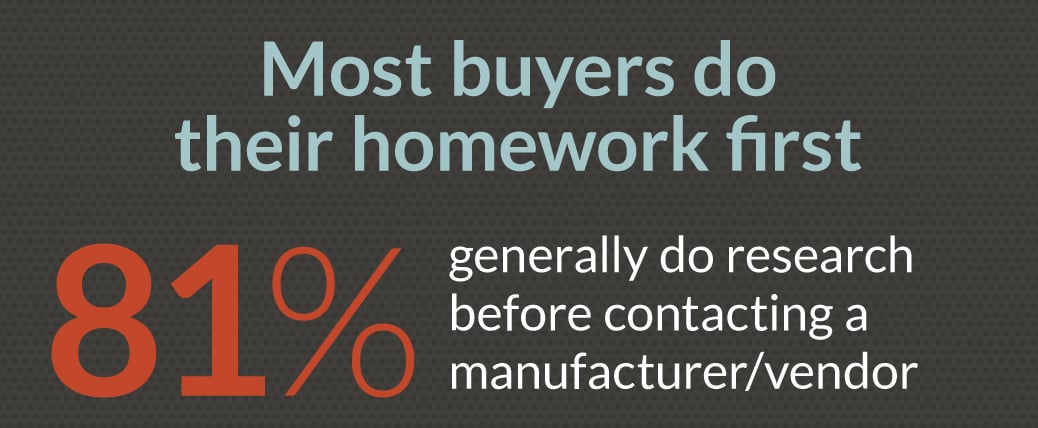 In order for your website to provide the information those buyers are looking for, you need to plan your content carefully from the top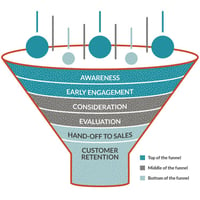 of the funnel to the bottom, including providing information customers may be seeking after the sale. When they know they can find the answers they need from you, your website traffic and user signals improve, which in turn boosts your search engine results rankings (see earlier in this post). Full-funnel content is there for every step of the cycle.
Your website strategy should include the following in order to take advantage of opportunities to attract visitors, capture leads, and nurture sales:
Business blog with useful content that appeals to each of your buyer personas and uses a variety of formats, including video, infographics and more.

Internal links to encourage readers of your blog to explore related content.

Downloadable offers gated behind

landing pages

that capture lead information.

Additional opportunities for visitors to connect through email newsletters, blog subscriptions, social media and "contact us" pages.

Automated responses to landing pages that kick off lead nurturing workflows designed to provide additional content to move leads through the sales funnel.
Each of these should be built to be scalable and flexible, allowing you to continue to grow and expand your content strategy with additional campaigns as time goes by.
According to HubSpot's research, more than 60 percent of companies are investing in a website upgrade in 2020. If you are among them, remember that content should be a key consideration in that upgrade, and facilitating the addition and use of content should be a priority in making technical decisions.
How do you know if your content marketing strategy is successful?
Measuring the success of a full-funnel content marketing strategy can be done in multiple ways. You can track individual metrics that drill down into multiple channels and formats, including website traffic, social media engagement, email engagement, search rankings and more.
But, as I've said before, the true measurement of success is if your marketing strategy is impacting your ultimate corporate objectives and goals: sales. (Here is my lesson on doing the math to set goals.)
While conversion rates, bounce rates and open rates give you a snapshot of how each individual channel and tactic is performing, when it comes down to truly measuring success, the benchmark is sales.
A solid full-funnel content marketing strategy provides the foundation and the inspiration for many of the other individual tactics and tools you will employ in your overall marketing strategies. That is why it is the first topic addressed in our series of reports. Download your 2020 Content Marketing Strategy Report here. It is a compilation of survey results of more than 3,400 marketers around the world in B2B, B2C, and non-profit organizations, seeking insights into not only content marketing strategy, but also topics including web strategy, SEO strategy, email marketing strategy and market research. Watch for additional reports and blog posts to be published to our site in the coming weeks.
Are you looking for more personalized guidance for your 2021 marketing strategies? I'd be glad to chat with you about the insights in this report and what they mean for your business, brand and upcoming campaigns. Schedule a no-obligation consultation with me now.