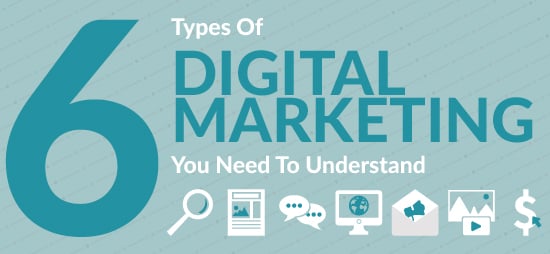 If nothing else, the COVID-19 pandemic has solidified the need for businesses of all kinds to lean even harder into the digital space, from retail purchases (which were already projected to reach $4.5 trillion next year, BEFORE coronavirus shutdowns struck) to how B2B brands reach their prospects in a world without in-person events and conferences.
Digital marketing—which encompasses every way businesses reach customers using an electronic device—is only going to grow in importance moving forward. That means it is essential that all marketers, from the newest grads to industry veterans, understand the 6 essential types of digital marketing outlined here by Point Blank Digital.
(Want to dig deeper? Check out other posts on the Inbound Accelerator blog for more in-depth details on 5 of these types:

A few key statistics jumped out at me from this infographic:
SEO
Content marketing
Social media
Video marketing
Email marketing
Whether you consider yourself a digital marketer, content marketer or inbound marketer (check out this breakdown of the differences), understanding the current state of communications and how consumers and B2B decision-makers gather information to guide their purchase decisions is essential. You'll find a steady stream of helpful advice and insights here. Subscribe today to the Inbound Accelerator to have the latest posts delivered directly to your inbox each week so you won't miss any.
If you have a more specific concern about your digital marketing program and are seeking resources or advice to help you deliver results, I'd be glad to chat. Schedule a meeting on my calendar for a one-on-one discussion.