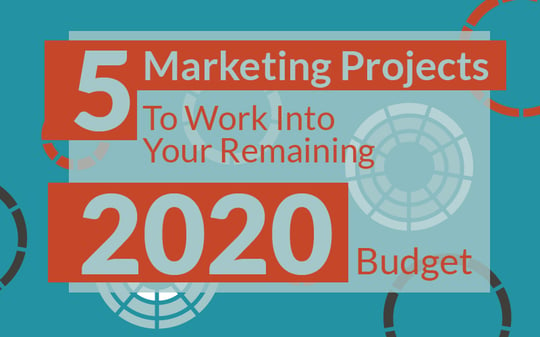 I'm going to go out on a limb and guess that 2020 has thrown a few wrenches into the marketing plans you carefully crafted 10-12 months ago—not to mention how your staff functions and potentially the budget you have to work with.
This year has challenged marketers, and everyone else, to think on their feet and adapt to an economy that plummeted, is slowly coming back, and that is still filled with uncertainty, especially in sectors such as tourism and travel, including business events.
Some reports predict marketing spend to drop by at least a quarter through the end of 2021. (Source)
With all that uncertainty, it can be tempting to ratchet down your own spending, even if the executive suite hasn't called for it, and cut back. It may seem prudent. I have a different opinion: Rather than cutting back, refocus. And if you have budget that had been allocated for things like in-person trade shows, event sponsorship or employee travel, think about putting it to work on projects that can help you evolve with the current situation and continue to show results in uncertain times.
Here are 5 projects to jump into in the fourth quarter of 2020 that take into account the changes and challenges of the last 9 months and how they will impact marketing and business in the months and years to come.
Video content and webinars
Media audit and strategy recommendations
Consumer surveys and research reports
Sales training and professional development
Website redesign or new technology
(Maybe these specific projects don't fit your needs, or your industry is one of the few that is thriving in our current situation. In that case, this checklist outlines 13 ways to use remaining 2020 budget, many of which are designed to help you prove the effectiveness of your current marketing in order to secure additional budget for the coming year: 13 Ways To Use Your End-of-Year Budget.)
1. Video content and webinars
Video was already the fastest growing medium in digital marketing before COVID-19 sent a large portion of the world's workers and students home for weeks and months earlier this year.
With the pandemic, many businesses quickly adapted to the loss of in-person contact. B2B marketers turned to webinars to fill the gap left by cancelled events and decreased face-to-face contact with prospects so quickly that, according to MediaRadar, the number of B2B brands running webinar ads more than doubled from 223 in January to 463 in April. Even as some businesses have gradually sent workers back into offices through the summer, very few are encouraging events or travel, making continued use of webinars for customer education likely.
Of the 150 marketers and agencies surveyed in mid-June by Advertiser Perceptions, two-thirds (64 percent) intended to invest in digital video.
It just makes sense at this time, when finding creative ways of reaching customers is essential, to create video content that can be used well into the future and in multiple ways in your marketing strategies and campaigns. COVID-19 may have been the catalyst, but your marketing program can continue to benefit from the development of new video and webinar content even once this time is behind us.
(Remember that your videos can be used in multiple ways. Download Maximize Your Marketing Videos for 28 effective ways to use video in your marketing strategies.)
2. Media audit and strategy recommendations
Media coverage today, even in B2B publications, is understandably focused on various aspects of the COVID-19 pandemic, from the day-to-day details of how businesses can provide safe working environments to how markets and consumers are responding. This can all affect how your business is being portrayed in key media—or if it is even getting media mentions at all.
Even if you audited your media messaging and presence just a year ago, the changes and challenges of the last year have likely impacted what is being said, who is saying it, and who is being mentioned.
Taking time now for a media audit to determine how much visibility your company and products have in various media venues, compared to your competitors, can be a key starting point for developing coordinated marketing and PR strategies that expand visibility and target weaknesses.
And don't forget to include social media in that "media" category, especially as you look at what your competitors are doing and what you may need to do in order to keep up.
Social media budgets accounted for almost one-quarter (23.2 percent share) of total US marketing budgets in June, up from 13.3 percent in February, with CMOs prioritizing the use of social media to build their brand and retain customers. (Source)
(Want to know what you should include and what you should expect from a media audit? Download our Media, Messaging & Marketing Audit Checklist.)
3. Consumer surveys and research reports
What you thought you knew about your prospects and customers and how they access products and services has changed. This is an almost absolute certainty.
This means that you need additional information about your customers for two reasons:
To serve them in the way they want to be served now—whether that means incorporating chat bots or self-service portals on your website, conducting more sales calls over video conferencing or developing different contract and payment options to meet their current revenue needs.
To find out what their pain points are that you can use in developing your marketing strategies and content. Can you position your billing software as a solution to their challenges in collecting outstanding accounts? Is your healthcare communications solution uniquely suited to facilitate a demand for virtual office visits?
Spending time now to develop a strong customer or consumer survey can help you start 2021 with a stronger understanding of your customers' needs, as well as the original research, data and stories needed to fuel a year's worth of marketing content and campaigns.
When surveys are done well—with goal-focused planning, expert question creation, skillful execution, exhaustive data analysis, and a comprehensive content creation and implementation strategy—a single 50-question survey can provide the fodder for more than 100 pieces of engaging marketing content. Plus, it will uncover those insights you need to make broader marketing, sales, customer service and product development decisions.
(Get more details on planning and utilizing surveys from these resources: Consumer Survey Development Template and Maximizing Marketing Surveys.)
4. Sales training and professional development
If business has slowed down, leaving your sales and marketing teams with a little more time on their hands plus missed opportunities for in-person education and professional development experiences, put that extra time into additional training.
By June, the Conference for Exhibition Industry Research (CEIR) found that 72 percent of B2B event organizers had cancelled at least one exhibition, compared to 62 percent who said the same in April. (Source) It doesn't look promising for that trend to change before the first of the year.
With less travel on their schedule, your sales and marketing teams may have more time to advance their skills. Focus on helping them adapt better to the virtual environment and the nuances of sales calls on Zoom, an increased reliance on digital resources over in-person meetings, and the changing needs of their customers (possibly uncovered through the surveys I just discussed).
This is also a good time for bringing together marketing and sales to reassess the status of marketing-sales alignment, the definition of a qualified lead, and how sales can leverage the marketing content available to them—especially in a time when sharing information through emails and chats is growing in importance.
5. Website redesign or new technology
According to a special June edition of The CMO Survey, marketers report increased openness among customers to new digital offerings introduced during the pandemic (85 percent) and increased value placed on digital experiences (84 percent). What digital experience is your website providing today?
Even before the pandemic struck, more than 6 in 10 marketers had plans to upgrade their websites this year, according to a survey by our partners at HubSpot. (Download the website portion of that survey here, and then read our recommendations in this blog post: Your 2020 Guide To Web Strategy.)
This could be the right time to upgrade your website, because that same CMO survey cited more than one-third of respondents predicting that customer's increased value placed on digital experiences is not going to change. A positive digital experience will be expected from now on.
As you consider how to bring your website up to speed with the expectations of customers whose transition to a digital environment was accelerated by the pandemic, you should also consider what other aspects of digital communication and technology will help you earn—and keep—customers.
Many marketers have used this time to try new marketing technology and features, with at least half investing in technologies such as site/mobile chat (56 percent), mobile app functionality (55 percent), email (51 percent) and video (50 percent). (Source)
What website upgrades or new technologies will improve UX for your customers? What new marketing automation technologies could you begin to implement now to be prepared for a rebound as the global economy recovers?
One more strategy to implement—at no/low cost:
While the five projects listed above will all require finding funds in your budget to position yourself for the continued changes in marketing, here is a strategy that really only requires a bit of a change of philosophy:
Encourage employees to be brand ambassadors.
I mentioned above the increase in social media spending that occurred as the pandemic set in, but paid and promoted social media isn't the only way to gain visibility and develop a following. According to The CMO Survey, 7 in 10 (69 percent) CMOs have asked their employees to get active online in order to promote the company and what it has to offer.
It can be as simple as encouraging company employees to share business blog posts on their LinkedIn accounts or retweet a company Tweet about a new service or industry award. These opportunities to reach new audiences through your employees' networks can be used to achieve the top objectives identified by CMOs for their social media during the pandemic: brand awareness and brand-building (84 percent), retaining current customers (54 percent), and acquiring new customers (51 percent).
Which of these projects or tactics will you take on with what remains of your 2020 marketing budget? How can you leverage the shifting sands of today's marketing and economic situation to be prepared for the recovery to come?
You'll find eight more ideas for fourth-quarter marketing projects in our reference sheet: 13 Ways to Use End-of-Year Budget. Or schedule a time on my calendar to talk about how JONES can use its experience in one of the areas above to help you prepare to put 2020's challenges behind and forge ahead.
Additional sources: