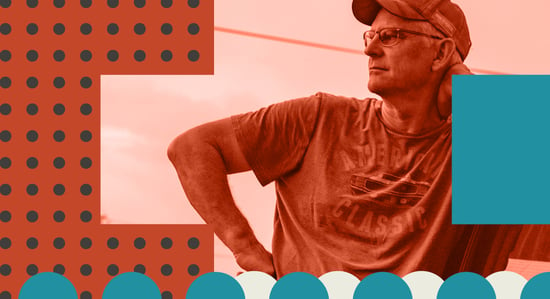 Media analysis projects are a staple of the public relations world: It's important to know who is saying what about your business, how often, where and when.
That knowledge is just as vital when crafting your marketing strategies, as all communications should be part of a cohesive strategy that works together.
When choosing a vendor for media analysis, make sure you are getting a complete package that goes beyond a handful of data points. It should include details, interpretation and, most importantly, recommendations based on the data, whether you are developing marketing and PR strategies for healthcare, fintech or B2B software brands.
Here are the nine categories of information your next media analysis should include, and three important recommendations that should come from that information.
For a complete list of the information and recommendations, you should receive from five different types of audits, download our Media, Messaging & Marketing Audit Checklist. If your website needs a critical review, check out our Website Audit Template.
1. Coverage volume
Coverage volume should include how many times your brand or your executives are mentioned in the media, with a breakdown of what those "mentions" included. Were they full articles solely about your brand, a mention in a broader-scoped piece, or just inclusion in some type of list?
Total volume, by itself, may not be very informative, since some industries will gather much more media coverage than others. But when considered together with other data points, the figures can help draw a picture of your overall media exposure.
It is also a starting point for setting benchmarks and goals for future outreach.
2. Coverage sentiment
What types of coverage is your brand receiving? Positive, neutral or negative? While the adage may claim that "any publicity is good publicity," that doesn't hold true for most businesses and brands.
Knowing the sentiment of your media coverage can help you identify needs for a change in messaging or concerns that should be addressed.
3. Share of voice vs. competition
Share of voice shows how you stack up against your competition. This data should be broken down in a number of ways to pinpoint weaknesses and strengths.
First, consider your brand's SOV in four different media categories:
General media (think national and local newspapers, television and general readership websites and magazines)

Business media (Wall Street Journal, Forbes, Inc., etc.)

Vertical/industry media (industry-specific websites, magazines and bloggers)

Social media
Is your brand mentioned as often, and in the same tone, as others in your industry? Do you have a stronger presence in some media than others?
This category should go into even more detail by considering specific topics or keywords relevant to your business or emerging markets in your industry. Are you keeping up with the leading edge in media coverage?
When JONES conducted a media analysis project for Zebra Technologies to determine how the company stacked up against other industry players in media discussion of the Internet of Things (IoT), we discovered that there was a split depending on the media category we examined. Zebra provided data capture and automatic identification solutions for retail, healthcare and other industries.
While Zebra was recognized and received an equal share of coverage at the time in industry (vertical or niche) media, it fell behind the other "Big 4" technology companies — GE, IBM and Cisco — in general and business media.
Based on the data, JONES made recommendations that Zebra take specific steps to position itself as playing a complementary, rather than competitive, role in the adoption of the IoT, including targeting specific publications and conducting research to use as the basis for thought leadership positioning on the then-developing industry.
In a similar media analysis project for Intrado (formerly West Corporation), JONES compared media mentions against those for Phytel, a primary competitor for the company's healthcare division products. In a 6-year analysis, JONES was able to show how Intrado's original research drove nearly 400 pieces of coverage, compared to only 1/3 as many mentions for their competitor. And by digging deeper into each year's numbers, and the type of articles and mentions, the data revealed that even though Phytel had more mentions in the final year of the data, more than 80 percent of those were brief mentions in the context of articles about IBM, which had announced plans to acquire the other company. In contrast, West continue to lead in the quality of coverage with eight contributed articles published that year, compared to only one from Phytel.
When developing inbound marketing strategies, whether for general B2B technology or healthcare IT, in today's ever-changing market, an audit can be invaluable in keeping up with an evolving media landscape as well.
4. Executive visibility
Executive visibility is similar to coverage volume and share of voice, but should look specifically at how often your company's leadership and representatives are mentioned in media coverage. How deep is your bench?
5. Executive messaging
If your leadership representatives are being covered in the media, what messages are being relayed? JONES has helped clients recognize the difference between a mundane paraphrase of facts and high-energy, soundbite-worthy messaging that generates more positive media coverage. (Find out more in our Audit Case Study.)
Knowing what messages are currently being linked to your representatives in the media can help you craft additional talking points and key phrases that will enhance your brand's position in the future.
JONES client and leading medical technology firm Illumina, a leader in gene sequencing and molecular diagnostics, found through a media analysis project that while they were the largest player in their industry at the time, their media coverage lagged to competitor Ion Torrent, whose CEO was quoted far more frequently. A deeper look showed that while Illumina's executives provided more factual information, it was often quoted indirectly, while Ion Torrent's top representatives had bolder quotes that were more likely to get direct play.
As a result, JONES recommended that Illumina's PR department work with executives to create more "sound bite" worthy messaging and a stronger, more confident style when talking with the media, in addition to creating more buzz and opportunities by responding quickly to items in the news and maximizing messaging around the topics of cancer and disease diagnostics and management, areas in which Illumina had the advantage.
6. Analyst Commentary
Along with traditional media coverage, a media analysis report should review what is being said by industry and financial analysts about your brand. This would include commentary about the strength of your product relative to its competitors, the strength of your brand and marketing efforts, and your company's financial strength in the market and appeal to investors (if you are a publicly-held company).
Comparing media coverage to analyst commentary can also provide insight into where there may be disconnects in a brand's positioning in the market, as was the case when JONES conducted an analyst audit for Qualcomm. Qualcomm, at the time, was well known for its computer chips as a hardware company. But it was not widely recognized for the software that powers those chips, especially outside of directly related industry players.
Using extensive feedback from direct contact with industry analysts, JONES developed a SWOT matrix for Qualcomm that showed where opportunities existed to tie software into a broader company strategy, and stake claims that showed not only the strength of the company's solutions, but also the strength of its strategy for the future of technology, business and finance.
This approach to inbound marketing for B2B software highlighted the need many brands have to reach multiple audiences, including not only customers, but also investors.
7. Customer and influencer commentary
With the digital world opening up an ever-growing platform for nearly anyone to share their thoughts and opinions about your brand with the world, a truly comprehensive audit needs to gather examples and data about what is being said by your customers, top industry bloggers and other influencers.
Case in point: JONES client Cornerstone OnDemand. The talent management software company engaged JONES to conduct a media analysis project, which showed that the company trailed its two key competitors in overall visibility, but one glaring difference was in the number of customer references in media coverage. While only one Cornerstone OnDemand article during the time period reviewed included customers, their competitor with the most media coverage had customers included in 13 of 33 total articles. JONES recommended that if Cornerstone OnDemand wanted to boost its visibility, it needed to bring customers to the table to talk with media.
8. Top writers and media outlets
Part of examining the strengths and weaknesses of your media performance (which influences the effectiveness of your marketing messages) is identifying which media outlets and individual contributors are currently providing your brand with regular, positive coverage.
For example, in performing a media analysis project for MobileIron and comparing it to industry peers, JONES developed this list of journalists and outlets that had consistently covered MobileIron, which provides secure mobile cloud-based content management for businesses, in the five-month period reviewed.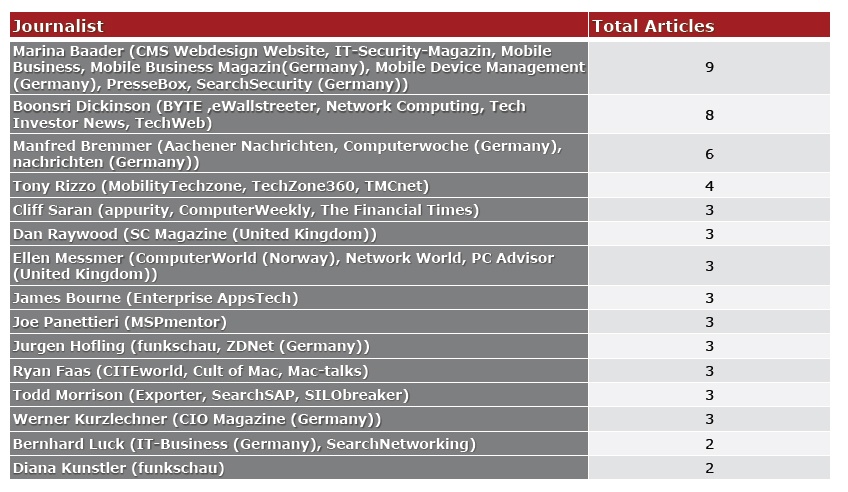 By identifying those writers and publications that were already providing positive coverage, could continue to nurture those relationships, while also seeking other opportunities in key B2B technology media to develop through public relations outreach.
9. Underperforming writers and media outlets
Knowing which publications and journalists are already giving your brand ink is important. Knowing the reverse is just as essential. Are there media outlets or contributors that seem to seldom mention your brand. Examine whether you need to simply provide more information so that your company is on their radar, or if there is a need for specific outreach to build a better understanding of your company and its place in the market and in their coverage.
This example from a JONES media audit for Freescale Semiconductor Inc. highlights those writers and outlets who consistently covered the industry, but seldom mentioned Freescale in that coverage. It provided the company with a ready-made list of potential media partners to target in the next round of public relations outreach.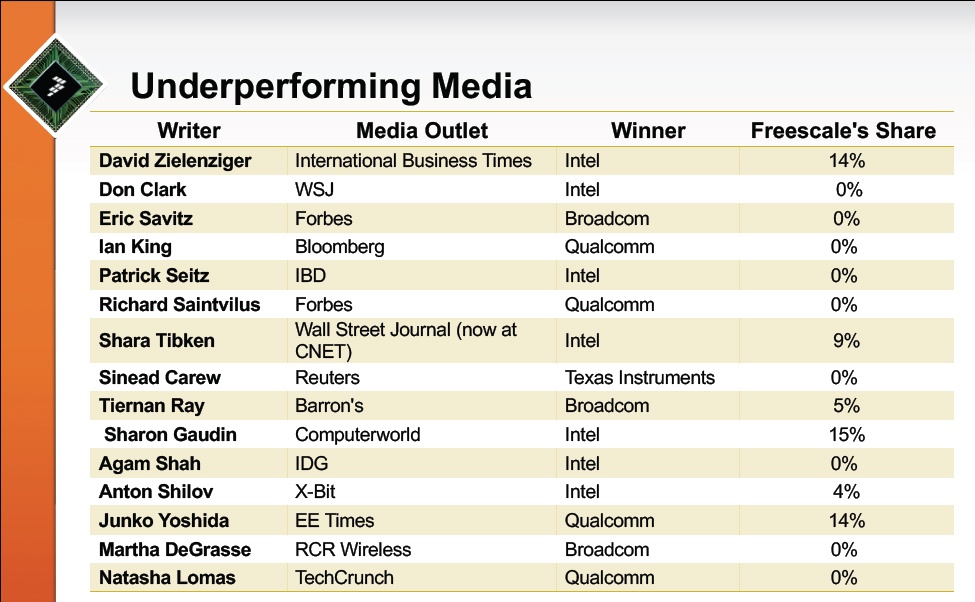 (If developing a strong thought leadership strategy, including contributed bylined articles, is something your brand wants to incorporate into its integrated marketing program, check out this resource: How to Get Your CEO Published.)
All of the information collected above is a great start. But a comprehensive media analysis project, conducted by a reputable agency, should provide you with more than a stack of charts and data.
Your audit results should include interpretation of that data and strategy recommendations from a perspective informed by the data, unbiased as a third party, rather than influenced by "insider information" and expectations, as your own marketing team might be.
Key Takeaways
1. Provide a strategy for media outlets and specific writers to target
Your integrated public relations and marketing approach should include developing a consistent message across all channels. To reinforce that, your media analysis partner should provide a strategy for targeting specific media outlets and journalists to increase coverage overall, improve relationships with lagging outlets, and capitalize on strong relationships established with proven outlets and providers.
2. Identify Trending Topics
Having examined share of voice compared to competitors, and looked at specific topics including new advances and emerging markets in your industry, your media analysis partner should be able to point you toward the topics your brand needs to address in its messaging to remain relevant to as conversations evolve.
3. Deliver recommendations for increasing executive visibility
Sometimes an outside authority is the best person to deliver a message to executives about how they can improve their visibility and delivery of your brand's message. Your media analysis should include a strategy for developing your primary spokesperson as an authority in the industry with a wealth of information and insights ready to share in an engaging way.
This may include preparation of specific talking points and phrases to be used in media interviews or even recommendations for coaching of executives to improve their on-screen or face-to-face performance.
Media analysis projects are just one type of audit you may consider to review the effectiveness of your current communications and messaging. Other audits that will provide data points, benchmarks and recommendations for marketing and messaging strategies include:
Find a complete list of the information and recommendations you should expect from each of these audits in our Media, Messaging & Marketing Audit Checklist. If you aren't getting everything on the list, then you aren't getting what your brand needs and deserves.
Let's talk about what you can learn from a media analysis project to improve your messaging and outreach. Schedule a time in my calendar for a no-obligation consultation.