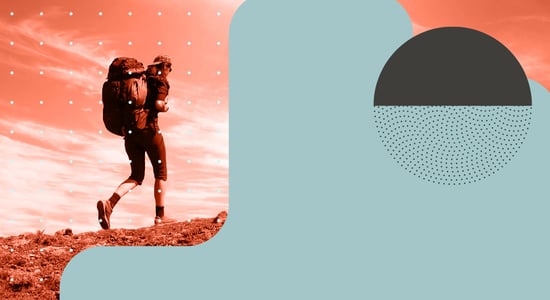 Often, the most magnificent views and most spectacular scenery are in places casual hikers aren't quite comfortable going alone. In fact, we may not even know that they exist unless we hook up with someone who understands what we would love to see and knows how to get us there.
With the expertise of an experienced guide, the trip is less stressful, involves fewer mishaps and detours, and ends with the view you had only dreamed of seeing.
In many ways, a good content marketer (or content marketing strategy) is like that guide, helping prospects and customers navigate the buying journey to come to the purchase destination that exceeds expectations.
Don't believe me?
Just consider this …

Let's break this down a little more, with an analogy from one of our staff writers who earlier this year achieved a goal of learning to snowshoe, even climbing fantastic frozen waterfalls she would never have visited on her own, all thanks to the services of an experienced guide.
Understanding motivation
A good adventure guide understands that not everyone who signs up for a trip is there for the same reason. Some are just new to the sport or the terrain or the season. That snowshoeing trip included a lifelong southern girl who had just moved to Wisconsin and was embracing winter, while others had experience, but were looking for the camaraderie of a group for new adventures. Some were rehabbing injuries, some were well into middle age, and others were young. The guide understood how to help each of them have the experience they wanted.
As a content marketer, you need to realize that you have multiple audiences who are all looking for slightly different things—sometimes even within a single company there will be a variety of decision-makers each with a different focus. Take the example of a healthcare provider seeking registration software: The actual registrar is looking for something easy to use and train staff to implement. The CFO wants to find ways that software can improve collections. And leadership members with a background in patient care want to know how the software improves outcomes. (See how we tackled this precise situation for AccuReg.)
This is why it is essential to create and update buyer personas to provide the background information you need to know about the people you are guiding. Here's how: Segment Content & Offers Based on Personas and the Buying Cycle.
Understanding the industry
The whole reason for hiring a hiking or backpacking guide is to rely on the expertise they have about all things involved in that activity. They've done the research and put in the time to gain experience so you don't have to. And they are ready to share what they've learned with those joining them on the trip.
Content marketers also need to do their research. That means putting in the time to conduct surveys and audits that provide the information those you are guiding through the buyers' journey need to reach a decision. When was the last time you surveyed your customers (or your customers' customers) to learn about what is really behind the problems they are seeking to solve? Share the results of your research to build respect with potential customers. Here's how: Consumer Survey Development Template.
Planning the route
One of the key reasons our staffer sought out a guide for her snowshoe trip (beside having never snowshoed in her life) was that she wanted to see an area she had never visited before. And when it comes to snowshoeing overtop of frozen rivers, it pays to follow someone who knows where they are going.
Content marketers plan out the route for their leads in advance, considering what information is most needed at each stage of the sales funnel and how to move them on to the next. Each piece of content considers what a lead needs in the current stage that will help guide them to the next—awareness level content introduces the problem to be solved, consideration level content begins to lay out solutions, and at the decision level the content provides ways of comparing solutions to come to a purchase decision. That's what lead nurturing is all about. Here's how: How to Use Our Lead Nurturing Workflow Template.
Communicating clearly
Hiking guides need to share information about the hike or destination in terminology the people in their group can understand. That may mean swapping "intense climb" for their more familiar jargon about "vert" to be sure it is clear to newer adventurers.
Your content marketing should also be clear, using storytelling methods and a range of communication channels to best explain the problems, solutions and products you are discussing. That can include implementing video and graphic design to make complex solutions easy to understand. Here's how: Successful Marketing Relies on Great Content.
Providing tools
When our colleague tried her hand at snowshoeing, she wasn't sure she was ready to invest in her own pair, just in case it wasn't for her. The guide arranged rentals of snowshoes and poles and provided recommendations for other equipment the group would want, such as backpacks, hydration pouches, warm waterproof clothes and more. And the guide had all the essential safety equipment in her own pack.
Content marketers can provide tools that will help their leads dip their toes into the products or services offered before they are ready to commit. That might mean an ROI calculator, templates and checklists, or even a free trial of a product such as software to allow potential customers to take a "test drive" before deciding if the investment is right for them. Want to see an example? Check out the "Do" section of our Inbound Marketing Learning Library.
Pointing out pitfalls
When snowshoeing over frozen rivers, a few steps or even inches can be the difference between walking on a sturdy ice bridge or falling through thin ice and snow with disastrous results. A good guide understands where the dangerous places are and helps her charges find a safe route around them.
Similarly, content marketers can provide their audience information that helps them avoid making a poor decision about what solution to choose for their problem. This could be a checklist for comparing vendors or a list of red flags to avoid.
Showcasing the high points
Why hire a guide? Because they know how to find the best views and achieve that mountaintop experience (literally).
Content marketers also understand how to show potential customers the ultimate in possibilities, and decision-makers look for that information. Customer testimonials and case studies are among the content most often used by B2B decision makers when choosing a vendor or solution. Be sure to include in your content strategy the view from the top. See examples of our own clients' summits: Client Success Stories.
Taking it to the next level
That first guided hike probably won't be your last, and a good guide is ready to help you move on to the next adventure. Perhaps that means shifting from a series of day hikes to a backpacking excursion, or from a Midwest lakeside meander to tackling the intensity of the Grand Canyon.
Content marketers understand that their job doesn't end with the sale; there is still work to do ensuring that the customer experience after the deal is done keeps them around, possibly adding more products or services and generating referral business. Product guides, tutorials, more in-depth blog posts or videos focused on getting the most from their solution are all examples of how content marketing can continue to add value to the transaction and encourage stronger relationships with customers. Here's how: Engage & Retain Customers.
Are you ready to guide your leads on their journey? Our Campaign Planning Calendar Template can help you plot a course that keeps personas and the buying cycle in mind, planning out clear communication in a variety of channels, tools that leads can use and views from the top of successful customers and case studies. If you need a partner in the journey yourself, let JONES carry some of the load. Schedule a time to talk with me about how we can support your content marketing, from strategy to content creation, website development, video production and more.