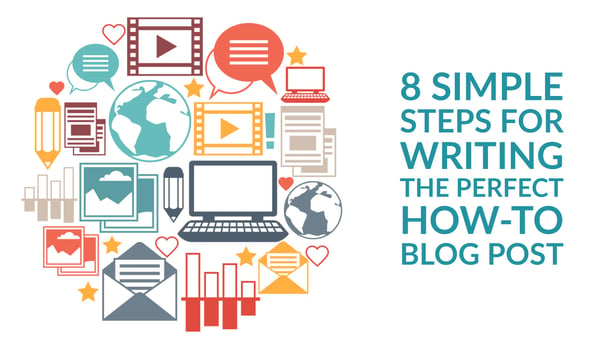 A key element of a successful business blog is providing readers with useful information. That could be industry data and statistics, it could be insightful analysis and opinion piece on the latest trends, or it could be directions that help your readers solve a problem.
The wider blogging environment is full of how-to posts: recipes, craft projects, and party planning, but how-to posts can also be a useful addition to a business blog's editorial calendar.
Everyone, including B2B audiences, loves learning how to do something better, faster, or more efficiently.
Let's walk through the steps of writing a blog post that your readers can use to solve problems, that also contributes to your online lead generation.
1. Pick a topic.
What can you teach your audience how to do? This could be:
With your topic, also consider the specific keywords or phrases readers would search in looking for the information you are about to provide.
2. Identify your audience.
Choose a buyer persona, and stage of the sales funnel, to further target your blog post's approach. Remember that you may present information differently depending on whether you are writing for a junior-level executive looking to make a great impression or a CFO hoping to improve cash flow.
The stage in the sales funnel also impacts what topic and approach you take. While many of your blog posts may be general in nature, focused on the awareness stage of the sales funnel, you will also want to include some that are focused farther along the sales cycle, such as posts about how to choose a vendor for your product or posts written for those who are already customers about how to get the most out of your service.
3. Brainstorm some titles.
A working title provides focus for the article as you begin your research and writing, so come up with a few ideas that fit the topic, then choose one to start with. The working title provides an initial direction to help you resist the urge to ramble off on a hundred other tangents in the process. You will edit and refine the title again at the end to make sure it accurately reflects the post content and is optimized for search and capturing attention.
4. Create an outline and consider options for images.
Think back to English Comp 101 and the outline you inevitably created for your research paper. That same underlying structure can be useful as a foundation for writing an in-depth blog post.
Sketch out what you will cover in the:
Introduction: Set the stage for what you are going to teach readers to do, and why it matters.

Body: List the steps involved in as sub-heads, with more detail to be added.

Conclusion: Wrap up what the readers will learn and how to apply it to their lives or work.
Now is also a great time to think about what images you may want to use in your how-to post. Many how-to articles naturally lend themselves to a series of images —photographs or screen shots — showing each step in the process being described.
5. Write the post.
Working from your outline, create each part of the post.
I won't detail every possible step here, but if you, or your writer, need extra help, download 5 Ways to Write a Blog Post. This kit, which includes templates for five different types of business blog posts, including how-to posts, goes so far as to suggest verbiage that you can use to get started, simply by filling in the blanks in the template.
I will offer this advice, however:
Know your audience — If writing for beginners, try not to assume they know the jargon or even the basics of how things work. If, on the other hand, you are promoting the post to experienced veterans of your field, don't lose them in over-explaining what they already know.
You'll find more writing tips in these posts on our site:
6. Link to additional resources or landing pages.
While one of the goals of your blog post is to help your readers, your blog also has a purpose supporting business objectives as a source of online lead generation. When you include links to addition resources or landing pages in your blog post, you are achieving both goals.

First, by linking to additional resources on your website, including other related blog posts, you provide even greater value to your readers. A single blog post may not be able to cover all of the details your readers would like to know, but when you link to additional posts (as I've done in the section above), you increase the amount of information readers can easily access to help them achieve their own goals.
Your blog also has the potential to feed online lead generation by linking readers to the landing pages for related downloadable assets and other offers. When your readers complete the landing page form to access those assets, which may offer more in-depth information or usable material such as calculators and templates, they are entered into your automated lead nurturing program.
Linking readers to additional pages on your website can also provide an extra SEO boost for your site, as recent studies have shown that search engine algorithms do weigh user signals such as time on site and the number of pages visited when determining search rankings. (More on that from earlier this month: Write for Readers, Not Search Engines, To Boost SEO.)
7. Finalize the blog post title.
Now that you've finished your writing, revisit your blog post's working title. Does it still fit your content? Does it include the keywords you are targeting?
Examine it word by word to determine whether you can make it more accurate, specific, eye-catching, concise and search-optimized. You'll find tips and templates for writing blog headlines in the infographic included in this blog post.
8. Choose a call-to-action.
You will likely already have a few contextual calls-to-action for your lead generating offers included in the links added in Step 6, but your blog post should also include one more CTA, this one explicitly telling your reader what you want them to do, whether that is to subscribe to the blog or a newsletter, download an ebook, case study or report, or sign up for a free trial. Say so, in as many words, at the end of the blog post.
You may want to repeat that call-to-action with an image-based CTA — sidebar, banner or slide-in — that links to the same offer.
Of course, there are many more specific small steps involved in actually getting your how-to blog post from concept to published (and promoted). You'll find a more detailed approach, plus additional tips, in the "How-To Blog Post Template that is included as part of our 5 Ways to Write a Blog Post kit. Download it today, and you'll also get templates for creating newsjacking, list-based, curated and SlideShare posts for your business blog.