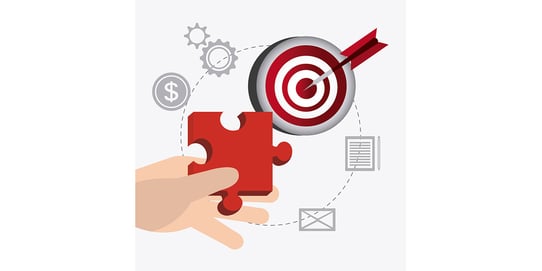 So, your foray into inbound marketing is working. You crafted a strategy, created content, attracted a visitor and your optimized landing page has done its job of converting that visitor into a lead. Now what?
Don't celebrate just yet, because there is a big gap between a lead and customer. Shorten that gap by tying your landing pages directly into a lead nurturing program.
Why lead nurturing?
Some organizations skip right over lead nurturing and send every lead on an express line straight to sales. But there's a problem with that. Only 25 percent of visitors to your website are ready to buy. (Click to Tweet!) Even among those who convert into leads, 50 percent are qualified, but not ready to buy. (Click to Tweet!) They need nurturing first.
Lead nurturing provides a way for you to develop a relationship with your leads in a timely and effective manner, using an automated and personalized email series. The payoffs? Shorter sales cycles and larger purchases. Nurtured leads have a 23 percent shorter sales cycle.(Click to Tweet!) Nurtured leads also make 47 percent larger purchases than non-nurtured leads. (Click to Tweet!)
The key characteristics of a top-notch lead nurturing program are timing and targeting.
Timing Your Lead Nurturing Emails
How soon should you contact a new lead? Is yesterday an option? I'm just kidding. Mostly.
But when 78 percent of sales that start with a web inquiry are won by the first company to respond, there is no time to lose. (Click to Tweet!) Welcome your new lead as soon as they have filled out a form. An automated system can do that easily.
Targeting Your Lead Nurturing Emails
Don't just send a generic welcome, however. Personalize your lead nurturing emails with the lead's name, company (if you have it), and offers related to what first brought them to your site to become a lead.
For example, if a web visitor downloads our 25 Website Must-Haves ebook, the introductory nurturing email will provide an extra link to the download (in case the lead didn't actually download it when the form was submitted), along with information and an offer for an on-page SEO template, since we know this lead is interested in websites.
If the lead downloads the SEO template, the next email offers a white paper centered on solutions for upgrading a business website. Each email is specifically targeted based on what we already know about that particular lead. We use a unique nurturing workflow for each topic, offering a flow of information that naturally moves from informational to decision-making.
But where does it all start? With the landing page. Just remember that the landing page conversion is just the beginning of the process.
Kick off more lead nurturing success stories with landing pages that are optimized for conversion. This ebook, How To Optimize Landing Pages for Conversion, tells you how.