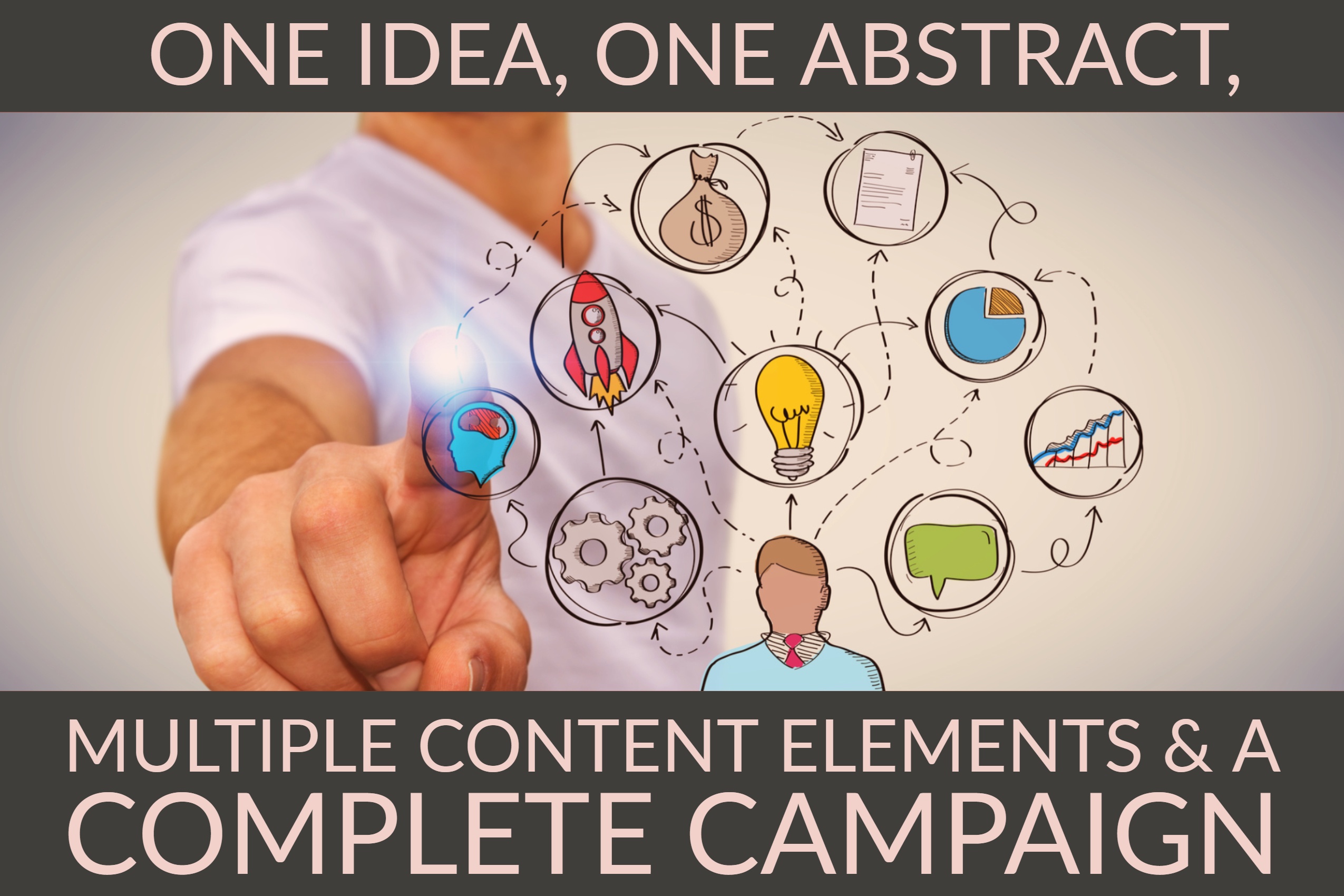 Making the most of your marketing content, including data from original research, means repurposing information to fit a variety of audiences, formats, and distribution channels. It is a key tactic to increasing the ROI of your marketing efforts by getting more traction from a single idea or data point.
Start the process by creating an abstract the encapsulates the main idea of your content campaign and provides a foundation from which to work.
What is an abstract?
Abstracts may vary in length and detail, but as you begin your content campaign planning, you can start with a simple working headline and two to three sentences about the topic. If you are basing the campaign on information from original research or surveys, include the key data points or statistics driving the campaign messaging.
(Learn more about how JONES and client West have successfully leveraged original research into a series of reports, contributed articles and more in this blog post and this downloadable case study.)
Here is an example:
How to Increase On-Time Payment Of Medical Bills
Nearly three in five Americans (56%) delay paying their medical bills. This content will explore the reasons why, along with strategies for increasing on-time payment.
Using that abstract as a starting point, your team can develop a range of content to reach unique audiences and buyer personas, putting the same basic information into a variety of formats, distributed through several different channels.
From abstract to contributed article(s)
Marketing content abstracts are an essential step in positioning contributed (aka bylined) articles with industry media in order to raise awareness of your company and position your executives as thought leaders.
Each media outlet or publication may have its own specific requirements, but in general, you'll want to expand upon the quick-hit abstract above to provide additional details about what your article will cover and how it will benefit the publication's audience.
The articles you will create to be placed in industry media may not ever mention your company's name. Instead, these will be big-picture pieces, focused on industrywide challenges and how the industry, as a whole, can solve them. While you may include some charts or graphs to support a statistic-heavy report, in many cases contributed articles will be text-only, relying on strong storytelling to make your research or topic relevant to the reader and provide them with useful information.
A single broad topic abstract may be a starting point for more than one contributed article. You may consider refining your pitch abstracts to define individual focus points for multiple publications based on the difference in their primary audience.
(Find a step-by-step guide to using contributed bylined articles for public relations and inbound marketing in our ebook: How To Get Your CEO Published.)
From abstract to marketing paper(s)
As you build a cohesive inbound marketing content strategy, one of the first pieces you may want to create is a downloadable asset or marketing whitepaper. These content pieces are typically created with a business reader in mind (here's what B2B buyers say they want in content).
From that initial abstract, your primary focus in developing a marketing paper should be:
Relaying useful information and statistics in a visually pleasing manner. Having strong graphic designers who understand the intersection of readability, design, and art is essential. The design shouldn't overshadow the information; it should enhance it.
Tying your data to your customers' challenges and the solutions you offer. While these papers shouldn't be hard-sell, they need to showcase the benefits of solving the problems highlighted by your data.
A single abstract could also be used as guidance for multiple marketing papers, especially if your company offers a single solution for multiple industries. Tailor each paper to the vocabulary, style and needs of each industry.
From abstract to business blog post(s)
The business blog posts created from that same abstract will likely include a blend of the styles used in the contributed articles and the marketing papers or other downloadable content.
Your blog posts can be as varied as a single visual from the marketing paper accompanied by a short explanatory text to a 2,000+ word in-depth investigation of the data, with commentary from your executives, other industry influencers, and customers.
Consider listing each of your buyer personas, each stage of the sales funnel, and each format style you typically use in your business blog (infographics, videos, Q&As, quick tips or short-form posts, long-form posts, etc.) and then developing a post for each one based on the initial abstract's topic and data.
Using this method, a single concept — outlined in a simple two-sentence abstract — can be the genesis for a complete inbound marketing campaign, from start to finish, from awareness through lead nurturing to sales enablement. When approached in this way, public relations, marketing and sales can work together to provide a united message and maximize the ROI from a single concept or research effort.
See more details about how we recommend inbound marketing campaigns come together, including samples of 5 elements of an inbound campaign in Creating A Winning Inbound Marketing Program.