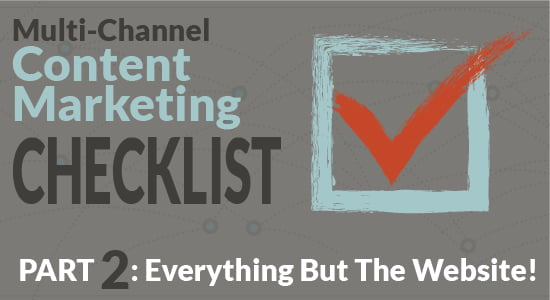 I recently shared a list of 14 different types of content to create for your B2B website as just the beginning of a checklist to spark inspiration for an integrated content marketing strategy. Today, I'm going to offer up 15 more ideas, this time focusing on other channels for distributing content, from social media and email to third-party publication and your own sales team.
I'm not going to go into great detail on any of these (many will link to more detailed blog posts on that specific type of content)—just think of it as fodder to fuel your team's planning and ideas. Maybe there is something here you aren't currently using that can provide an extra boost to your content strategy or repurpose your existing content to gain extra mileage from the work you've already done.
Ready?
Let's go!
Social media
Whether you stick with LinkedIn, the favored social media platform for B2B marketing, or include the juggernaut of social media Facebook, Twitter's fast-paced rhythm, Instagram's image-dominated platform, YouTube (the world's second most-used search platform) or even Pinterest, social media is likely (and should be) a part of your mix. It is the perfect way to promote and expand the reach of the rest of your marketing content.
Plan to include:
Links to blog posts: Sharing links to your business blog provides valuable content for your social media followers, and provides a way to drive traffic back to your website. Not all social media channels allow links, but you should be using them on those that do (including LinkedIn, Facebook, Twitter and Pinterest).

Links to resources on your website: Again, if you have valuable content (not just promotional content) on your website such as templates and checklists, share links on your social media channels.

Preproduced videos: Tweets with videos see 10 times more engagement than those without, and LinkedIn users are 20 times more likely to share a video than any other type of post. (Source) Animated, interviews, staff introductions, product demonstrations, explainer videos—all are potential social media content on all channels, not just YouTube.

Live videos: 82 percent of people prefer live video from a brand over standard social media posts. (Source) Get creative and go live.

Infographics: As with video, other visual media, including infographics increase engagement by social media followers. Share important information in a format that users can easily access and understand, without getting lost in a ton of text, which social media doesn't reward.

Photos: Tweets with images receive 150 percent more retweets than those without. (Source)
Email
Email continues to be one of the most commonly used, and most cost-effective, forms of content marketing, with 78 percent of marketers saying they have seen an increase in email engagement over the last 12 months. Ideally, your emails will be sent to an audience or list who have already opted-in to receive communication from you and are segmented to target recipients with relevant content. Marketers who use segmented campaigns see as much as a 760 percent increase in revenue. (Source)
Outbound promotional emails: Customers want to hear from the brands they do business with, and occasional promotional email about your newest product, service or new offerings in your website resources (the ebooks, case studies and templates mentioned in our website checklist) is a way to bring them back to your site.

Newsletters: Not all of your emails should be promotional, however. Build a reputation as a source of reliable, useful and even entertaining content with regular newsletters or subscriptions to blog updates that offer value without focusing on promoting your own products.

Nurturing workflows: When you use automated lead nurturing email workflows, your communication is automatically segmented to reach leads with additional content related to their interaction on your website. Companies that excel at lead nurturing generate 50 percent more sales-ready leads at a 33 percent lower cost. (Source)
Third-party publishers and media
While much of the content we discuss falls into the "owned" category of the content triad—owned, earned and shared—earned content is equally important in influencing customers. Three-fourths of B2B buyers told DemandGen that they strongly agreed with the statement "I place a higher emphasis on the trustworthiness of the source." That doesn't mean they won't trust content that comes directly from a vendor, but they want to see third-party content, too. This is where traditional PR and marketing intersect and why they should work together to build content strategies.
Press releases: Don't think of press releases as strictly PR tools—they play a marketing role, too. Coordinate key messaging and branding points, and use press releases to supplement or promote key marketing content that has been created, such as reports detailing original research and industry data.

Bylined thought leadership articles: While press releases can gain traditional media coverage in a range of publications, bylined contributed articles provide a more direct way of gaining awareness and building your company's executives industry thought leaders. When paired with promoting similar content through owned channels—business blogs, email and social media—your message gains momentum.
Print products
This is the digital age, even moreso with the current coronavirus pandemic that has put an end to many of the ways in which print materials are distributed, such as trade fairs, conferences, and distributed in reception areas and office. But don't completely ignore the preference of some audiences for something tangible, especially since most can also be easily repurposed from or as digital assets.
Product data sheets: Chances are this information is already a part of your website (if you only have printed versions, it's time to add it online—now), so it doesn't take much effort to adapt the information into a print-friendly format that can used on those occasions when your sales team does have face-to-face interactions.

Magazines and newsletters: While the younger generation is shifting almost entirely to digital for content consumption, your specific target market may dictate retaining hard copy options. This can be especially true in industries such as healthcare that need to relay vital information to customers or patients who may not be digital natives.
Sales enablement or customer service collateral materials
As you create marketing content, remember to consider all levels of the sales funnel. Social media and contributed articles will often be awareness-focused. Website resources such as ebooks and templates are great middle-of-the-funnel materials to continue to engage leads. And case studies guide leads even farther. But don't overlook the role marketing can play in developing the content sales teams use to make the final deal.
ROI calculators: Closing a deal often comes down to dollars, cents and return on investment or other calculations. If you can provide a calculator for prospects or salespeople to use, do it. This could be a separate tool only for your sales team, a gated tool on the website for lead capture, or an open tool for any web visitor to use. ROI isn't the only thing to calculate—just think how many websites use calculators for things like mortgage payments, asset depreciation, calories or BMI to boost their SEO. What can you help prospects and customers pencil out?

Presentations: With all the time and effort marketing puts into visuals and branding for content, it just makes sense to extend those visuals, talking points, data and benefits into formats that the sales team can easily turn into the presentations used to close deals.
Are the wheels turning? How many of these ideas can you incorporate into your own content marketing strategy to extend your reach, boost SEO or improve sales conversions? In many cases, you can add new types of content with minimal investment by repurposing materials you already have in your campaigns.
To see how one of our successful clients incorporated several of the types of content included in this post and its companion on website content, download Creating A Winning Inbound Program. You will see the whitepaper, blog posts, emails, social media and bylined articles that worked together to drive a successful content marketing campaign.
If you'd like to learn more about that campaign, or brainstorm additional ideas for your content marketing strategy, I'd be glad to chat. You can schedule a no-obligation consultation in my calendar here.