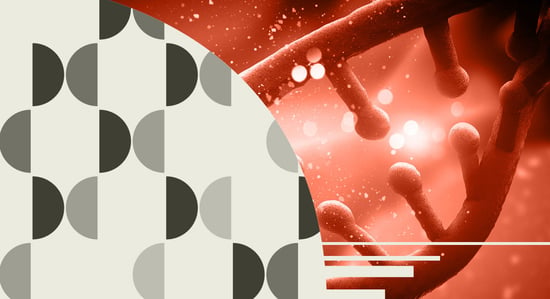 B2B buyers won't start their research for solutions by picking up the phone and calling you. And, honestly, they don't want you to call them out of the blue either. (That's why the infographic below from Growth Strategies 101 points out that cold calls have a success rate of only 2.5 percent.)
Where do they start the process? Online. In fact, Growth Strategies cites statistics from Corporate Executive Board that three-fourth of B2B purchasers won't even speak to a salesperson until they've done their own research. Ouch.
What does that mean for your B2B marketing strategy? Take a look through the rest of the statistics outlined in the infographic, then we'll walk through how to put those insights to work in for your B2B brand.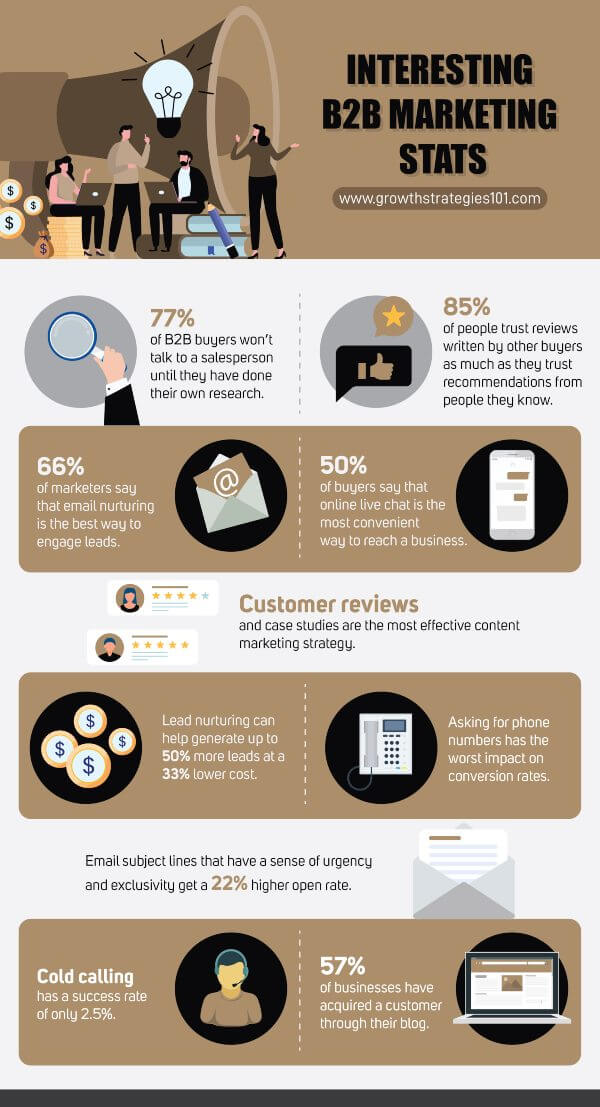 B2B buyers want to do their own research first.
When 77 percent of B2B buyers say they won't talk to a salesperson until they've done their own research, that means you need to make a first impression long before that conversation, and you'll have to do it online. Integrated content marketing needs to include both owned content such as social media, a business blog or a podcast AND earned content, such as thought leadership placements in industry publications and guest appearances in podcasts and webinars that address the problems your customers are researching and trying to solve.
These first impressions, backed by third-party recognition, can be key in setting the tone for potential customers' first interactions with your brand.
Automated lead nurturing keeps the connection.
Speaking of first interactions, since a lead's first direct interaction with your company will quite likely be online—by downloading content or signing up for a newsletter, webinar or blog subscription, it is important to maintain connections once that interaction has taken place. The infographic cites Databox in noting that 66 percent of marketers say email nurturing is the best way to re-engage leads.
I say it is the best way to engage them from the very beginning and keep them engaged, by tailoring nurturing workflows that provide additional content offers that are relevant to the lead (based on what that initial interaction was and what you learn through the lead capture form) and designed to guide the lead to the next level of the sales funnel. For example, if the first interaction was to download an ebook, offer a case study on the same topic that shares a success story of another business dealing with the same challenge.
One note on those lead capture forms, as pointed out in the infographic, asking for too much information (or just a phone number, which seems invasive), on the first interaction can damage your conversion rate. Instead, use progressive profiling that asks just a little more each time, as the lead learns the value of your content and develops a positive impression of your company.
Reviews and case studies set a tone.
Hearing about your company, product or service from a third party—instead of just from you—is valuable for B2B buyers. This social proof, whether as reviews on other websites, recommendations on social media or case studies (which can take many forms), helps potential customers understand more about your solution in action and what it means for others like them. If your product or service solved a problem for a company like theirs, they will be more willing to talk to someone about how it can solve their own problems.
Since reviews can appear in many places, it is important to monitor your online reputation, address critical reviews, boost positive reviews by sharing them on your own social media and use both positive and critical reviews to improve customer experience. (Check out some of our own clients' successes here.)
Blog!
Business blogs work—especially in information-intensive B2B industries with complex challenges and solutions. According to the infographic, 57 percent of businesses have acquired a customer through their blog.
Used well, blogs are effective at driving SEO and web traffic, building brand awareness, capturing leads and providing deeper content for lead nurturing, leading eventually to closing the deal and gaining a customer. (And they are useful beyond the sale to continue to provide valuable information for existing customers.)
Ready for some extended reading to learn more about these top tactics for reaching B2B buyers?