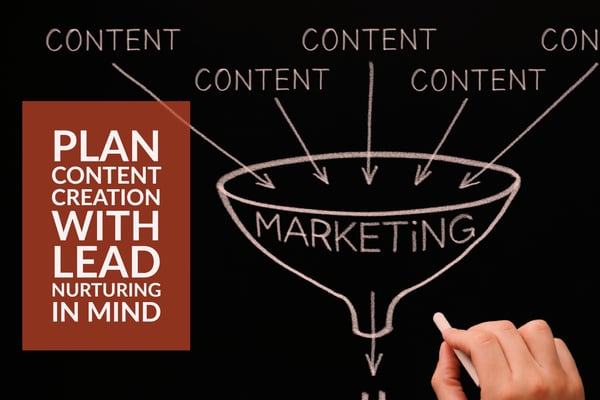 What process does your marketing team use to plan out content for upcoming campaigns?
Is it a one-person job, or a big group brainstorming session? Are only marketing team members — the CMO, marketing manager, social media manager, and contributors — included, or do you pull in others from public relations, sales, and your partner agency to provide input? (By the way, here's who we recommend you include.)
No matter who is creating the content strategy, one of the key elements to keep in mind is how to make it work together within lead nurturing workflows.
That awareness starts with identifying what stage of the sales funnel each piece of content fits into, and ensuring that you have content for each of the three main stages: awareness, consideration and decision.
During your brainstorming, you can use a format similar to that in our Campaign Planning Calendar Template to organize content from the top of the funnel to the bottom. Our template actually includes space for five different content pieces within each campaign.
Take a look: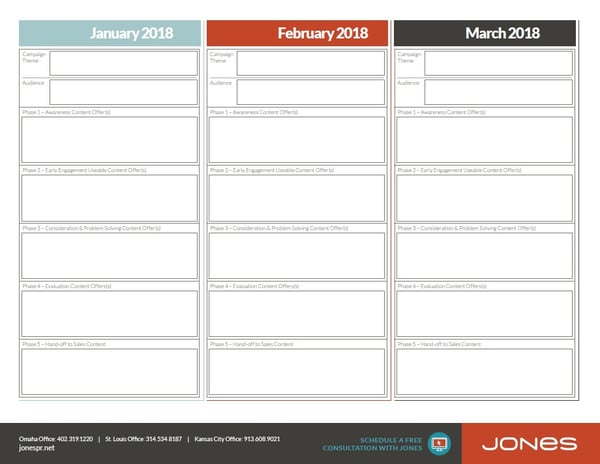 Awareness level content is often where prospects first encounter your website and brand — blog posts, contributed articles in industry publications, or self-contained social media content such as videos. While these are open for all to read and access, because they are at the heart of attracting visitors to your site, a second level of awareness content should be gated behind landing pages where you can capture leads.
For example, a blog post or infographic might highlight a certain set of statistics from a survey you conducted, but the full report would be a downloadable asset requiring the visitor to convert into a lead by providing contact information on the landing page.
It is that conversion that sets up lead nurturing. And once they download that full report, they are automatically enrolled in a workflow that begins offering additional relevant content in the next level of the sales funnel.
More on creating awareness stage content: How to Plan Content to Build Awareness.
Consideration stage content, which leads would be offered after their initial conversion through automated lead nurturing emails, should be more solution-oriented. Think of it this way: if you are a healthcare IT company, and the blog post and the report highlight that the greatest challenge facing healthcare providers, cited by 67 percent of respondents, is recovering payments from patients, your consideration stage content should offer a solution.
Perhaps that would be through a case study showcasing one of your customers, who reduced outstanding account balances by 50 percent in a year's time using your solution, with an explanation of why it worked (not just "our product is great!"). Or it could be something less tied to your product that the lead could put to use right away, such as script for accounts receivable personnel to use in directly reaching out to patients with outstanding balances.
When leads download consideration stage content, it is a sign that they may be actively seeking a solution, and is the trigger for a final level of content offers in the lead nurturing workflow.
Ideas for consideration stage content: Consideration Stage Marketing Content Sets the Stage for a Sales Win.
Decision stage content is that which begins to highlight your specific solutions and creates a springboard for sales to take over. This could include product description guides, how-to videos showcasing the usability of your product, comparison sheets, checklists, free trials, and finally a consultation request.
Downloading these offers should be the trigger that leads to a personal contact to complete the process of qualifying the lead and handing it off to sales. (Use our Lead Qualification Checklist as a starting point to setting your own specific qualifications.)
More suggestions for creating decision stage content: What Inbound Leads Needs to See in the Decision Stage.
Each of these stages, and how they will work together, should be outlined as you plan content for each campaign. If you have planned your content correctly, lead nurturing workflows should fall seamlessly into place, guiding leads through the sales funnel from one piece of content to the next, with each step related to the last and inching closer to a sales-ready lead and a sale.
Content creation should be strategic. Plan complete inbound marketing campaigns, and each element will complement the rest, as in this sample campaign from a JONES partner, Primaris. Download it here to see how it all comes together. Or check out our Primaris case study for more on the company's success in generating online leads after a shift to inbound marketing.