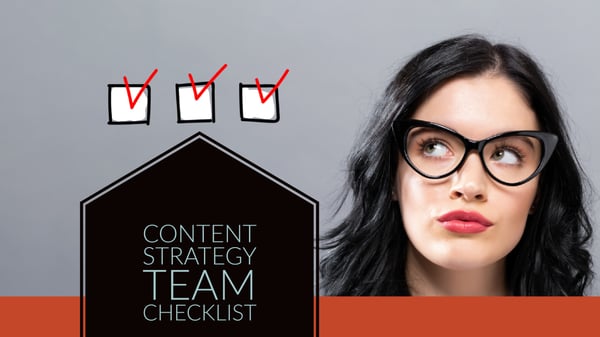 If your company is like most, not all of your official communications come from the same person. If you are with a medium to large corporation, there may be multiple teams in multiple locations, each tasked with a different objective.
That division of work can be effective, as it allows for specialization in the actual implementation of content creation duties. But before the writing, designing, or video production begins, there should be an overall communication and content strategy that all players understand and use as a foundation for their work.
Look through this checklist to see who needs to be included and have buy-in on your content strategy and why.

Marketing: This one seems obvious, since marketing is likely the department tasked with the most content creation responsibility. Marketing typically creates the paid advertising, the website content, materials for inbound lead generation such as reports, ebooks and case studies, videos, and more. And in some cases, marketing is responsible for corporate blogging and the social media presence, both paid and organic, as well as SEO optimization, trade show and event planning and more, though these may be shared with or owned by PR, depending on corporate structure.

Public Relations: The second key producer of formal communications for your company is the public relations department, and while marketing and PR were once siloed and separate in their message, that approach no longer makes sense. (See this post; more than half of all PR pros agree that within 5 years, the average person will not distinguish between owned, earned, shared and paid content.)
PR is typically tasked with content to build the corporate image, which includes press releases and media outreach, public events and outreach, executive visibility and speaker placements, bylined articles submitted to industry media, and response to media requests for information.
PR pros are storytellers and tend to focus on thought leadership. They can provide a foundation for marketing and sales when efforts are coordinated, as they are in this inbound marketing sample campaign, which shows how online marketing assets, blog posts, bylined articles, outbound emails and lead nurturing workflows all come together in a single campaign that leverages content from both marketing and public relations.

Sales: Sales should be included in strategy development for two reasons:
1. The content that the marketing and PR teams develop should be based around supporting sales priorities.
2. Sales teams need to know what resources marketing and PR are creating so they can leverage them as they engage with leads and customers.
First, if marketing and public relations aren't aware of the current priorities that the C-suite and sales team are targeting, and where the company's primary revenue streams are generated, they won't create appropriate messages and content to support those priorities.
Secondly, once that content is created, it just makes sense to have it shared across all teams. Salespeople can leverage content they know about it, sending customers and prospects links to blog posts, useful reports, or calculators that can help those prospects reach a purchase decision. There is no need for sales to recreate material if it is already available from marketing and PR. It's a simple matter of keeping sales apprised of what is being developed, where it can be found, and how it can be maximized.

Customer Service (optional): Are you wondering why customer service should be in the loop on the content being planned? Because what marketing and sales are promising, customer service may be be tasked with delivering.
Customer service teams have the inside look at what challenges arise after the sale, and may be able to suggest content such as how-to videos or FAQs that could play a key role in keeping existing customers happy, rather than focusing all attention on chasing down new leads.

Partner Agency (optional): Having an agency partner is optional. But if you are partnering with an agency for any significant part of your marketing or public relations strategy or content creation, involving them in planning isn't optional. It is just as essential that they understand your core messages, key objectives and foundational strategies as it is that your marketing, PR and sales teams understand those things.
These blog posts offer tips on choosing the right agency partner and maintaining a strong relationship:

Product Development (optional): When doing high-level strategic planning for the long term, it can even be helpful to bring in someone from product development or others involved in corporate planning. They can provide a peek at what changes and updates may be coming, so that communications team members can begin planning how to educate potential customers.
Plans can always change, and most likely will, but having a long-range perspective, in addition to developing specific strategies for the next few months, ensures that there are fewer surprises or drastic changes in direction needed to maintain consistent brand messaging.
How often does your company bring together all of these stakeholders to collaborate on a communication strategy? Is that meeting of the minds overdue?
Having the right team involved, and getting buy-in from all of them, is just one step in creating a comprehensive companywide content strategy. Download our guidebook here for the rest of the details you need to know to maximize content for all of your objectives.