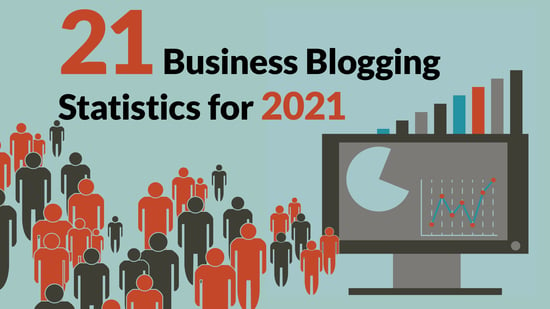 Even as new forms of content catch the attention of marketers and consumers, from constantly evolving social media to interactive website features and virtual or augmented reality, both groups still return to one of the basics time and again: business blogs.Blogging provides the SEO, lead generation and thought leadership opportunities marketers need, all in one package that works well with other tactics in the content and inbound marketing arsenal. Check out these statistics and tips for more on how to continue to build your blog's performance.
1. Blogs are among the primary three forms of media used in content strategies today. (HubSpot)
As seen in the 2020 State of Content Marketing report we published a year ago, business blogs come in just behind video and ebooks as the most-used forms of content marketing, outpacing infographics, case studies and whitepapers.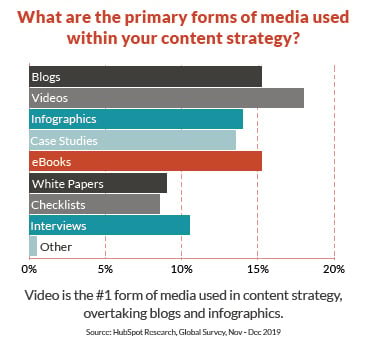 2. 83 percent of traffic to marketing blogs comes from desktops. (SEMrush)
Does this mean mobile doesn't matter? Of course not. But it does serve as a reminder that you need to format your business blog to be accessible to all users. B2B decision-makers, especially, tend to still perform the bulk of their research from a computer rather than their phone, including more than 80 percent of all B2B video views.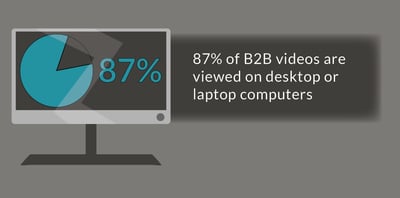 3. Search is the number one traffic source to blogs across all industries. (SEMrush)
That means it is essential to optimize your blog content for search. This includes focusing on both the nitty-gritty details of proper on-page keyword placement (think headers, image titles, alt text, etc.) and the reader-friendly writing that draws in readers and keeps them engaged to send the right user-experience signals back to search engines (time on page, bounce rate, etc.).
4. Articles with more than 3,000 words get three times more traffic, four times more shares and 3.5 times more backlinks than shorter articles. (SEMrush)
Again, this speaks to the importance of creating high quality content that solves problems for your readers. Providing in-depth analysis or how-to instructions pays off.
In reality, however, very few blogs are hitting that target. The average blog post is 1,236 words, though 55 percent of bloggers say they see results from blog posts with 2,000 words or more. (Orbit Media)
5. 86 percent of companies produce blog content. (SEMrush)
Are you among them? If not, now might be the time to start. We have a complete Business Blogging Toolkit in our Inbound Marketing Learning Library that includes a business blog calendar template, writing templates for five different blog formats, and a 20-point checklist for creating blog posts that are optimized for search and for lead generation.
6. Websites that also have a blog tend to have 434 percent more indexed pages. (

OptInMonster.com

)
This really is no surprise. When your business is creating new blog posts on a regular basis, it means you are continually adding to the number of indexed pages search engines crawl on your site. Each one of the pages adds to the search opportunities when the blogs are written to answer questions and address information your customers are trying to find.
7. Internet users in the U.S. spend three times more time on blogs than they do on email. (OptInMonster.com)
This is likely largely due to the difference between inbound and outbound content strategies. Blogs are inbound in nature—they draw website visitors and readers in by offering information about things the reader is already looking for. That means the reader is already engaged in the topic.
Emails are outbound in nature—even when they are sent to recipients who have already indicated some level of interest by opting in to receive emails, those emails may not be specifically relevant at the day and time they drop into that inbox.
Both have a place in your content marketing strategy.
8. 72 percent of online marketers describe content creation as their most effective SEO tactic (OptInMonster.com)
As search engines become more sophisticated all the time, evaluating the value of a webpage based as much on reader cues as on keywords, the importance of creating high quality content in order to drive search traffic is also accelerating. This means content that is relevant, solves readers' problems, is engaging or entertaining, and is technically sound.
9. Articles with images get 94 percent more views as opposed to those with no visuals. (OptInMonster.com)
Images serve multiple purposes. They capture the readers' attention. They can make complex ideas easier to understand. And they illustrate data in ways that connect better with readers than large lists of numbers. This is one reason we regularly include infographics in our business blog calendar.
Blog posts with images are also more likely to be shared.
10. Video content is 50 times more likely to drive organic search traffic than plain text. (OptInMonster.com)
Video improves search rankings and click-through rates on those search results, as the majority of internet users prefer video over text when searching for information. In fact, nearly 8 in 10 would rather watch a video than read text. That doesn't mean abandon blogs—it means add video content into your business blogs to reach more people.

11. Marketers who prioritize blogging are 13 times more likely to have a positive ROI on their efforts. (OptInMonster.com)
With blogging providing increased search opportunities, increased lead generation opportunities and increased trust in your company, it just makes sense that improved ROI would follow. But to really know the impact, you need to measure results, from basic blogging metrics to calculating the overall ROI of your marketing.
12. 64 percent of B2B marketers outsource blog copywriting. (OptInMonster.com)
With content creation consistently ranking as one of the top challenges marketers face, turning to outside help in writing business blogs makes sense. But it is important not to hire just any freelance copywriter or the lowest-cost agency. Be sure the content you are getting by outsourcing is optimized for search and lead generation and reflects the authority and leadership your brand needs in the market. (Give your current outsourced copy a grade with this quiz.)
13. 57 percent of marketers say they've gained customers specifically through blogging.
Sales are also the most important way marketers measure the success of their marketing efforts.
14. 60 percent of B2B marketers struggle with creating engaging content.
When it comes to creating engaging content, you have to be curious, ask question, and think about what your audience wants to know. That could mean digging into the science behind something mundane, or it could mean doing original research to present useful information only you can provide.

15. Blogs can lead to a 97 percent increase in indexed links. (

Demand Metric

)
But for your business blog to earn backlinks, which are a key indicator for search engines of a high quality website, you have to create blog posts that offer valuable information that others will want to share.
16. Companies with blogs produce an average of 67 percent more leads monthly than companies that don't blog. (Demand Metric)
Lead generation is just the start. A business blog can also be a valuable tool in nurturing leads by continuing to provide them with quality content.
17. Businesses that blog get 55 percent more website visitors than businesses that don't. (HubSpot)
With more and more of the interaction between customers and vendors, both in B2C and B2B worlds, happening online, bringing visitors to your website is essential. The business blog is one of the key content elements of a website that attracts visitors through organic search—possibly before they have even heard of your brand.
18. 70 percent of people would prefer to learn about a company through articles rather than advertisements. (

Demand

Metric)
Owned media, such as a business blog, is rapidly overtaking paid advertising as a primary way of reaching customers, especially those seeking authenticity and authority, rather than just a quick catchphrase and emotional sell.
19. Bloggers who conduct and publish original research are 32 percent more likely to report "strong results" from their content than the benchmark. (

Orbit Media

)
Original research can also resonate far beyond the business blog as the basis for complete content marketing campaigns. Think of the blog as just one building block in an overall strategy that can leverage a single survey into dozens or more pieces of content from infographics and videos to bylined thought leadership articles, social media content, and traditional printed marketing collateral pieces as well.
20. Bloggers who update old posts are two times more likely to get results. (

Orbit

Media)
Updating existing posts offers two benefits in search: The authority already built up for that blog post in the past (and compounding posts are the key to truly driving readership), plus new content that triggers web search spiders to "crawl" the page again.
21. Finding time to create and promote content is the biggest challenge for bloggers. (Orbit Media)
This tidbit brings up another aspect of blogging that is almost as important as creating the posts themselves: promoting the business blog. Marketing your blog—by promoting it through social media, email, and other channels—is the flip side to writing a marketing blog.
Business blogs are a valuable part of a content marketing strategy, providing SEO, lead generation, lead nurturing and industry thought leadership opportunities through owned channels that bring prospective customers to you. If you are just getting started, you will find several templates and checklists that can make planning and creating a business blog simpler in our Business Blog Toolkit. Get a tour and how-to guide to using one of those tools, our Business Blog Calendar Template, here.
Or, if you are among the 60 percent of marketers cited above in need of outside support to build the business blog you need, schedule a time to chat with me about the possibilities.