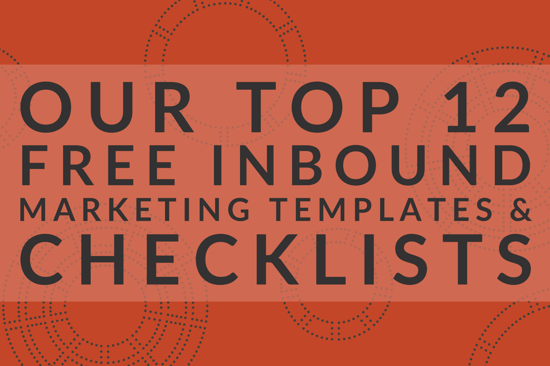 Inbound marketing involves many different marketing tasks and elements, and sometimes it can seem overwhelming for someone new to the practice — or even veterans looking at starting a whole new program. Creating an inbound marketing program from scratch is a lot of work.
We know. We've done it. We've also developed tools along the way that we can use over and over, so we don't feel like every new project requires recreating the wheel.
On this 12th of December, I'd like to offer you our top 12 tools and resources — all available in our Inbound Marketing Learning Library — to use in your own strategy and content development.
1. On-Page SEO Planning Template
Search is a huge part of successful inbound marketing — your blog and website content need to attract visitors to your site. While there are many different factors that influence search success — from user signals such as time on site and pages per session, to matching typically used phrases in voice search, to the standbys of ensuring keywords are used in essential places such as headers, image alt-text, and well-written rich snippets.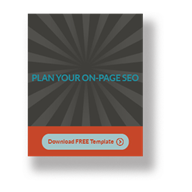 Those last few are examples of on-page SEO. Our On-Page SEO Planning Template is designed to help you review, or plan, web pages one by one to ensure you are including keywords and other search-friendly elements in all the right places. And it is the most-frequently downloaded tool in our Inbound Marketing Learning Library.
2. Nurturing Workflow Template
According to HubSpot, companies that excel at lead nurturing generate 50 percent more sales ready leads at 33 percent lower cost. That is because lead nurturing develops a relationship with contacts through targeted content, provides a structure for qualifying leads based on interactions with your website, and ensures that only qualified leads are sent to sales, saving time and expense sales would otherwise use pursuing leads that never convert into sales.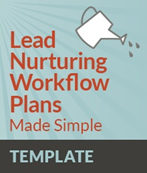 Establishing automated lead nurturing workflows can seem complicated, but our free template helps you organize the emails and offers you use to move leads through the sales funnel with spaces for outlining the content to be used in each campaign, timing of emails, and triggers that indicate a lead has completed the workflow and qualified to be moved to the next workflow or shifted to sales for direct contact. Nearly 100 marketers have downloaded our template in 2019 alone — we'd love for you to join them. Get the Nurturing Workflow Template here.
3. Lead Qualification Checklist
If your lead nurturing is successful, it will guide your leads toward taking actions that you have identified as meeting the qualifications necessary to shift them from the nurturing program to direct contact from a salesperson. But what should those criteria be?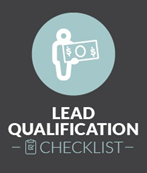 That's where our 3rd most downloaded resource comes in: our lead qualification checklist. By gauging whether a lead meets the 5 qualifying criteria on this list, you can avoid being one of those companies in which 97 percent of sales' time is wasted on leads that never convert. This blog post will also provide additional insight into setting your own specific triggers for qualified leads: 5 Criteria For Qualifying B2B Leads.
4. Landing Page Content Template
So, we've talked about the SEO efforts that bring visitors to your website, and the lead nurturing and lead qualification that help you ensure sales gets only the best leads, but there is a missing step in between. Landing pages, and the offers they link to, are that missing step. It is on a landing page that a website visitor converts into a lead by completing a form and providing contact information.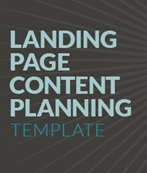 Our Landing Page Content Template is a handy way of keeping information organized as the various members of your team work together to create the offer, write landing page copy, and then set it up in your website and lead nurturing software. Depending on the size of organizations, and whether you work with outside agencies or freelancers to create strategies and content, there may be several people with a hand in getting the landing page set up, and this template ensures everyone has the information they need.
5. Campaign Planning Calendar Template
Planning is an essential aspect of successful marketing, especially inbound marketing and when working with a team. Staying on track is much easier when you have outlined everything involved in a campaign, from the target audience or buyer persona, to the individual pieces of content to be created, and how that content will be used in lead nurturing to reach leads at all levels of the sales funnel.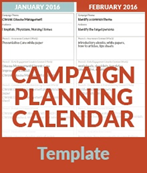 We like to plan out campaigns a year at a time — often with a new campaign topic or focus each month. This template can help you do the same, with space for an entire year of campaigns.
6. Media, Messaging & Marketing Audit Checklist
Along with templates, checklists are among the tools our readers most often access to aid in their marketing and PR strategies. Audits are a key tool for assessing performance and identifying opportunities in both public relations and marketing.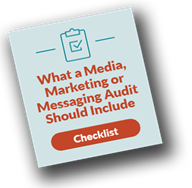 That is why we created a checklist detailing what should be included in five different types of audits your marketing and PR departments may consider utilizing:
Media & Public Relations Audit

Messaging & Positioning Audit

Marketing Success Audit

Marketing Content Audit

Analyst Audit
Audits provide the information you need to make the best decisions possible.
Want two of our most popular resources, plus a bonus example, in a single download? That's what you'll find in our Lead Nurturing Toolkit.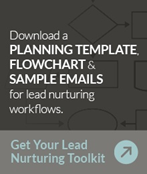 In addition to the Lead Nurturing Workflow Template and Landing Page Content Template listed above, this complete toolkit also include an example of a full, successful lead nurturing workflow we created for our client Primaris. You get not only the templates to help you organize your own lead capture and nurturing, but an example to show how it all flows together.
8. HubSpot Implementation Timeline & Planning Template
One of the original, and we still believe best, systems for implementing inbound marketing, from content management to lead nurturing and CRM solutions, is HubSpot. As a certified HubSpot partner agency, we have the experience and expertise to help companies hit the ground running with the solutions HubSpot offers. But we also know that as with any new marketing strategy or approach, implementing inbound marketing still takes times.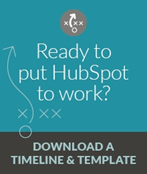 We developed this timeline and planning template to give our clients and others a better picture of what they should expect as they kick off their inbound marketing program. It outlines the time needed to commit to each aspect of inbound marketing: content creation, content promotion, workflows, and more.
9. Creating a Winning Inbound Marketing Program
Lots of inbound marketing resources may only show you hypothetical campaigns, or descriptions and explanations of what the content used in a campaign could include. But we know it's helpful to see the real thing. That's why we've included the actual text, or linked to the published pieces, for one of our client's successful campaigns in this resource, giving you a real-life example for each step along the way.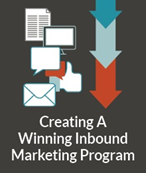 See how all of these pieces work together:
10. Guide to Designing & Executing CTAs
Our list of top inbound marketing resources wouldn't be complete if we didn't touch on calls-to-action. Calls-to-action are those elements — banner and sidebar ads, buttons, and directive text — that tell readers who to do and connect them to the landing pages for your inbound marketing offers.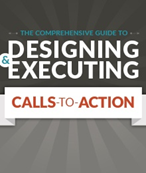 I talk about the magic of CTAs in this video, but for a complete guide to creating, implementing and testing calls-to-action for your blog, website pages, social media, and more, you'll want to download this ebook full of step-by-step instructions and best practices.
11. Complete Guide to Unifying Marketing & Sales
Another must-read and most-used ebook in our library is this guide to unifying marketing and sales.

Well-aligned organizations achieve up to 19 percent faster revenue growth, and 15 percent higher profitability, than other companies, according to SiriusDecisions. (Source)
Achieving that alignment requires collaboration, communication, and working together, rather than as adversaries. This ebook covers everything from using closed loop marketing to gather vital lead intelligence that marketing can share with sales to help close deals to the process of creating a documented service level agreement that ensures everyone understands the expectations of both departments.
12. JONES Content Creation Success Sample
Rounding out an even dozen of our best and most-downloaded inbound marketing resources (out of nearly 100 files in our library) is another example of what great inbound marketing looks like. This quick, one-page success story has links to the actual downloadable whitepapers used for lead generation, the blog posts used to promote the whitepapers, and the supporting thought leadership article used to draw additional exposure and authority for our client as they launched into a new market.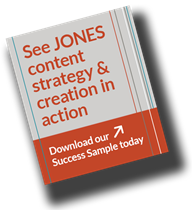 These 12 tools, templates, checklists and ebooks are just the tip of the iceberg. Our Inbound Marketing Learning Library has more just like them addressing all aspects of inbound marketing: brand positioning, buyer personas, blogging, social media, bylined articles, choosing agency partners, and more. What can we help you learn more about, or accomplish more effectively, today?